printer friendly version
Free training from Paxton
September 2014
Conferences & Events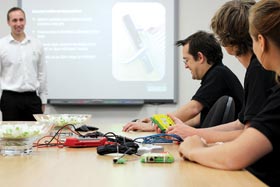 The Paxton Group is a global access control designer and manufacturer with a strong focus on installer training and education. Since its launch in South Africa in March this year, the company has experienced an unprecedented interest in its product offering as it introduces its installer training programme across the country.
Paxton's training manager, Steven Woodbridge, and sales executive, Riaan Van Der Merwe, discuss their roles in installer training, and how Paxton is offering a fresh approach to education in the security industry.
The Paxton training programme is designed to be comprehensive and simple, offering free-of-charge workshops across the country, giving installers the opportunity to take part in short lectures and practical sessions to familiarise themselves with the company's product range. Described by Woodbridge as "a unique offering", the training sessions equip installers with a thorough understanding of Paxton's products, enabling them to deliver security solutions that better meet the needs of end users.
Woodbridge says: "Paxton training provides installers with the tools to select the right product for the job and the ability to install confidently and correctly first time. Less time on site means more profit to the installer and greater customer satisfaction."
Paxton's training workshops focus primarily on the installer, and offer extensive practical experience to ensure they are confident with the product when recommending it to customers.
Van Der Merwe has 19 years' industry experience, previously working as a South Africa-based installer. He believes that Paxton's practical approach to training differentiates them from other companies in the security market.
He says: "The key to successful training is to have trainees engaged and involved with the product. Paxton has chosen the best training strategy, as the focus is on installers, who are given the opportunity to familiarise themselves with the product in a practical session."
Paxton workshops offer the latest product ranges and comprehensive training materials. They are designed to meet the needs of installers from a range of security disciplines. Woodbridge says: "Whether the installer is from an intruder alarm background or their core business is networked products, our objective is to cater for all levels and backgrounds, whilst keeping the material we deliver consistent. Each session will vary slightly depending upon the audience attending. However, the same important key information will be delivered throughout the day."
The first phase of training seminars in South Africa have been well received with 100% of installers saying they would recommend it to a colleague.
Quintin Masters, of SmartHome Technologies, described the training as, "well presented, clear and concise and overall informative and enjoyable", while Christo Lotz, of Prime Security, said "the training showed me a new sales advantage on a new product".
Paxton is confident that its strategy will build on this initial success and continue to have a positive impact on the training and development of installers in South Africa. Van Der Merwe says: "The feedback so far from installers has been very good, which is encouraging given our recent launch into the marketplace. Taking this approach is creating demand for our products and we will maintain this strategy of educating installers as we push ahead with our training and education objectives for South Africa."
To sign up to the Certified Paxton Installer Programme, please visit http://www.paxtonaccess.co.za/training-request-za.asp
Further reading:
Residential Estate Security Conference 2022
Technews Publishing Residential Estate (Industry) Conferences & Events
The first Residential Estate Security Conference since March 2020 discussed the people, technology and processes involved in mitigating risks to deliver smart, secure living.
Read more...
---
Hikvision aims for solutions
Technews Publishing Hikvision South Africa Editor's Choice CCTV, Surveillance & Remote Monitoring News Integrated Solutions Conferences & Events
Hikvision recently held a roadshow titled Industry X, where the company highlighted its latest products and solutions, supported by partners and distributors.
Read more...
---
ESDA's annual charity fundraiser
ESDA(Electronic Security Distributors Association) News Conferences & Events Associations
The ESDA Annual Charity Fundraiser, part of the Electronic Security Distributors Association's Golf Day, will take place at Benoni Lake Golf Course on Wednesday, 21 September 2022.
Read more...
---
IDEMIA and Ideco demonstrate their value stacks
Technews Publishing Ideco Biometrics IDEMIA Conferences & Events Access Control & Identity Management News
Ideco and IDEMIA recently hosted a travelling show where attendees were given an update on the companies, as well as the full value stack they offer.
Read more...
---
Sustainability, trust and predictability
Technews Publishing Bosch Building Technologies Conferences & Events CCTV, Surveillance & Remote Monitoring News Integrated Solutions
The future for Bosch Building Solutions is focused on predictive solutions based on sustainability and trust in an AIoT world of cloud services.
Read more...
---
Securex back with a bang
Technews Publishing Editor's Choice News Conferences & Events
After a long absence, Securex 2022, the 29th edition of the event, went ahead without a hitch and received positive reviews from visitors and exhibitors.
Read more...
---
Hytera showcases security communications at Securex
News Conferences & Events Products
Hytera will be at Securex South Africa 2022 in Hall 2, Stand A07, where it will showcase a variety of security communications solutions, including its latest DMR communications solution, body-worn cameras and Push-to-Talk over cellular.
Read more...
---
Securex, A-OSH Expo, Facilities Management Expo and now Firexpo confirmed for 2022
Editor's Choice News Conferences & Events
Specialised Exhibitions has announced that its A-OSH Expo and Facilities Management exhibitions are confirmed to go ahead for 2022 along with Securex South Africa, which now includes Firexpo.
Read more...
---
KITE 2022 provides return to one-on-one industry-supplier interaction
Conferences & Events
KITE 2022 was the first trade show of its kind in South Africa to open its doors after an industry trade show hiatus of almost two years.
Read more...
---
Training that delivers
Technews Publishing Leaderware ESDA(Electronic Security Distributors Association) BTC Training Africa Editor's Choice Security Services & Risk Management Conferences & Events Training & Education
Hi-Tech Security Solutions hosted a virtual conversation to address the challenges and solutions related to effective and measurable training and education in the security industry.
Read more...
---