printer friendly version
The road to professional certification
August 2014
Associations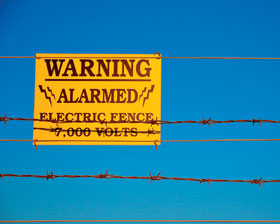 The South African Electric Fence Installers Association (SAEFIA) is on the road to becoming a recognised professional body. The association met in mid-July with other interested parties and associations in electronics fields to discuss the move and to set up an interim committee to take the process forward.
As a professional body, the association will be able to certify people according to set specifications that are recognised by government and discipline those members who do not live up to the standards the association sets. This is something many in the security industry are trying to achieve, with SAEFIA taking the lead as it did in setting standards for electric fence installations (see www.securitysa.com/7963a).
The main aim of the meeting was gaining insight from the South African Qualifications Authority (SAQA), the Department of Labour (DoL) and the National Regulator for Compulsory Specifications (NRCS).
SAQA took the floor initially and explained that to have a professional designation, there needs to be a professional body dedicated to representing the industry at all levels. SAQA's rule for a professional body include:
* The organisation must be a legally constituted body governed by a constitution, charter or statutes.
* It needs to protect the public in terms of services provided by its member and also protect its members.
* It needs to have at least one professional designation, potentially many, as well as the rules on how people can qualify for it, as well as rules to develop the designation and monitor people in achieving and maintaining it.
* The organisation must then send its membership list to SAQA in the applicable format. (SAQA does not recommend individuals to the public but refers enquiries to the association.)
* The organisation also needs to have an ongoing continuous professional development (CPD) programme to advance its members' skills.
* It will also need to publish a code of conduct along with the mechanism it will follow to investigate members who break the code of conduct.
As for developing and assigning designations, an organisation will need to define each designation along with the qualifications required to attain it, as well as the experience an individual requires before they can apply. Retention requirements per designation are also required. These can include the payment of professional fees, adherence to a code of conduct, further learning etc.
Some bodies have board exams that need to be passed before an individual is awarded a professional designation, but this is optional. CPD is also a necessity for any professional designation, as well as the recognition of prior learning.
What they can and can't do
SAQA also highlighted what a non-statutory professional body can and can't do.
* It can set standards for training with the cooperation of the relevant Quality Council (QC), according to National Qualification Framework (NQF) standards.
* It can also be involved in the quality assurance for any training through agreement with the QC.
* It is responsible for disciplining members according to the code of conduct.
* It is responsible for ensuring members' skills stay current through its CPD programme.
* It must market its professional designations.
* A professional body is not allowed to control the sector it operates in.
* It can't issue licences to practice.
* It can't determine the salaries and conditions of service etc.
Forging ahead
Following SAQA's input, JP Malatse, electrical and mechanical director for the DoL added his expertise to the day by highlighting what was expected of a professional body and setting the guidelines for the way forward. This is needed as there is a difference in the responsibilities and accountabilities when an association goes through the process of becoming a professional body. Two examples include setting up a disciplinary committee to deal with members who don't follow the organisation's rules, as well as a developmental committee to drive CPD and assist people in climbing the career ladder.
Under the auspices of the DoL, SAEFIA will have to identify and adhere to the various regulations governing the industry, such as the Occupational Health & Safety Act, the NRCS Act and the NQF Act etc. The registration process can take from 6 to 12 months, depending on how fast the association acts. The DoL was also clear that it understood that companies were in business to make a profit, but also stressed there were three areas of bottom-line reporting today: safety, environmental and profit.
The result of the day's discussions led to the formation of an interim steering committee, to be chaired by director Malatse, with input from SAQA and the NRCS to ensure that the association stays within the various regulations and guidelines for a professional body in this field. This committee will draft the first constitution and then call in the rest of the industry to discuss and finalise it. It will then be sent to SAQA for approval or changes.
Further reading:
A balanced, fair industry
October 2019 , Residential Estate (Industry), Security Services & Risk Management, Associations
PSiRA is focused on supporting the effective promotion and regulation of the private security industry.
Read more...
---
Service station security basics
June 2019 , Associations, Integrated Solutions, Retail (Industry)
It comes as no surprise that the petroleum and retail industries are targeted by criminals as these businesses receive, to a great extent, cash in exchange for their products and services.
Read more...
---
Magtouch Electronics joins ESDA
June 2019, Magtouch Electronics , Associations, News
Magtouch Electronics, a manufacturer of high-tech monitoring systems for the security and cleaning industries has joined ESDA, the Electronic Security Distributors' Association.
Read more...
---
Access wherever you are
June 2019, ADI Global Distribution , Associations, News
ADI Global Distribution, a South African distributor of security and fire technology products has joined ESDA, the Electronic Security Distributors' Association.
Read more...
---
Manufacturer and distributor of security products
June 2019, DTS Security Products , Associations, News
DTS Security Products, a South African manufacturer and distributor, recently joined ESDA, the Electronic Security Distributors' Association.
Read more...
---
Fire Protection Association of Southern Africa
Securex Preview 2019 , Associations
The Fire Protection Association of Southern Africa (FPASA) provides a specialised fire safety management technical and training service to industry, commerce, fire and rescue services and society at large. The ...
Read more...
---
Security Industry Alliance
Securex Preview 2019 , Associations
The Security Industry Alliance (SIA) aims to be the watchdog of the security industry, to actively promote the interests and image of the South African guarding industry, and to promote the development ...
Read more...
---
SAIDSA celebrates 50-year anniversary
March 2019, SAIDSA (SA Intruder Detection Services Association , Associations, News
Fifty years ago, the association was formed as an employer's organisation, with the vision of providing a pension fund to its members and to investigate improving the standards of an ever-growing industry.
Read more...
---
Letter to the editor
October 2018, Technews Publishing , Associations, Perimeter Security, Alarms & Intruder Detection
We refer to an article published in your August 2018 edition, namely "The alarming disadvantages of home security systems", written by Meraj Hoda, vice president of Ring Inc. The content of this article ...
Read more...
---
ESDA golfs for the poor
October 2018, ESDA (Electronic Security Distributors Association , News, Conferences & Events, Associations, Training & Education
The ESDA charity golf day was held at the Benoni Country Club on 20 September 2018 in aid of AMCARE.
Read more...
---