printer friendly version
The cost of non-compliant hiring
August 2014
Associations
A security officer who is unable to perform his duties properly, or one who may be open to the temptation of bribery, collusion and crime; is this the type of security officer who you would want protecting some of your most valuable assets at your home or place of work?
According to the Security Association of South Africa (SASA), that's exactly what you'll get if you hire a non-compliant security company. Not to mention the risk of heavy penalties or gaol time, for consumers who continue to transgress the Private Security Industry Regulatory Authority (PSIRA) Act.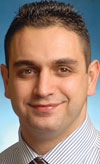 Costa Diavastos, chairman of SASA
"In a country where many consumers still view private security services as a grudge purchase, or a token necessity at work site, we're seeing a significant and alarming number of individuals and companies still selecting those security companies who have submitted tenders at the lowest price," says Costa Diavastos, chairman of SASA. "What these individuals don't see, are all the costs associated with this unlawful practice, including a significant security threat and the fact that they are engaging in unlawful behaviour."
Flouting the law
As the regulatory authority for the private security industry, PSIRA is responsible for putting in place statutory minimums and enforcing legislative requirements. According to a section of the PSIRA Act of 2001, any person who contracts a security service that goes against the provisions of the act is guilty of an offence.
However, many fly-by-night security companies, who have identified the security industry as a quick and easy way to make money in a crime-ridden country, blatantly ignore the PSIRA act.
"These non-compliant companies save on costs by using untrained, unscreened and unregistered individuals as security officers, who more often than not, are also undocumented foreigners who are desperate for work," says Diavastos. "These companies do not comply with the law, do not pay minimum wages, or even training costs – and are easily able to quote the lowest price for their services and undercut all of the compliant security companies in the tendering process."
You get what you pay for
According to independent calculations by PSIRA, based on statutory requirements laid out by the Department of Labour, the average monthly cost of a Grade A security officer working a 12-hour shift is about R10 947, of which R4077 is the guard's take-home salary. The balance is made up of statutory requirements, including sick pay and study leave.
"To cut costs, non-compliant operators are almost always forced to act illegally," Diavastos believes. "This means not paying minimum wage. It could also mean using a junior security officer to perform the duties of a higher grade."
An underpaid and exploited security officer is more likely to accept a bribe or become involved in crime to make ends meet. "These are the unseen costs no one pays attention to when consumers seek out a cheaper security service," he stresses. "At best, the security will be significantly substandard."
Worrying trend
As part of the salary structure are statutory requirements, including compensation for occupational disease or injury, a contribution towards unemployment and a provident fund. "What we have noticed is that many non-compliant security companies will deduct a provident fund contribution from the security officer and will not match this amount or pay it over to fund administrators."
In order to create a legitimate and functioning security industry, PSIRA can enforce the law. The costs of injury, non-payment of funds and other infringements, can become the burden of the company that has employed the security provider in the first place. "This is especially an unforeseen consequence if the security officers have been sourced from labour brokers or if you use an independent contractor," he points out.
SASA solutions
As a world-class professional body, SASA supports industry compliance and seeks to provide awareness and support for businesses in South Africa. "We take the headache out of employing the right security provider," says Diavastos. "We're able to assist the private and public sector in vetting a service provider."
As criteria for membership, SASA's members must be fully compliant with all industry and national legislation, and have supporting documentation independently verified. "Our goal is not to put ethical and professional security brands out of business, but to ensure we all follow the same law and deliver exemplary service and professionalism," he concluded.
For more information visit www.sasecurity.co.za
Credit(s)
Further reading:
A balanced, fair industry
October 2019 , Residential Estate (Industry), Security Services & Risk Management, Associations
PSiRA is focused on supporting the effective promotion and regulation of the private security industry.
Read more...
---
Service station security basics
June 2019 , Associations, Integrated Solutions, Retail (Industry)
It comes as no surprise that the petroleum and retail industries are targeted by criminals as these businesses receive, to a great extent, cash in exchange for their products and services.
Read more...
---
Magtouch Electronics joins ESDA
June 2019, Magtouch Electronics , Associations, News
Magtouch Electronics, a manufacturer of high-tech monitoring systems for the security and cleaning industries has joined ESDA, the Electronic Security Distributors' Association.
Read more...
---
Access wherever you are
June 2019, ADI Global Distribution , Associations, News
ADI Global Distribution, a South African distributor of security and fire technology products has joined ESDA, the Electronic Security Distributors' Association.
Read more...
---
Manufacturer and distributor of security products
June 2019, DTS Security Products , Associations, News
DTS Security Products, a South African manufacturer and distributor, recently joined ESDA, the Electronic Security Distributors' Association.
Read more...
---
Fire Protection Association of Southern Africa
Securex Preview 2019 , Associations
The Fire Protection Association of Southern Africa (FPASA) provides a specialised fire safety management technical and training service to industry, commerce, fire and rescue services and society at large. The ...
Read more...
---
Security Industry Alliance
Securex Preview 2019 , Associations
The Security Industry Alliance (SIA) aims to be the watchdog of the security industry, to actively promote the interests and image of the South African guarding industry, and to promote the development ...
Read more...
---
SAIDSA celebrates 50-year anniversary
March 2019, SAIDSA (SA Intruder Detection Services Association , Associations, News
Fifty years ago, the association was formed as an employer's organisation, with the vision of providing a pension fund to its members and to investigate improving the standards of an ever-growing industry.
Read more...
---
SASA Western Cape Charity Golf Day
February 2019, SASA (Security Association of South Africa) , Calendar of Events
SASA Western Cape Charity Golf Day    11 March 2019 Durbanville Golf Course The annual Security Association of South Africa (Western Cape) Charity Golf Day remains a prestigious event. The 12th annual ...
Read more...
---
Letter to the editor
October 2018, Technews Publishing , Associations, Perimeter Security, Alarms & Intruder Detection
We refer to an article published in your August 2018 edition, namely "The alarming disadvantages of home security systems", written by Meraj Hoda, vice president of Ring Inc. The content of this article ...
Read more...
---