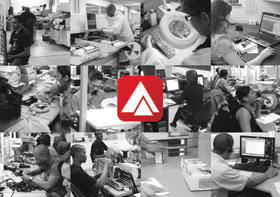 Meet your ESDA member: Locally made to ISO standards
July 2014, Associations
Impro Technologies is a privately owned company, incorporated in March 1987. The founding shareholders worked together in the electronic measurement industry where their initial focus was image processing, and so the name, Impro evolved.
During the founding stages, developers noticed the potential of Radio Frequency Identification (RFID) for effective asset management, which ultimately led to the application of the technology in the access control field.
Impro is in the business of manufacturing access control systems. Impro designs, develops and manufactures class-leading access control systems. The company's products are manufactured to international quality standards. Moreover, the company has a full Quality Assurance department that monitors quality from the design phase, all the way through to manufacturing.
Locally, Impro is one of the market leaders with fully trained local distributors, comprehensive support and installation facilities countrywide. The company has also progressively increased its global footprint and is now in the process of exporting to more than 65 countries.
When asked what its unique selling point is, management at Impro says it is the company's ability to manufacture products locally to international standards. Impro adheres to the ISO 9001:2008 quality system, offers extensive warranties and 24-hour technical support for products.
Its product range includes Uni-Scan, Flexi-Scan, IXP20, IXP220, IXP400i and the latest system offerings: Access Portal Lite and Access Portal Pro.
With over 20 years' experience in the manufacturing industry, Impro customers can expect top quality products backed by technical experts with extensive product knowledge.
Looking ahead from a business perspective, Impro will look beyond local borders to the emerging economies on the African continent, which is still a largely untapped market. On the international front, with the world economy finally bouncing back from the deepest recession in modern times, Impro will continue to look for strategic partners for global distribution.