printer friendly version
Training leads to success
February 2014
Conferences & Events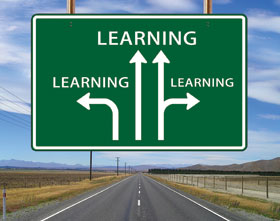 Cost-cutting has become one of the watchwords of today as a result of the global economic downturn. But, warns Neil Gillespie, training manager of Elvey Security Technologies, slashing training and development budgets will erode the competitive advantage required now to retain business, and later to increase market share when the economic climate starts improving.
"Rather than cutting down on training, it makes sense to empower staff who will then be well-equipped to help you ride out the challenges of the changing economy and meet the demand that will follow at the end of the downturn," he says.
Customers are always value-conscious, and never more so than in difficult financial times, notes the veteran industry trainer. In tough periods, the companies that will survive will be those giving the best service and quality installations, coupled with strong product knowledge. The bottom line is that poorly-trained personnel chase customers into the arms of your competitors.
Ingo Mutinelli, sales director at Elvey Security Technologies, adds: "It's a sad fact that some organisations are unable to compete in economic slowdowns. This paves the way for other entities to step into the breach created by their closure. In many instances, these new opportunities require staff development in order to realise their potential, which is where training becomes paramount.
"The technical demands of installing intruder, CCTV and access control equipment, in terms of both complexity and volumes, can only be met by highly-trained people who are sensitive to the challenges. Should these systems fail to operate optimally, as a result of poor design or shabby workmanship, it could reflect badly on the security installer and his untrained staff."
Aware of the importance of being able to provide internationally-benchmarked training to its own personnel and the industry as a whole, Elvey Security Technologies joined forces with the acclaimed UK-based Tavcom Training Institute in 2005.
Since then, Elvey has taken its place as one of the country's leading training providers, offering internationally-recognised certificates, Tavcom's BTech programme and Elvey's in-house technical product training to players throughout the security sector.
Says Gillespie: "In these times of economic hardship, we must never lose sight of the fact that we have a perfect opportunity to empower ourselves. Good training will enable us to ride out this tough period on a wide surfboard of knowledge, so that when the seas calm down and the world's economies stabilise, we will have used the worst of times to pave the way to a better future."
For more information contact Elvey Security Technologies, +27 (0)11 401 6700, priyesh.jagjivan@elvey.co.za, www.elvey.co.za
Credit(s)
Further reading:
How to choose which webinars to attend after lockdown
Issue 5 2020, Regal Distributors SA , Conferences & Events
The Regal Learning Academy has decided to provide training via live webinar streaming.
Read more...
---
Paxton expands free education offerings
Issue 4 2020, Paxton Access , Conferences & Events
In response to the recent global pandemic, Paxton has expanded its online installer training platform and launched a series of informative webinars.
Read more...
---
Financing for the systems integrator
Issue 3 2020, Elvey Security Technologies , Integrated Solutions
Financing your security project through your technology distributor can benefit both the systems integrator and the end user.
Read more...
---
Elvey exclusive Aiphone distributor
Issue 3 2020, Elvey Security Technologies , Access Control & Identity Management
Aiphone has appointed the Elvey Group as its official distributor in South Africa with effect from 1 April 2020.
Read more...
---
Open Source Intelligence post COVID-19
Issue 3 2020 , Conferences & Events
ASIS South Africa hosts Craig Pedersen in a webinar focused on open-source intelligence (OSINT).
Read more...
---
Integrated security solution
Access & Identity Management Handbook 2020, Elvey Security Technologies , Access Control & Identity Management
The ability of access control solutions to seamlessly work with surveillance and building management systems is so important it cannot be overemphasised.
Read more...
---
Making estate security work in the real world
Issue 2 2020, Technews Publishing , Conferences & Events
Hi-Tech Security Solutions is proud to have the CEO of Cotswold Downs, Shantelle Walters, presenting at the Residential Security Conference on the topic of 'Invisible Efficiency and Security.'
Read more...
---
The blessing and curse of communications
Issue 2 2020, Technews Publishing , Conferences & Events
In the Residential Security Conference 2020, Craig Rosewarne will delve into the murky world of cybercrime, while Rudi Potgieter will discuss the possibilities and benefits of a unified network.
Read more...
---
Technology at work to optimise security
Issue 2 2020, Technews Publishing , Conferences & Events
Artificial intelligence (AI) and drones are the latest additions to the security options for residential estates which will be discussed in the Residential Estate Security Conference 2020.
Read more...
---
Efficient and cost-effective risk management for estates
Issue 2 2020, Technews Publishing , Conferences & Events
Identifying your estate's vulnerabilities is key to being able to manage and maintain them effectively.
Read more...
---