printer friendly version
The ABCs of key control
February 2014
Access Control & Identity Management
In developing a comprehensive physical security strategy, it's important to include a key control plan as part of the overall security package. Key management systems can reinforce access control policies that are already in place and can also help to reduce the costs that are associated with lost keys or unmanaged access.
It's also important to know that it is never too late – or too early – to implement a key control and management plan as part of an overall physical security strategy. And if you're not sure about how to proceed, the following three questions may provide the answers for you.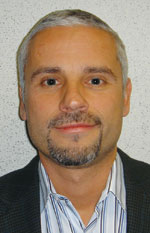 Fernando Pires.
What is key control?
Key control and management systems are defined as an orderly and secure solution for addressing controlled usage and safekeeping of mechanical keys. The tamper-proof systems are designed so that only authorised users, using pre-programmed PIN codes, access cards or biometrics, can access keys and on-board advanced technology automatically records all access activity.
A basic system typically consists of a computerised key storage cabinet, a key locking mechanism and a tracking system. From this basic package, several options and design variations can be added to customise the solution and help protect the investment as needs grow and change.
For networked installations, management software can also be included in the system. Permission levels can be established for each user and data can be monitored from any desktop connected to the network. Additionally, the software can run activity reports, sort based on different criteria, view and print reports and more.
Why do I need it?
Today's key control and management systems have become a higher level management tool for effectively addressing the safety and security of building occupants and the security of the building assets. Knowing the identity of authorised key holders, which keys they have in their possession or have access to and when they were used is all essential information needed to help ensure a safe and secure environment.
Further, technology developments and open protocols have made it possible to integrate key control with access control and other security systems as part of a facility's networked security system. Now, a user who has taken a specific key can be denied egress from the facility until the key is returned – and selected management can be alerted via e-mail if a key has not been returned on time.
Physical changes in the facility may also dictate the need for a key control system. For instance, a closet that may have once been used only for storing office supplies may now be used for holding more valuable items and should be locked. In some cases, convenience for the security staff can even be substantially increased. For example, changes implemented over the LAN are effective immediately which can help prevent incidents such as denying access to keys to recently terminated employees. The network connectivity of the system also allows management to remotely release any key, adding to the convenience and inherent safety provided by a key control and management solution.
Where can I use it?
Key management systems have become an operational necessity in environments such as correctional institutions, hospitals, car dealerships, property management, casinos and educational facilities, to name just a few examples. It is also a critical function for anyone overseeing security at conference centres, government agencies, control rooms, automotive businesses and corporate buildings. However, key control can and should also be applied to businesses of all sizes because of the measurable benefits of enhanced security, convenience, increased staff productivity and accountability.
Most recently, key control systems' functionality has been expanded to include custom modules to accommodate valuable items. Lockers, available in various sizes, can be used for storing small firearms, cell phones, 2-way radios and other valuables. Items can be returned to any open locker for convenience, and systems can be set up as a personal storage space for one or multiple users.
These asset management systems can also be configured with additional security features to help maintain the integrity of the system. For example, where protection of asset lockers itself is mission-critical, installation of a remote access device provides an additional layer of protection by enabling the locker system to be placed in a secure room. A second individual's PIN input and verification is then required in order for an authorised employee to access the contents of a locker.
Further reading:
Facial access control for ministry
Issue 1 2020, ZKTeco , Access Control & Identity Management
The Ministry of Culture in Saudi Arabia has adopted ZKTeco's facial recognition technology and fingerprint biometrics to manage access control into its building.
Read more...
---
New Door Pilot app from dormakaba
Issue 1 2020, dormakaba South Africa , Access Control & Identity Management
With new dormakaba Door Pilot, automated doors can also now be operated on the basis of remote control technologies. The system, comprising the Door Pilot app for smartphones and a Wi-Fi interface for ...
Read more...
---
Identity lifestyle
Issue 1 2020, Suprema , Access Control & Identity Management
Once the technology of the future, biometrics has quietly snuck into our daily lives through smartphones and access controls into our places of work.
Read more...
---
Securing BP's new head office
Issue 1 2020, ISF SFP , Access Control & Identity Management
ISF SFP was awarded the contract to secure the first development phase for Oxford Parks, the new head office for BP South Africa.
Read more...
---
Combining aesthetics and access control
Issue 1 2020, Turnstar Systems , Access Control & Identity Management
Prestigious law firm Bowman Gilfillan recently upgraded its physical security with the addition of four Turnstar Speedgate Express access control lanes.
Read more...
---
Video doorbells from Ring
Issue 1 2020 , Access Control & Identity Management
Ring has a number of video doorbells available in South Africa that run off batteries or power and enable users to answer their doors from anywhere.
Read more...
---
Centurion to unveil new product
Issue 1 2020, Centurion Systems , Access Control & Identity Management
Centurion Systems will be hosting its third Access Automation Expo this year, with dates confirmed for Durban, Johannesburg and Cape Town.
Read more...
---
Looking ahead with mobile access technologies
Access & Identity Management Handbook 2020, Technews Publishing, HID Global, dormakaba South Africa, Salto Systems Africa, Suprema, Gallagher , Access Control & Identity Management, Integrated Solutions
Given the broad use of smartphones around the world and the numerous technologies packed into these devices, it was only a matter of time before the access control industry developed technology that would ...
Read more...
---
Mobile access is more secure than card systems
Access & Identity Management Handbook 2020 , Access Control & Identity Management
The ability to use mobile phones as access credentials is one of the biggest trends in a market that historically has been slow in adopting new technology.
Read more...
---
This is the future. This is what we do.
Access & Identity Management Handbook 2020, ZKTeco , Access Control & Identity Management
ZKTeco has created a unique range of visible light facial recognition products combined with a flexible Android platform.
Read more...
---