printer friendly version
Taking estate security to the next level
January 2014 Access Control & Identity Management, Residential Estate (Industry)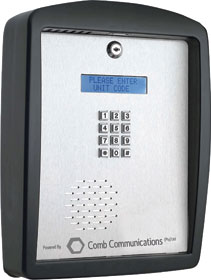 Comb Communications has been involved in supplying its smart access control system to many residential estates throughout South Africa. CEO Graham Wild said that the company's locally designed and manufactured MK11 intercom system is the ideal solution for complexes where the resident wishes to remain responsible for allowing visitors to access the estate.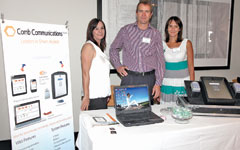 Manning the Comb display at Hi-Tech Security Solutions' Estate Security Breakfast.
"In guarded communities you also have a problem that the guard will know exactly when the resident is on leave and the basic routine of a resident can also make them a target. By taking the access control element and making it more of a resident-driven responsibility, you are able to remove one possibly weak link in the chain," said Wild.
Unauthorised entry remains a huge issue on residential estates and there is a pressing need to address and eliminate this bugbear. "Residents pay a premium for living in what should be deemed a secure environment. However, the system often fails at the first point of access – the main entrance. By providing residents with more autonomy in deciding who should be provided with the ability to enter the property, residents will be able to realise a return on their investment."
It is not uncommon to find estates where residents' homes have neither burglar bars nor alarm systems. This complacency is due to the false sense of reassurance that living in a so-called secure estate can engender. Unfortunately, if the security fails at the entrance to the estate, the door is literally open for criminals to indulge themselves at the cost of residents. It is therefore critical that residents take ownership of their access control.
"You need to ensure that your security personnel on an estate have the correct training and have a very good understanding of how to operate and implement security systems. Talk to the residents and find out what they deem important. Meetings to evaluate and audit processes will allow estate managers, together with the security management, to identify and resolve any issues timeously. You also always need to have a backup plan, should your primary system fail," said Wild.
Community involvement plays a large role in the success of a residential security estate and regular patrolling, supplemented with appropriate technology will be a good deterrent to criminals. If a guard patrolling programme is instituted, one should seriously consider the incorporation of a suitable guard tracking system to ensure that the guards are completing their routes. This will provide feedback on the efficacy of the system and also safeguard the guard should he be attacked or subdued.
For more information, contact Comb Communications, +27 (0)11 089 5800, sales@comb-communications.com, www.comb-communications.com
Credit(s)
Further reading:
2020 Residential Estate Security Conference in KZN
October 2019, Technews Publishing , News, Residential Estate (Industry)
Meeting the residential security challenges in 2020 and beyond: Hi-Tech Security Solutions will host the Residential Estate Security Conference 2020 in Durban on 12 March 2020.
Read more...
---
Biometrics: the game changer in access control
November 2019, IDEMIA , Access Control & Identity Management
For security managers, the question is no longer, should I use biometrics, but rather, which biometrics should I use.
Read more...
---
ViRDI UBio Tab 5
November 2019 , Access Control & Identity Management
ViRDI Distribution SA (ViRDI Africa) has announced the release of its long-awaited UBio Tablet to the South African market.
Read more...
---
Cloud-based access control
November 2019, Elvey Security Technologies , Access Control & Identity Management
Hattrix is a flexible and scalable security platform that marks a shift toward outsourcing security, similar to other services such as IT, HR, and legal services.
Read more...
---
Transforming secure access for SMEs
November 2019, dormakaba South Africa , Access Control & Identity Management
The dormakaba Matrix One access solution is an off-the-shelf access offering that is easy to use, completely secure and browser-based, making it accessible from anywhere in the world.
Read more...
---
Manage remote transmitters via GSM
November 2019, ET Nice , Access Control & Identity Management
ET Nice has released a new solution to set up and manage remote transmitters online and monitor access equipment via GSM.
Read more...
---
Secure hands-free access
November 2019, Suprema , Access Control & Identity Management
Suprema's facial biometric terminals bring no-touch access into secure residential estates, high-rise apartments and luxury homes providing fast, easy and intuitive user authentication with the added benefit of hygiene.
Read more...
---
There's an app for gate configuration
November 2019, CAME BPT South Africa , Access Control & Identity Management
CAME KEY is a new generation of working tool for gate automation, allowing setup and configuration from a mobile app.
Read more...
---
Residential Estate Security Conference 2019
October 2019, Technews Publishing , Editor's Choice, Residential Estate (Industry), Conferences & Events
Hi-Tech Security Solutions hosted the Residential Estate Security Conference in August, focusing on the people, technology and processes involved in an effective security solution for estates.
Read more...
---
Enhanced biometric technology for mines
September 2019, ZKTeco , Mining (Industry), Access Control & Identity Management
Biometric identification and authentication are currently used at various mines in South Africa and in the SADC region.
Read more...
---