printer friendly version
Growing a safer South Africa
November 2013
News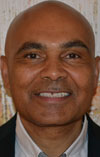 Paul Wilson, Chief Executive Officer (CEO) at Safer South Africa Foundation.
Paul Wilson, chief executive officer at Safer South Africa Foundation, studied for a Master of Science Degree in Community Safety at the Scarman Centre, University of Leicester. He also did various police and law courses on the side.
"I'm a career police officer by profession, joining London's Metropolitan Police in 1979, retiring in the rank of superintendent in 2010. During my career I have taken many police and law related exams, but I have to say that the most useful study in terms of preparing me for life outside of policing was completing the Master of Science Degree in Community Safety," says Wilson.
Wilson's first job was a probate police officer. "My career as a police officer really took off when I finished my probationary period at Croydon Police Station in South London. This is when I really began enjoying my work as not being on probation meant that I didn't have to complete and submit daily records of work. I didn't have to deal with the jobs that no-one else wanted and most importantly, it meant that I wasn't continually under the spotlight, the pressure was off and my personal development as an officer began to flourish."
When starting out in his career, Wilson didn't have his current position in mind. "No, I didn't have my current position in my mind. This is because as a young person you just don't think about retirement and what you might do after leaving 'the job', however, from very early in my career I was determined to climb through the ranks, I wanted to be a senior officer, that much I did know."Wilson's career highlights are:
1. As a young constable I volunteered for a posting on the District Support Unit (DSU) which was basically a team of 11 constables and a sergeant. We travelled together in a small bus patrolling a large area of south London and dealing largely with public order type incidents e.g. pub fights, football matches, demonstrations etc.
2. A few years later, as a relatively young sergeant in 1990, I was selected for a post in the Equal Opportunities Unit at New Scotland Yard. With the responsibility to revise and introduce a new police staff grievance procedure. I gained an increased awareness of racial discrimination within the police ranks and as a result, became instrumental in the formation of the UK's first Black Police Association (BPA).
I was a general secretary of the BPA for five years and later became chairman for two years. The pinnacle of the BPA period was writing its submission to the Stephen Lawrence Inquiry and later being called to provide an oral presentation. The BPA has since made an enormous contribution in helping to change the metropolitan police for the better.
3. A two-year secondment to the UK government's neighbourhood renewal unit 2000/02.
4. In 2004, I successfully applied for a Fulbright (Police) Fellowship to undertake research in the USA, in particular around community policing strategies and its effectiveness in black and minority ethnic communities in Chicago, San Francisco, Miami and New York."
Wilson is currently the chief executive officer at Safer South Africa. He does a significant amount of work to help grow the organisation that is still in its developmental stage.
"I turn my hand to just about everything, marketing, finance, fund raising, delivering presentations, writing, proposals, developing and delivering presentation and design our website.
"I think the next two years in my current position will see Safer South Africa Foundation grow to an exciting organisation. I foresee us growing in every sense of the word. Last year we made a written submission commenting on certain provisions in the Private Security Regulation Amendment Bill and we were subsequently invited to appear before police portfolio to provide oral testimony. We continue to engage on other issues like Policing Green Paper etc. And creating some programmes to help our youth better understand the criminal justice system."
When asked what advice he would have for up-and-coming security professionals on how to kick-start their careers, Wilson says: "The world is a much smaller place and the security industry is flourishing largely due to globalisation and the shrinking public sector. Therefore, there is a need to think laterally when looking for experience opportunities as there are many professions and opportunities outside of the security industry where useful competencies can be developed and evidenced in preparation for entry into the industry either at an operational or managerial level."
He thinks professional skills will help a great deal: "Attain experience. Engage in numerous academic courses that are available and that help develop the understanding of a range of theoretical models that explain why and how people commit crime and how to conduct research and analysis in the context of security and safety. And risk assessment and decision making. Some decisions may not be popular, but rational."
Further reading:
Online fleet management system
Issue 1 2020 , News
Fleet Domain's online Fleet Management Information System is reducing operating costs and improving safety for South African logistics firms.
Read more...
---
Digital insurance bundle for assets and devices
Issue 1 2020 , News
My CyberCare is a specialist provider of personal, and SMME online cyber insurance, cyber detection and cyber monitoring solutions for both local and global consumption.
Read more...
---
IDEMIA to supply Morocco's national electronic ID cards
Issue 1 2020, IDEMIA , News
IDEMIA will supply Morocco with national electronic ID cards and introduce a secured digital identity online services platform.
Read more...
---
Rockwell Automation to acquire Avnet
Issue 1 2020, Rockwell Automation , News
Rockwell Automation announced it has signed an agreement to acquire privately held Avnet Data Security, an Israeli-based cybersecurity provider with over 20 years' experience providing cybersecurity services.
Read more...
---
Do we really want simplicity?
Issue 1 2020, Technews Publishing , News
Everything today has to be simple, easy and fast. Even access to your bank account has to fit these adjectives and banks spend significant time and money trying to ensure their web and mobile interfaces ...
Read more...
---
Longse Distribution to become LD Africa
Issue 1 2020, LD Africa , News
Brendon Whelan, sales manager for Longse Distribution, announced that the company officially changed its name to LD Africa as of 20 January 2020.
Read more...
---
Three expos in one
Issue 1 2020 , News
Looking ahead to 2020 Vision: combined Securex South Africa, A-OSH EXPO and Facilities Management Expo 2020 promises to be even bigger and better.
Read more...
---
Security events you can't miss in 2020
Issue 1 2020, Technews Publishing , News
Hi-Tech Security Solutions will host a number of focused events in 2020 to highlight the latest in security technology and the operational benefits they deliver.
Read more...
---
David Shapiro to chair ESDA
Issue 1 2020, ESDA (Electronic Security Distributors Association , News
The Electronic Security Distributors' Association (ESDA), established in 1989, has elected David Shapiro as its chairperson for 2020.
Read more...
---
Dimension Data debuts fifth business
Issue 1 2020 , News
Dimension Data has launched its fifth business in the MEA region, Dimension Data Security, aimed at helping organisations in the region address the challenges of today's rapidly evolving threat landscape.
Read more...
---