printer friendly version
ContinuitySA keeps CANSA up and running
September 2013 Fire & Safety, Security Services & Risk Management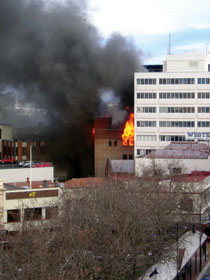 The Cancer Association of South Africa (CANSA) plays a vital role in helping millions of South Africans reduce their cancer risk and coping with cancer diagnoses. Its care centres and clinics provide comprehensive care to cancer survivors, caregivers and their loved ones across the country, including counselling and support groups, specialist care of wounds and complications as well as the provision of medical equipment. This is one organisation that simply cannot go offline or lose data.
With that in mind, the organisation contacted ContinuitySA several years ago. ContinuitySA has always been an enthusiastic supporter of CANSA and readily agreed to provide CANSA's head office and other offices in Gauteng with a business continuity solution as part of its corporate social investment programme. At the same time, CANSA requested its provincial offices to make similar arrangements.
"CANSA does a remarkable job in the field of cancer control and we realised that it was vital to keep it up and running whatever disasters might occur," says Louise Theunissen, general manager: Client Services, ContinuitySA. "Non-profit organisations like CANSA have exactly the same business continuity needs as the biggest corporate, but many of them simply don't recognise the need until it's too late."
CANSA's forethought was vindicated on 4 June 2012 when early arrivals at the organisation's head office in Bedfordview, Johannesburg, noticed a fire burning in the marketing and communications office. A maintenance contractor who happened to be onsite helped extinguish the fire, which then subsequently reignited. By the time the fire brigade finally arrived 40 minutes later, the area had suffered extensive damage, with printers, laptops and other office equipment rendered useless.
The blaze was apparently caused by an electrical cable that overheated in the ceiling. The fire brigade advised that the section of the building affected by the fire should be evacuated for at least a week as there was the danger of toxic fumes and smoke residue. The damage to the building also had to be repaired and new equipment purchased and installed.
Thanks to the agreement with ContinuitySA, CANSA's head office staff was not greatly affected by this disaster. From the next morning, at the price of a commute to the ContinuitySA Recovery Centre in Midrand, they were supplied with office space equipped with Internet and phone connections, plus standard office services such as photocopying, fax and printing.
"Our facilities are designed for just this sort of eventuality, so we were able to provide CANSA's head-office team with everything they needed to keep the organisation running, down to adequate parking, refreshments and friendly service," says Theunissen. "ContinuitySA were wonderful hosts and went out of their way to make us feel at home. They never spared anything to create a comfortable working environment for us and their staff were friendly and efficient. When there was a query or need, they were quick to respond," says Sue Janse Van Rensburg, CANSA's CEO.
Janse Van Rensburg says that all businesses – and particularly non-profits – should profit from CANSA's experience. Staff members need to know where the fire extinguishers are and what to do in the event of a fire. Office keys should be clearly marked and accessible, and emergency numbers posted in a prominent place and stored on cellphones. The fire escapes and their keys need to be accessible and, of course, a valid electrical certificate needs to be in place along with appropriate insurance.
"Most of all, all businesses need a sensible recovery plan that's well understood before disaster strikes – and a business continuity provider like ContinuitySA to provide the office space, technology and all the other services you might need while repairs are being done," says Theunissen. "A disaster is always disruptive but, with the right planning and assistance, its impact can be minimised."
For more information contact ContinuitySA, +27 (0)11 554 8050, cindy.bodenstein@continuitysa.co.za, www.continuitysa.co.za
Further reading:
Different types of fires
Fire & Safety
Fire is a powerful force of nature; according to SafeQuip, a distributor of fire-related equipment; understanding the different types of fires and how to combat them is essential for safety and protection.
Read more...
---
Tech developments lead hologram growth in 2024
News & Events Security Services & Risk Management
Micro-lenses, micro-mirrors and plasmonics are among the rapidly-emerging optical devices that have evolved on the back of holographic and diffractive technologies, and are seen as part of the natural evolution of optical science by R&D teams.
Read more...
---
SafeQuip introduces lithium fire extinguishers
Fire & Safety Products & Solutions
With the use of Lithium batteries increasing in many types of portable devices and battery storage solutions, SafeQuip, in partnership with AVD Lithex, is introducing a fire extinguisher aimed at suppressing and extinguishing, and also preventing re-ignition of lithium fires.
Read more...
---
Modern warehouses come with added fire risk
Fire & Safety Transport (Industry)
Along with increased investments in modern warehousing in Africa, there is also a need to focus on protecting warehouses from crime, however, fire can arguably be a greater danger to business continuity.
Read more...
---
Are you leaving money on the table?
Editor's Choice Security Services & Risk Management
How many customers have you helped since starting your business? Where does most of your new business come from? If the answer is not from your database's existing customers, you might have a problem.
Read more...
---
How to prevent solar inverter short-circuits and fires
Fire & Safety
With many South Africans installing inverters as part of solar power systems to mitigate the impact of load shedding in homes and at businesses, users need to be aware of the potential fire risks.
Read more...
---
Kidnapping for ransom
News & Events Security Services & Risk Management Risk Management & Resilience
There has been an 8,6% increase in reported kidnapping cases in South Africa compared to last year, with 3 854 cases reported between April and June this year, leaving ordinary South Africans increasingly vulnerable.
Read more...
---
The difference between a SOP and a SOP
Residential Estate (Industry) Integrated Solutions Security Services & Risk Management Risk Management & Resilience
SOPs are a touchy issue that need careful attention and automation to ensure they deliver the desired security results. Beyond design and automation, implementation is the ultimate road to success.
Read more...
---
Your face is the key
Suprema Editor's Choice Access Control & Identity Management Security Services & Risk Management Risk Management & Resilience
FaceStation 2, Suprema's newest facial authentication terminal, is an access control, time and attendance terminal, featuring a better user experience with Android 5.0 Lollipop and Suprema's latest algorithm, hardware, and software.
Read more...
---
Security without the skin
Alwinco Editor's Choice Security Services & Risk Management Residential Estate (Industry) Risk Management & Resilience
We all know about the layers of security required to form a comprehensive solution, but the layers go deeper than most consider. Andre Mundell dissects security in this article to start the journey into what is under the covers.
Read more...
---