printer friendly version
Bring your own (insecure) device
September 2013
Access Control & Identity Management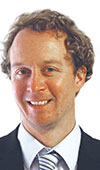 Ian Lowe, senior product marketing manager, Identity Assurance, HID Global.
In the world of enterprise security, what used to be a fairly contained universe – with the ability to put effective controls at critical physical and online entry points – is now an exploding, constantly expanding target. The new landscape many enterprises and government organisations are facing is a mobile one, where employees, partners, customers, and other constituents want to access resources from anywhere, at anytime, using the latest mobile devices they have at hand to conduct their business. While organisations recognise the opportunities and productivity gains that can be garnered from anywhere, anytime access, they are struggling to effectively support and secure it.
In this new era of mobile working, con-venience is king – but this must not be at the expense of security. Mobile devices and tablets, which are being used to access enterprise resources and cloud applications, can make for highly attractive targets. Against a backdrop of increasing mobile malware, Advanced Persistent Threats (APTs) and highly motivated, sophisticated attackers, enterprises and government organisations must be able to secure mobile access – it cannot be the weak link. At the same time maintaining the privacy of users and their personal data within a mobile access control environment is also important.
Creating separate secure areas, or zones, for personal data and work data is a potential solution. This concept of developing separate zones based on the classification of data enables organisations to secure corporate assets residing on personal mobile devices by first creating a remotely-
managed zone inside the device that is encrypted. Then, according to policy, the organisation can limit the interaction between the zone containing corporate data and the rest of the device. All applications and other ID credentials are completely segregated between personal and enterprise use. An added layer of security is typically applied using strong two step/factor authentication to access the applications and data residing within this separate corporate zone.
Keeping data isolated
Segregating employee-essential corporate data into an encrypted zone, creates a clear and secure partition between personal and business information. By demarcating the data available and further pre-determining user access rights depending on operational needs, businesses can effectively maintain control and manage data in these mobile environments, while remaining confident in the knowledge that only their intended parties can view it. Importantly, the parameters of this zone can be drawn and redrawn by the policy-makers based on a behavioural understanding of each user in the identity database, which can ensure a more consistent and secure user experience. Additionally, the employee can be assured that their personal data is protected and will not be erased should they leave the organisation.
Recent research from Forrester demonstrated that 60 percent of corporate data breach incidents are down to unwitting employees, whether through inadvertent misuse, loss or theft of resources. As such, buffering a policy of separate data and application zones with a layered secure access and authentication approach can serve to offer an organisation true end-to-end mobile security and prevent the risk of data leakage. With corporate resources no longer residing behind the traditional security firewall, taking equal account of people, property and assets enables an organisation to be better coordinated in their approach to managing user identities and access privileges in the workplace. Of course, due to the diversity of the user population and the multitude of devices in use to access business data, a one-size-fits-all approach to data security is often neither possible, nor indeed practical. A solid security policy must therefore be built on determining exactly who is accessing the information and whether they have permission to do so.
The importance of authentication
From a mobile perspective, there are three possible elements to identity authentication that can be implemented alongside a policy of creating separate zones for corporate data. The first is authenticating to the device itself – for example, when a user turns on their phone and punches in a PIN to start using it. The second is authenticating to access the resources that are either on a mobile device or accessible by that device, while a third option could be authentication to the enterprise application or data zone. Best practices state that two-step/factor authentication measures should be applied in this case. Two-factor authentication, which has typically been confined to physical one time password tokens (OTPs), can now be delivered through soft tokens held on mobile devices. To streamline access to information via a single device, these tokens can, in turn, be layered with token-less (no token) security solutions – such as behaviour and tap-in authentication from an existing access card and NFC-enabled mobile or tablet.
It is against the background of modern security threats – from unauthorised access risk trends like BYOD to the relentless activity of external hackers – that adoption of a practical solution like creating separate zones for corporate data and applications can become central to the security of the business as a whole. Without encroaching on end-users' time as they access systems and information, layered security and zoning data reduces the risk of identity fraud, manages users' expectations and offers businesses a practical way of balancing the need for access with security and regulatory requirements.
For more information contact HID Global, +27 (0)82 449 9398, rtruter@hidglobal.com, www.hidglobal.com
Credit(s)
Further reading:
Gallagher Security releases Command Centre v9
Gallagher News & Events Access Control & Identity Management Integrated Solutions
Richer features, greater integrations, with the release of Gallagher Security's Command Centre v9 security site management software designed to integrate seamlessly with various systems and hardware.
Read more...
---
Paxton's Net2 secures medicinal cannabis facility
Paxton Access Control & Identity Management Healthcare (Industry) Videos
Paxton's Net2 access control has been installed at Highlands Grow, a fully licensed industrial-scale cultivator, producing cannabis for medicinal and recreational use.
Read more...
---
Lock down your access control with Alcatraz AI
C3 Shared Services Healthcare (Industry) Access Control & Identity Management AI & Data Analytics
Alcatraz AI, represented in South Africa by C3 Shared Services, changes access control by harnessing the power of artificial intelligence and analytics at the edge, where facial recognition becomes the essential credential autonomously.
Read more...
---
Effective access control
Flow Systems Access Control & Identity Management Products & Solutions
Flow Systems has introduced its new Extra Heavy Duty Industrial Rising Vehicle Barrier, which provides a high level of protection. It is a traditional-looking control barrier with the benefits of high-level physical protection.
Read more...
---
Newport Aquarium replaces traditional locks and keys
Paxton Access Control & Identity Management Entertainment and Hospitality (Industry)
Newport Aquarium wanted to replace its old security system with an easy-to-use and high-security access control solution to keep the animals, visitors, and staff safe. The solution was Net2, a PC-based access control system that offers centralised administration.
Read more...
---
Securing easy access
Suprema neaMetrics Access Control & Identity Management
Securing access to hospitals and healthcare institutions presents a unique set of challenges, because these facilities operate 24/7, have highly 'open' access in public areas and require a strict level of security.
Read more...
---
Reliable mass notification
Access Control & Identity Management
The use of voice alarm and voice evacuation systems within the healthcare industry ensures a safer and more reassuring environment in the event of an emergency.
Read more...
---
Upgrading security at lifestyle estate
Turnstar Systems Access Control & Identity Management
Lifestyle estates are often located in out-of-town settings, and living away from the hustle and bustle of the city can be conducive to a relaxing lifestyle. However, it requires a high level of security to keep residents secure.
Read more...
---
Protecting our most vulnerable
Access Control & Identity Management
In a nation grappling with the distressing rise in child kidnappings, the need for innovative solutions to protect our infants has never been more critical. South Africa finds itself in the throes of a child abduction pandemic.
Read more...
---
New generation of cyber-focused controllers
Gallagher News & Events Access Control & Identity Management Products & Solutions
The C7000 gives users an opportunity to leverage their hardware and firmware to build a platform designed to catapult their organisation into the future, with cybersecurity baked in from inception.
Read more...
---