printer friendly version
Centa launches VESDA VLI
September 2013 Fire & Safety, Industrial (Industry)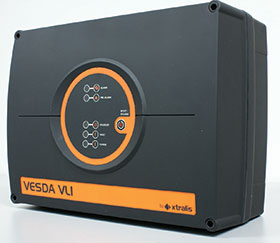 The Centa Group keeps abreast with international standards in all sectors, including industrial fire detection. Centa's range encompasses a recently launched VESDA VLI early warning aspirating smoke detection (ASD) system, designed to protect industrial applications and harsh environments (Class 1 Div 2 applications) up to 2000 m².
"Reliable smoke detection in industrial applications can be a challenge because of various factors that include background pollution, smoke and airborne particles, extreme temperatures and plant wash down influences," says Duncan Boyes, chairman of the Centa Group. "With the launch of the new VESDA VLI early warning aspirating smoke detection system, which is manufactured by Xtralis, Centa prevents disasters by ensuring total reliability of very early smoke detection.
"This smoke detection system detects the earliest presence of fire, ensuring there is sufficient time – especially in an industrial situation – to prevent devastation to lives, property, products and equipment. VESDA VLI is designed to reduce risk, prevent product loss and minimise downtime."
This system operates on the principle where air is continually drawn through the pipe network and into the VLI detector by a high efficiency aspirator. The air sample passes four sets of ultrasonic flow sensors before being passed through the intelligent filter.
This intelligent filter incorporates a flow splitting arrangement, where a smaller unfiltered portion of the sample is passed through another set of ultrasonic flow sensors and a larger portion of the sample passes through a high efficiency particulate air (HEPA) filtration medium. This design reduces the amount of contaminants entering the aspirator and detection chamber which extends service life of the detector in harsh and polluted environments.
This intelligent filter, which is fully monitored, provides consistent sensitivity during the operational life of the detector. This is achieved by comparing readings from the ultrasonic flow sensors at the detector air inlets, to readings from the unfiltered path and measuring the split of the airflow ratio as the filter load changes.
The filtered and unfiltered air samples are recombined as they exit the intelligent filter. A portion of the recombined sample is then passed through the sub-sampling probe and a secondary filter. This configuration prevents larger dust particles from passing through the probe and filter arrangement, thus eliminating nuisance alarms.
A third filter within the detection chamber assembly delivers a clean air barrier which protects the optical surfaces from contamination, further extending detector life and ensuring absolute calibration.
The detection chamber has a stable, highly efficient laser light source and sensor configuration to achieve optimum response to a wide range of smoke types. The presence of smoke in the detection chamber creates light scattering which is detected by the highly sensitive sensor circuitry, which then activates an alarm signal.
The VLI detector is less susceptible to nuisance alarms because of the intelligent filter, the lint trap which captures fibrous particulates, a sub-sampling probe that acts as an inertial separator and a secondary filter. A 'Clean Air Zero' facility is a user initiated feature which safeguards against nuisance alarms. This is achieved by introducing clean air into the detection chamber and taking a reference reading, This reading is then offset against the actual environment background to maintain consistent absolute smoke detection.
The VLI detector is equipped with a powerful aspirator which provides a total pipe length of 360 m. This system is supported by Xtralis software, which facilitates efficient pipework design, system commissioning and maintenance, as well as compatibility with existing VESDA installations. This system has an index protection (IP) 54 rating for protection against dust ingress and water in all directions. In most applications, this eliminates the need for costly enclosures, thus simplifying and reducing installation costs.
This new VESDA system has been designed with field replaceable parts for easy maintenance and cost efficiency. For optimum control of the system, the status of the detector, alarms, service and faults events is monitored and logged with time and dates.
For more information contact The Centa Group, +27 (0)31 569 1175, centa@centa.co.za, www.centa.co.za
Further reading:
Different types of fires
Fire & Safety
Fire is a powerful force of nature; according to SafeQuip, a distributor of fire-related equipment; understanding the different types of fires and how to combat them is essential for safety and protection.
Read more...
---
SafeQuip introduces lithium fire extinguishers
Fire & Safety Products & Solutions
With the use of Lithium batteries increasing in many types of portable devices and battery storage solutions, SafeQuip, in partnership with AVD Lithex, is introducing a fire extinguisher aimed at suppressing and extinguishing, and also preventing re-ignition of lithium fires.
Read more...
---
Modern warehouses come with added fire risk
Fire & Safety Transport (Industry)
Along with increased investments in modern warehousing in Africa, there is also a need to focus on protecting warehouses from crime, however, fire can arguably be a greater danger to business continuity.
Read more...
---
How to prevent solar inverter short-circuits and fires
Fire & Safety
With many South Africans installing inverters as part of solar power systems to mitigate the impact of load shedding in homes and at businesses, users need to be aware of the potential fire risks.
Read more...
---
210 million industrial endpoints secured by 2028
News & Events Information Security Industrial (Industry)
A new study by Juniper Research has found that there will be growth of 107% over the next five years in the number of industrial endpoints featuring cybersecurity protection.
Read more...
---
Growing cyber threats to SA's critical infrastructure
News & Events Information Security Industrial (Industry)
The increasing reliance on digital infrastructure makes critical sectors like utilities more susceptible to cyber threats. This concern has been highlighted by Kaspersky's recent discovery of a new SystemBC variant that has targeted a South African nation's critical infrastructure.
Read more...
---
Fidelity SecureFire steps into critical fire response space
News & Events Fire & Safety
With the majority of fire stations around the country being crippled by a lack of resources to offer effective responses, Fidelity Fire Solutions has launched its own 'first responder' model, Fidelity SecureFire.
Read more...
---
Smart manufacturing redefined
Hikvision South Africa Surveillance Industrial (Industry)
AI and intuitive visualisation technology allows managers to monitor manufacturing sites, production, and operational processes, and to respond in real time in the event of an issue – helping to drive efficiency and productivity.
Read more...
---
Long-distance connectivity with Simplex ES Net Life Safety
Johnson Controls Global Products Fire & Safety Products & Solutions
ES Net Network Bridge allows fire alarm system data to be transmitted across distant buildings via a customer's existing network infrastructure, improving system-wide monitoring and control in facilities and campuses where life safety networks are often widely dispersed.
Read more...
---
CHI selects NEC XON as trusted cybersecurity partner
News & Events Information Security Industrial (Industry)
CHI Limited, Nigeria's leading market player in fruit juices and dairy products, has engaged in a strategic cybersecurity partnership with NEC XON, a pan-African ICT systems integrator.
Read more...
---