printer friendly version
On fire for quality installations
September 2013
Fire & Safety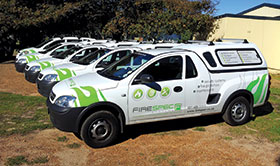 FireSpec Systems was founded in 1971 and in several decades of trading it has earned a position of trust in its discipline. The company started when the fire alarm and electronic security systems industry was still in its infancy in South Africa and during a time when there were very few specialist installers in the Western Cape.
FireSpec Systems was responsible for both manufacturing and installing fire alarm equipment. By the mid-1980s, in response to the growing installer base, the company was divided into two companies. The manufacturing arm becoming Ziton, while the solutions business became FireSpec Systems.
In 2005, management identified a lack of knowledge in and a growing need for passive fire protection as a turnkey solution. This led to a partnership with Irish company, Fireseal, to develop the necessary skills and experience. As a progressive company, FireSpec Systems evolves to meet the increasingly sophisticated technical fire and security needs of clients in the private sector, in the government sector and in parastatals across sub-Saharan Africa.
According to company CEO, Leo Slootmans, "FireSpec Systems is committed to its mission of being technical and commercial experts, delivering tailored solutions to address clients' needs."
FireSpec Systems has extensive experience in the provision of engineered total solutions for integrated life safety platforms to OEM specification as well as to the relevant design standard for commercial and industrial applications, including fire detection, emergency voice, fire suppression and passive fire protection systems.
The company also offers a full integration service across all aspects of electronic security and low voltage electrical systems. Individual sub-systems include high-definition surveillance camera systems and enterprise access control systems. "Maintenance of existing systems on a continuous basis is essential to prevent downtime, to ensure systems are not compromised, provide ongoing compliance with the relevant building codes, and preventing loss of business due to building closures by local authorities," said Slootmans.
FireSpec Systems provides service and repairs to existing systems using a dedicated team with appropriate qualifications on a 24/7 basis to provide quick turnaround within agreed timelines.
The company is a premium partner and value added reseller of industry leading products and solutions including Avigilon, Bosch, Edwards, Fire and Security Techniques, Gallagher, Impro, TOA, and UTC Fire and Security ranges including Edwards, Lenel and Ziton.
"FireSpec Systems provides best-in-class technical and commercial solutions experts. We employ over 40 permanent staff and we have a number of highly qualified specialists who regularly undergo training and updates in their relevant fields. Training for both staff and customers is focused on providing turnkey execution, from system design and documentation, to commissioning, system hand-over to client and final signoff by the relevant authority," Slootmans pointed out.
The company has PSIRA, SAQCC and FDIA accreditations and is a level 3 BBBEE rated company.
"We offer engineered solutions matched with one-on-one service and best fit to the customer's unique operating environment. We build long-term partnerships of trust and mutual respect with clients, suppliers and major international partners. We have a proven track record in providing enterprise solutions over a range of sub-systems that address the specific business risk needs of users within a wide range of vertical market segments. FireSpec Systems is a pre-approved integrator in various high-security and safety sensitive areas, such as mines, petrochemical plants and data centres. Accordingly our method statements are in line with industry best practice, meeting our client's requirements," Slootmans concluded.
Credit(s)
Further reading:
Different types of fires
Fire & Safety
Fire is a powerful force of nature; according to SafeQuip, a distributor of fire-related equipment; understanding the different types of fires and how to combat them is essential for safety and protection.
Read more...
---
SafeQuip introduces lithium fire extinguishers
Fire & Safety Products & Solutions
With the use of Lithium batteries increasing in many types of portable devices and battery storage solutions, SafeQuip, in partnership with AVD Lithex, is introducing a fire extinguisher aimed at suppressing and extinguishing, and also preventing re-ignition of lithium fires.
Read more...
---
Modern warehouses come with added fire risk
Fire & Safety Transport (Industry)
Along with increased investments in modern warehousing in Africa, there is also a need to focus on protecting warehouses from crime, however, fire can arguably be a greater danger to business continuity.
Read more...
---
How to prevent solar inverter short-circuits and fires
Fire & Safety
With many South Africans installing inverters as part of solar power systems to mitigate the impact of load shedding in homes and at businesses, users need to be aware of the potential fire risks.
Read more...
---
Fidelity SecureFire steps into critical fire response space
News & Events Fire & Safety
With the majority of fire stations around the country being crippled by a lack of resources to offer effective responses, Fidelity Fire Solutions has launched its own 'first responder' model, Fidelity SecureFire.
Read more...
---
Long-distance connectivity with Simplex ES Net Life Safety
Johnson Controls Global Products Fire & Safety Products & Solutions
ES Net Network Bridge allows fire alarm system data to be transmitted across distant buildings via a customer's existing network infrastructure, improving system-wide monitoring and control in facilities and campuses where life safety networks are often widely dispersed.
Read more...
---
Elvey Group and Technoswitch part ways
Elvey Security Technologies Fire & Safety News & Events
The Elvey Group (a division of the Hudaco Group of Companies) is relinquishing its distributorship of the Technoswitch brand, following Hudaco's acquisition of Brigit Fire.
Read more...
---
From one month to 10 minutes
Dahua Technology South Africa Fire & Safety
Dahua has integrated technology with the inspection mode of the photovoltaic power station in order to create a robust system that can monitor the fire situation in the power plant and its surrounding areas 24/7.
Read more...
---
Protecting poultry processing plant
Technoswitch Fire Detection & Suppression Fire & Safety
Grain Field Chickens, based in Reitz in the Orange Free State Province, features all the typical fire detection challenges one would expect to encounter in a food processing facility.
Read more...
---
Fire prevention for energy systems
Technoswitch Fire Detection & Suppression Fire & Safety
With the significant push towards renewable energy, such as wind and solar, the demand for battery energy storage systems has grown exponentially, as has the need for fire safety solutions for these environments.
Read more...
---