printer friendly version
On fire for quality installations
September 2013
Fire & Safety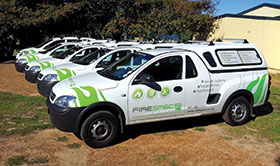 FireSpec Systems was founded in 1971 and in several decades of trading it has earned a position of trust in its discipline. The company started when the fire alarm and electronic security systems industry was still in its infancy in South Africa and during a time when there were very few specialist installers in the Western Cape.
FireSpec Systems was responsible for both manufacturing and installing fire alarm equipment. By the mid-1980s, in response to the growing installer base, the company was divided into two companies. The manufacturing arm becoming Ziton, while the solutions business became FireSpec Systems.
In 2005, management identified a lack of knowledge in and a growing need for passive fire protection as a turnkey solution. This led to a partnership with Irish company, Fireseal, to develop the necessary skills and experience. As a progressive company, FireSpec Systems evolves to meet the increasingly sophisticated technical fire and security needs of clients in the private sector, in the government sector and in parastatals across sub-Saharan Africa.
According to company CEO, Leo Slootmans, "FireSpec Systems is committed to its mission of being technical and commercial experts, delivering tailored solutions to address clients' needs."
FireSpec Systems has extensive experience in the provision of engineered total solutions for integrated life safety platforms to OEM specification as well as to the relevant design standard for commercial and industrial applications, including fire detection, emergency voice, fire suppression and passive fire protection systems.
The company also offers a full integration service across all aspects of electronic security and low voltage electrical systems. Individual sub-systems include high-definition surveillance camera systems and enterprise access control systems. "Maintenance of existing systems on a continuous basis is essential to prevent downtime, to ensure systems are not compromised, provide ongoing compliance with the relevant building codes, and preventing loss of business due to building closures by local authorities," said Slootmans.
FireSpec Systems provides service and repairs to existing systems using a dedicated team with appropriate qualifications on a 24/7 basis to provide quick turnaround within agreed timelines.
The company is a premium partner and value added reseller of industry leading products and solutions including Avigilon, Bosch, Edwards, Fire and Security Techniques, Gallagher, Impro, TOA, and UTC Fire and Security ranges including Edwards, Lenel and Ziton.
"FireSpec Systems provides best-in-class technical and commercial solutions experts. We employ over 40 permanent staff and we have a number of highly qualified specialists who regularly undergo training and updates in their relevant fields. Training for both staff and customers is focused on providing turnkey execution, from system design and documentation, to commissioning, system hand-over to client and final signoff by the relevant authority," Slootmans pointed out.
The company has PSIRA, SAQCC and FDIA accreditations and is a level 3 BBBEE rated company.
"We offer engineered solutions matched with one-on-one service and best fit to the customer's unique operating environment. We build long-term partnerships of trust and mutual respect with clients, suppliers and major international partners. We have a proven track record in providing enterprise solutions over a range of sub-systems that address the specific business risk needs of users within a wide range of vertical market segments. FireSpec Systems is a pre-approved integrator in various high-security and safety sensitive areas, such as mines, petrochemical plants and data centres. Accordingly our method statements are in line with industry best practice, meeting our client's requirements," Slootmans concluded.
Credit(s)
Further reading:
Self-test for fire alarms
Issue 4 2020 , Fire & Safety
Johnson Controls notification appliance self-test technology receives UL Verification Mark.
Read more...
---
New FireClass addressable fire alarm panels
Issue 4 2020 , Fire & Safety
Johnson Controls has introduced two new FireClass addressable fire alarm panels, the FC702 and FC708, to its range of fire detection solutions.
Read more...
---
University of Sudan tackles heat and dust with life safety solutions
Issue 4 2020, Hochiki Europe , Fire & Safety
To guarantee the safety of students, staff and visitors, Sudan University chose fire safety devices from Hochiki with the ability to withstand the harsh Sudanese environment.
Read more...
---
FS Systems launches FS Connect
Issue 3 2020, FS-Systems , News
FS Systems responds to industry growth with a new venture, FS Connect, a B-BBEE Level 2 company.
Read more...
---
Managing the fire risk of transformer explosions
Issue 2 2020 , Fire & Safety
While a simple solution is to install adequate fire detection and suppression systems, this is hampered by the lack of necessary funding.
Read more...
---
Fire safety critical in healthcare
Issue 2 2020, Spero Sensors & Instruments, Technews Publishing , Fire & Safety
Healthcare organisations have a lot on their collective plates and it can be easy to overlook security issues in favour of more pressing demands.
Read more...
---
Fire alarms at sea
Issue 2 2020, Technoswitch , Fire & Safety
Technoswitch now offers marine approved conventional control panels from Haes, aimed at fire safety for all small to medium seafaring vessels.
Read more...
---
Kitchen fire suppression systems
Issue 2 2020, Technoswitch , Fire & Safety
Technoswitch has announced the addition of new 16 litre and 25 litre systems to its range of automatic kitchen fire detection and suppression systems.
Read more...
---
Fire detection for battery charging rooms
Issue 2 2020, FDIA (Fire Detection Installers Association) , Fire & Safety
Battery charging rooms pose fire explosion risks due to the presence of hydrogen gas produced when lead-acid batteries are being charged.
Read more...
---
Technology can help people in high-risk evacuations
Issue 2 2020 , Fire & Safety
Commercial buildings must not only be prepared for the possibility of a fire because they face newer threats - including terrorism, civil unrest and extreme weather.
Read more...
---