printer friendly version
Electronic security sector under PSIRA microscope
September 2013
Associations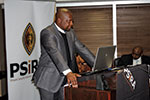 Manabela Chauke, director at PSIRA, addressing the delegates during the workshop.
The Private Security Industry Regulatory Authority (PSIRA) hosted its first workshop on the electronic security sector in South Africa at its head office in Centurion last month. The aim of the workshop was to create a platform for an exchange of information to help PSIRA with kick-starting research and analysis into the electronic security sector and later com-piling a research report.
The presenters were PSIRA director Manabela Chauke, research professor of criminal justice studies at UNISA, Prof. Anthony Minaar, CEO and founder of Safer South Africa, Paul Wilson, head of the Research and Development Unit at PSIRA, Dr Sabelo Gumedze, and chairperson of Electronic Security Industry Alliance (ESIA), Anthony Rosenbaum.
In his presentation, Chauke noted that the electronic security sector was one of the private security sectors that are thriving in South Africa. He underscored the need to regulate this sector, which was becoming more complicated as a result of advance in technology. Chauke noted the need to organise workshops of this nature must be seen within the context of empowering the Authority in effectively regulating the private security sector in South Africa. He also mentioned that the research on the electronic security sector was part of PSIRA's turnaround strategy. Chauke said, "Our questions are: What is the industry as a whole? Who is involved? The nature of people hired in this sector? Check the equipment that is traded or sold in this sector and its viability. We will also check the whole national structure of the sector and that will give us an idea of who to regulate and how."
Minnaar unpacked the complexities of cybercrime in his presentation. "In general terms, cyber-crime can be defined as when a networked corporate or company's computer is a target of criminal activity. And this threat is normally posed by hackers, who are five steps ahead of electronic security professionals. And this is associated with white-collar crime." In his presentation, Minnaar warned, "Cybercrime is going to be a constant threat to many companies. This is due to the ever-changing and improving technology, such as the growth of bandwidth, WiFi and cloud computing. A recent and relevant example is 6 months ago when hackers broke into South African Police Service's network and downloaded information on protection witnesses."
Wilson highlighted the significance of a link between private security and civil society. "At Safer South Africa, our vision is to build safer, confident and empowered societies – the same industry the private electronic security sector can thrive in. The private security sector's end-user education on electronic equipment is key. But one can ask: What is in it for the private electronic security sector partnering with the civil society? The answer will be the all important community intelligence and increasing trust."
Gumedze's presentation focused on the authority's research project's aims and objectives. "Our aim is to find a way of effectively regulating the electronic security industry. Through our research in the market, we found that there was a lot of equipment, some of it imported, which did not arguably meet the desired electronic standards. The question is: do we as the regulator know of all this equipment that is easily available to consumers? So, we have invited you, the electronic security sector, to assist us in giving us a direction as to who we really need to regulate? The service providers, the equipment, the end-user etc?"
In his presentation, Gumedze referred participants to Section 3 of the Private Security Industry Regulations Act/2001, and noted that the Authority must effectively regulate the private security industry and exercise effective control over its practice, i.e. selling of products, their use and consider the public interest.
"With our findings we aim to influence policy. And also contribute to a richer, better understanding of electronic security industry. No person in South Africa should deal with any electronic security equipment, as defined in the legislation, without registering with us."
Rosenbaum delved into the real experiences and challenges within the electronic security sector in South Africa. He noted, "The electronic security industry is complex. We have a man on the street that is trading electronic security equipment; there are hawkers, shops, wholesalers, retail stores, companies and professional installers. Bogus electronic security companies also exist in between all of these mentioned.
"This is generated by what one can call a huge challenge in the sector. The lack of credible trained electronic security professionals. As a result we have some IT graduates entering the electronic security sector, diverting from their area of expertise. Also, there are new players, companies flying below the radar. These may be made up of electricians, that guy that wires your house or installs your gate's motor. Those companies need to be brought under regulatory authority. And also, there is a dire need for training and education in electronic security from a recognised and accredited tertiary institution."
There was positive buy-in from the delegates and representatives of security companies that attended the event. Representatives from companies such as Elvey and ADT, and security associations such as ESIA and SIA, just to mention a few, viewed PSIRA's initiative as a step in the right direction. According to PSIRA, the research has now officially begun and the methodology will be rolled out shortly. Field workers will soon be sent out to electronic security providers to collect information and data.
For more information visit www.psira.co.za
Further reading:
Be wary of associations that appoint themselves as regulators
Associations
The South African Bureau of Standards (SABS) has noticed an increasing trend of some associations and industry bodies trying to derail the credibility of the SABS and creating confusion by publishing misleading information about their authority to regulate or govern certain industries.
Read more...
---
Making the local OSPAs work
Editor's Choice News & Events Associations
Entries to the 2023 South Africa Outstanding Security Performance Awards (OSPAs) will close on the 18th April, so do not delay in preparing your nominations.
Read more...
---
ESDA's annual charity fundraiser
ESDA(Electronic Security Distributors Association) News & Events Conferences & Events Associations
The ESDA Annual Charity Fundraiser, part of the Electronic Security Distributors Association's Golf Day, will take place at Benoni Lake Golf Course on Wednesday, 21 September 2022.
Read more...
---
FFETA Charity Golf Day raises R100 000 for Children of Fire
Fire Fighting Equipment Traders' Association Editor's Choice News & Events Associations
At the recent charity golf day hosted by FFETA (Fire Fighting Equipment Traders' Association), an amount of R75 000 was raised for Children of Fire. FFETA rounded this up to R100 000, which went directly to the charity.
Read more...
---
ASIS International appoints first president from South Africa
Technews Publishing Editor's Choice News & Events Associations Training & Education
Malcolm C. Smith has been appointed as the 2022 president of ASIS International, the first president of the organisation from Africa as well as South Africa.
Read more...
---
SAQCC Fire and the need to ensure compliance
SAQCC (Fire) Fire & Safety News & Events Associations
One of the fundamental objectives of SAQCC Fire is to establish the necessary procedures for the education, training and registration of all appropriate personnel actively involved in the fire industry.
Read more...
---
Tips for women to build a career in cybersecurity
Associations
Representation of women in the cybersecurity industry has grown over the past years and while this is positive, there is still room for improvement.
Read more...
---
Leaders in risk & security: Honesty and no BS!
Associations
Tony Botes has had a long career in the South African security industry from owning his own security company to now being the national administrator of SASA.
Read more...
---
A balanced, fair industry
PSiRA (Private Security Ind. Regulatory Authority) Residential Estate (Industry) Security Services & Risk Management Associations
PSiRA is focused on supporting the effective promotion and regulation of the private security industry.
Read more...
---
Service station security basics
Associations Integrated Solutions Retail (Industry)
It comes as no surprise that the petroleum and retail industries are targeted by criminals as these businesses receive, to a great extent, cash in exchange for their products and services.
Read more...
---