printer friendly version
Protecting high-value assets
August 2013
Fire & Safety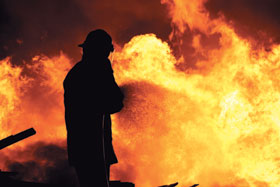 Xtralis has announced that Secontec, a security installer in Germany, selected and installed ADPRO FastTrace 2X and i-LIDS approved IntrusionTrace to protect Volkswagen and Audi dealership car lots.
Several cameras are used for a variety of security applications connected to the FastTrace 2/2X with IntrusionTrace for primary detection. The system provides remote visual verification with bi-directional audio and appropriate alarm handling that secures car dealerships throughout Germany in cities such as Stuttgart, Frankfurt, Berlin, and Hamburg.
The deployment of ADPRO significantly reduced the insurance rates for the car dealerships and ultimately interrupted theft while still providing a welcoming experience for potential customers.
Theft and vandalism at car dealerships is on the rise and as a result owners find it difficult to obtain insurance or experience extremely high insurance rates. "We delivered a successful solution to the Volkswagen and Audi dealerships that protected their assets and afforded them a major reduction in insurance rates," commented Romuald Kowalik, CEO of Secontec. "This application is very challenging; as you need a very sophisticated system to distinguish human intruders from environmental nuisances and animals, but also provide intelligent remote visualisation to determine if the intruder is a customer or a thief. Based on our expertise and experience with installing security systems for challenging applications, we selected and installed the Xtralis solution for Volkswagen and Audi because of its superior intrusion detection performance, ability for talk-down to the person of interest from the central monitoring station, and the scalability of the systems to thousands of sites," added Kowalik.
"Our sophisticated intrusion detection algorithms deliver the highest rate of detection combined with the lowest rate of false alarms," commented Jorg Tilkin, vice president security systems of Xtralis. "We enjoy the opportunity to partner with leading installers and central monitoring stations to deploy and implement the Xtralis solution at some of the most challenging sites in the world."
The FastTrace 2X, launched in September 2012, is the first hybrid multi-service security platform capable of rapid and easy deployment of new services on all 16 channels. i-LIDS approved IntrusionTrace, a downloadable intrusion detection analytic, significantly reduces false alarms and can be remotely configured and running in minutes without the necessity of sending a technician to the customer site. Subscription licences are available and once a licence is purchased, it can be easily and remotely moved to any FastTrace 2/2X platform in your security domain.
For more information contact Derek Waddell, Xtralis, +27 (0)82 316 2601, dwaddell@Xtralis.com
Further reading:
Managing the fire risk of transformer explosions
Issue 2 2020 , Fire & Safety
While a simple solution is to install adequate fire detection and suppression systems, this is hampered by the lack of necessary funding.
Read more...
---
Fire safety critical in healthcare
Issue 2 2020, Spero Sensors & Instruments, Technews Publishing , Fire & Safety
Healthcare organisations have a lot on their collective plates and it can be easy to overlook security issues in favour of more pressing demands.
Read more...
---
Fire alarms at sea
Issue 2 2020, Technoswitch , Fire & Safety
Technoswitch now offers marine approved conventional control panels from Haes, aimed at fire safety for all small to medium seafaring vessels.
Read more...
---
Kitchen fire suppression systems
Issue 2 2020, Technoswitch , Fire & Safety
Technoswitch has announced the addition of new 16 litre and 25 litre systems to its range of automatic kitchen fire detection and suppression systems.
Read more...
---
Fire detection for battery charging rooms
Issue 2 2020, FDIA (Fire Detection Installers Association) , Fire & Safety
Battery charging rooms pose fire explosion risks due to the presence of hydrogen gas produced when lead-acid batteries are being charged.
Read more...
---
Technology can help people in high-risk evacuations
Issue 2 2020 , Fire & Safety
Commercial buildings must not only be prepared for the possibility of a fire because they face newer threats - including terrorism, civil unrest and extreme weather.
Read more...
---
Fire Beam Xtra covers up to 160 metres
October 2019, Technoswitch , Products, Fire & Safety
The Fire Beam overcomes traditional beam detection challenges where building movement and accessibility made beam detection unreliable and laborious to commission and maintain.
Read more...
---
Emergency voice communication system
October 2019, Technoswitch , Products, Fire & Safety
The Technoswitch Emergency Voice Communication Systems concept offers fire telephone and disabled refuge systems, as well as integrating emergency assist alarm systems in a single solution.
Read more...
---
Fast detection of smoke and flames
October 2019, Bosch Building Technologies , Editor's Choice, CCTV, Surveillance & Remote Monitoring, Fire & Safety
Video-based fire detection AVIOTEC from Bosch has been optimised for tunnels to provide early and reliable detection of smoke and flames in these dark environments.
Read more...
---
Choosing the right fire detection system
August 2019, FDIA (Fire Detection Installers Association) , Fire & Safety
Charles Thiong'o from the FDIA highlights important factors to consider when choosing a fire detection system.
Read more...
---