printer friendly version
A fly on the wall for guarding
June 2013
News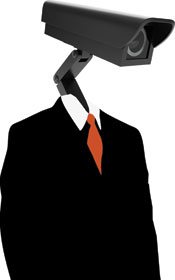 Many companies in South Africa employ security personnel as their first line of defence in shop fronts or as part of their business operations. However, when a security incident occurs, it is often difficult to assess the liability of the parties involved. Incidents are usually dealt with after the fact.
SerVision's real-time low bandwidth streaming allows the control room to view the activity of the incident in question via GSM or WIFI and respond accordingly in real-time. This is according to Mark Chertkow, MD at Graphic Image Technologies (GIT), a company that specialises in mobile and remote closed circuit television (CCTV) and control room technologies.
"Security management teams have to rely on the guard's version of events or eye witness accounts, without having a comprehensive view of the reported incidents as they happen. This can have serious implications. Complaints against security personnel have the potential to cost them their jobs as they have to prove their standpoint from their version of events alone. Often it comes down to a 'he said, she said' scenario and companies face a difficult task to take decisive action if necessary, be it legally or otherwise. The additional live access moves the solution from a post-event analysis tool to a real-time proactive solution," says Chertkow.
He says there has always been a need for a wearable CCTV solution that is affordable, allows for live streaming of the CCTV and forms part of an organisation's CCTV operation, but technology and cost constraints have hampered deployment in the past.
"Traditionally wearable closed circuit television CCTV security solutions were bulky and uncomfortable to carry around for long periods of time, and also not easy to use or rugged enough to withstand everyday wear and tear. In addition, they do not allow for live viewing of the CCTV pictures.
"Also, while being able to log events, video recording was limited due to hard disk drive space constraints and guards had to resort to recording as and when incidents happen and then download it later at their control centres. As a result, there was often no accurate representation of the chain of events to legally protect the jobs of the guards and reputations of their companies," he adds.
In response to this, SerVision developed a lightweight wearable CCTV security solution – the CVG-M video gateway unit – using proprietary video compression technology to transmit and record live high quality video with the use of its built-in 3G GSM module or Ethernet interfaces.
Says Chertkow: "The unit is compact enough to be worn comfortably by security personnel for long periods of time and is powered by a 12 V portable battery. Housed in a small hip pack or backpack, the CVG-M sports an internal cellular modem and supports two video inputs for live streaming, using miniature cameras as well as an audio input which is connected and mounted on a shoulder strap."
It also features a built-in GPS module, which allows management to track the location and movement of the on-duty guard at all times. The miniature cameras and microphone fit on the shoulder strap or helmet of the guard, which makes it well-suited for undercover operations. The live video feed is recorded and accessed directly by high-level control room personnel and first response teams either via a mobile device or on site. With this device, the probability of the perpetrators getting caught thanks to the video and audio surveillance is significantly higher.
Concludes Chertkow: "The unit allows organisations to spend less time on assessing wrongful accusations, and also increases the accuracy of the security incident reports, making staff more efficient and productive, with the assurance they have proof to back up their version of the disputed incidents. In addition, the CVG-M provides a proactive support element to your guarding solution."
For more information contact Graphic Image Technologies, +27 (0)11 483 0333, markc@git.co.za, www.git.co.za
Credit(s)
Further reading:
Olarm launches the Olarm LINK
Olarm Perimeter Security, Alarms & Intruder Detection News Products
Building on the success of smart-enabling, monitoring and controlling alarm panels and electric fences, Olarm has a new solution for customers to integrate gates, garage doors, pumps and other electrical products with the Olarm APP and Olarm PRO communicator.
Read more...
---
Ultimate smart monitoring and reliability
Olarm Perimeter Security, Alarms & Intruder Detection News Products
Olarm is gearing up to unveil its latest product, the Olarm MAX, set to be available in late 2023, which will redefine smart monitoring by offering unparalleled connectivity options and functionality.
Read more...
---
Insights from the 2023 Cloud Security Report
News Cyber Security
Increased costs, compliance requirements, hybrid and multi-cloud complexities, reduced visibility, and a lack of skilled practitioners cause organisations to slow or adjust their cloud adoption strategies.
Read more...
---
New algorithm for OT cybersecurity risk management
Industrial (Industry) Cyber Security News Commercial (Industry)
OTORIO's new risk management model and attack graph analysis algorithm technology, calculates OT cybersecurity threats and provides risk mitigation actions, prioritised according to actual exposure and potential impact on operations.
Read more...
---
Robots: a security opportunity or a threat?
Editor's Choice News Conferences & Events
Professor Martin Gill, Director of Perpetuity Research & Consultancy International and the School of Criminal Justice at the University of South Africa (UNISA), will be holding a Global Thought Leadership Security webinar on 22 June 2023 to discuss the contentious issue of robots operating in the security industry.
Read more...
---
UNISA sponsors Securex seminars
Editor's Choice News Conferences & Events
As part of UNISA's 150-year birthday celebrations, UNISA has sponsored the Securex Theatre Seminar Programme, which will include a number of prominent industry specialists, academics and security practitioners focusing on a number of themes.
Read more...
---
Facilities Management Seminar Theatre
Securex South Africa News
The free-to-attend Facilities Management Seminar Theatre, powered by Broll, delivers information on the latest market trends, thereby keeping attendees up to date on solutions and technology centred on increasing facility system optimisation.
Read more...
---
The latest security trends at Securex South Africa 2023
Securex South Africa News Conferences & Events Training & Education
Security technology evolves at a blistering pace, so it's important to keep up to date with changing trends in order to ensure maximised safety of human and personal assets. The Securex Seminar Theatre, powered by UNISA, is the place to be.
Read more...
---
Sustainability School opens for enrolment
Education (Industry) News Security Services & Risk Management
Three-part programme, first developed for Schneider Electric employees, is now available for free for companies worldwide. Attendees learn how to future-proof their businesses and accelerate their decarbonisation journeys.
Read more...
---
From the editor's desk: Get Smart
Technews Publishing News
Welcome to the fourth issue of Hi-Tech Security Solutions for 2023, which is also the first issue of Smart Security Solutions. As noted in previous issues, Hi-Tech Security Solutions has been rebranded to Smart Security Solutions.
Read more...
---