printer friendly version
Integration: doing it right
June 2013
News
System integrators are called in to do complex projects that require a high level of skills and experience. But how many integrators are able to retain the required skills? More importantly for the integrators, how do integrators today retain their customers when there is a guy with a bakkie and a screwdriver willing to do it for next to nothing?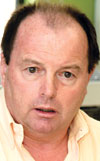 Mike Smiles
Continuing our focus on how integrators are dealing with the realities of operating in South Africa today, Hi-Tech Security Solutions asked Mike Smiles, MD of Masc Solutions for his take on the situation.
Hi-Tech Security Solutions: How difficult is it for SIs today to obtain good technical skills that they can put to work immediately?
Smiles: There is a serious shortage of technically competent individuals and most new entrants to the market have a very basic level of product knowledge and very little understanding of what system integration actually entails.
Hi-Tech Security Solutions: Are IP-related skills more available than 'traditional' security skills?
Smiles: The number of people who have basic IP-related skills far exceeds those with genuine IP security capabilities, however, the general IP products being installed do not require a high degree of technical knowledge because virtually all installations utilise similar topology, therefore there is a great degree of repetition which is not the case with IT security.
Hi-Tech Security Solutions: What do you do to get the skills you require? Train? Ask distributors for assistance? Hope for the best?
Smiles: We invest large sums of money ensuring our technical support staff are certified to work with the software and hardware products we offer and support, these product skills are also enhanced by generic software certification provided by the various Microsoft certification courses that are readily available. Sadly, most security companies are dependent on the support provided by the product distributors, however, in most instances the distributor does not possess the implementation skills needed for genuine system integration and will always attempt to force the installer to use products from their range, even when these are clearly not suitable for the application.
Hi-Tech Security Solutions: Once you have skills, how do you retain them and prevent poaching and job hopping?
Smiles: Retaining skilled individuals requires companies to respect the individuals and ensure they are given opportunities for personal upliftment and financial compensation for their technical abilities and loyalty. It also requires support for these individuals who more often than not are expected to install, commission and maintain complex systems without any support from senior management within the organisation.
Hi-Tech Security Solutions: From the customer perspective, how do you ensure customer loyalty when there is always someone willing to do it cheaper? What do you do/offer clients to keep them coming back?
Smiles: Customer loyalty is achieved through the provision of best-of-breed systems and excellent on-going support. Sadly, there are far too many 'integrated' systems being sold that never meet the client's expectations because of poor installation practices and product selection. In addition, failure to engage with the client to enable them to understand the role they need to play in the continual management and administration of the system often results in total under-utilisation of the system after installation.
Hi-Tech Security Solutions: Do you have limited liability clauses in your contracts as part of your SLA? How do you differentiate between normal maintenance/warranty work and work you charge for (because, for example, someone working for the client decided to move the cameras or change the software configuration)?
Smiles: Our standard SLA defines the extent of the work covered by the agreement and clearly differentiates between preventative maintenance and hardware/software changes. Where security systems use the clients network infrastructure, this becomes more complicated because there is a split responsibility and most integrators and many clients do not understand how to manage this process
Hi-Tech Security Solutions: How does an integrator ensure the standard of work is maintained when they are under consistent price pressure?
Smiles: If integrated security systems are installed using defined quality controlled standards and best-of-breed products, very little preventative maintenance is required as in most instances it is the mechanical portions of the project, electromechanical locks, vehicle barriers, turnstiles etc that require the greatest attention. Sadly, the lack of product skills and installation standards deployed by the vast majority of systems integrators often results in most systems being extremely unreliable and therefore requiring constant attention.
Hi-Tech Security Solutions: What is the one greatest challenge you as a systems integrator face in your day-to-day operations?
Smiles: The majority of new integrated security systems are being specified by electrical consultants who have a total lack of product awareness relating to our industry. The continual habit of 'cutting and pasting' specifications from one project to the next or simply including a generic, but product specific A&E specification as issued by one of the many security product suppliers/distributors is by far the greatest challenge.
Credit(s)
Further reading:
Olarm launches the Olarm LINK
Olarm Perimeter Security, Alarms & Intruder Detection News Products
Building on the success of smart-enabling, monitoring and controlling alarm panels and electric fences, Olarm has a new solution for customers to integrate gates, garage doors, pumps and other electrical products with the Olarm APP and Olarm PRO communicator.
Read more...
---
Ultimate smart monitoring and reliability
Olarm Perimeter Security, Alarms & Intruder Detection News Products
Olarm is gearing up to unveil its latest product, the Olarm MAX, set to be available in late 2023, which will redefine smart monitoring by offering unparalleled connectivity options and functionality.
Read more...
---
Insights from the 2023 Cloud Security Report
News Cyber Security
Increased costs, compliance requirements, hybrid and multi-cloud complexities, reduced visibility, and a lack of skilled practitioners cause organisations to slow or adjust their cloud adoption strategies.
Read more...
---
New algorithm for OT cybersecurity risk management
Industrial (Industry) Cyber Security News Commercial (Industry)
OTORIO's new risk management model and attack graph analysis algorithm technology, calculates OT cybersecurity threats and provides risk mitigation actions, prioritised according to actual exposure and potential impact on operations.
Read more...
---
Robots: a security opportunity or a threat?
Editor's Choice News Conferences & Events
Professor Martin Gill, Director of Perpetuity Research & Consultancy International and the School of Criminal Justice at the University of South Africa (UNISA), will be holding a Global Thought Leadership Security webinar on 22 June 2023 to discuss the contentious issue of robots operating in the security industry.
Read more...
---
UNISA sponsors Securex seminars
Editor's Choice News Conferences & Events
As part of UNISA's 150-year birthday celebrations, UNISA has sponsored the Securex Theatre Seminar Programme, which will include a number of prominent industry specialists, academics and security practitioners focusing on a number of themes.
Read more...
---
Facilities Management Seminar Theatre
Securex South Africa News
The free-to-attend Facilities Management Seminar Theatre, powered by Broll, delivers information on the latest market trends, thereby keeping attendees up to date on solutions and technology centred on increasing facility system optimisation.
Read more...
---
The latest security trends at Securex South Africa 2023
Securex South Africa News Conferences & Events Training & Education
Security technology evolves at a blistering pace, so it's important to keep up to date with changing trends in order to ensure maximised safety of human and personal assets. The Securex Seminar Theatre, powered by UNISA, is the place to be.
Read more...
---
Sustainability School opens for enrolment
Education (Industry) News Security Services & Risk Management
Three-part programme, first developed for Schneider Electric employees, is now available for free for companies worldwide. Attendees learn how to future-proof their businesses and accelerate their decarbonisation journeys.
Read more...
---
From the editor's desk: Get Smart
Technews Publishing News
Welcome to the fourth issue of Hi-Tech Security Solutions for 2023, which is also the first issue of Smart Security Solutions. As noted in previous issues, Hi-Tech Security Solutions has been rebranded to Smart Security Solutions.
Read more...
---