printer friendly version
Cross-border biometric T&A rollout
June 2013
Access Control & Identity Management
Although the various pilot projects took over three years, when the contract was awarded to ERS Biometrics to install fingerprint time and attendance devices at 1000 stores of the Ellerines Holdings Limited Group (EHL), it took a total time span of just eight weeks – inclusive of training and the enrolling of some 9000 staff members both in South Africa and Africa – for the system to be up and running.
This is the largest single-source contract for ERS Biometrics and involved all the stores in the EHL group, a wholly-owned subsidiary of JSE-listed African Bank Investments. The seven furniture and appliance retailers catering for all LSM sectors are Ellerines, Beares, Furniture City, Geen & Richards, Wetherlys, Dial-A-Bed and high-end Italian outlet Chateau-d'Ax. The stores throughout South Africa and those in Swaziland, Namibia, Lesotho, Botswana and Zambia are integrated via GPRS connectivity into the Educos Vision payroll system.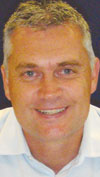 Charles Myburgh, chief human resources officer at Ellerines Holdings Limited Group.
Previously, EHL used manual attendance registers with each of the 1000 stores faxing, or later scanning and e-mailing, reports to head office for data capturing which required 10 fulltime staff members. "Around 2009 we decided to look at a fingerprint-based biometrics T&A system as we believed we were losing a lot of money through the manual system's inherent lack of accountability," said Charles Myburgh, chief human resources officer at EHL.
A pilot system was put in place in a Beares' outlet, then later at a few Furniture City stores and in Ellerines in Gauteng and Swaziland. "Data received and analysed in-depth against manual reports with graphs proved conclusively that we were losing, with leave and absenteeism balances very high and human error also playing a part in lost revenue."
Potholes
Rollout in stores began in April of 2012 working in geographical areas and finally the African countries. The system went live in July 2012 with payroll.
Andre Potgieter of ERS Biometrics said that the biggest challenge faced was logistical. "To prepare, configure and load devices with power supplies and batteries into our technician's vehicles, then travel to remote destinations and install in up to 25 sites in five days was difficult at times. We lost three vehicles … mainly through potholes…"
Both Potgieter and Myburgh agreed that it was a huge learning curve for the companies. "The HR department was merely the facilitator to allow our IT department to work with ERS's technical staff on system installation and integration into payroll. As ERS had a dedicated technical expert on site at our head office semi-permanently we experienced only minor glitches which were readily sorted out. Integration was seamless so there was no disruption of EHL's infrastructure," Myburgh explained.
Potgieter said that although ERS has excellent GPRS connectivity between all the devices and the clocking information is in real-time, the African countries experience problems as their local Internet is unstable making it difficult to access the Web.
"After the initial suspicion about the T & A system and once we had pointed out the mutual benefits of accurate record keeping, we had little resistance from staff on implementation. In retrospect, we believe we should have placed more emphasis on training of store management staff to understand the system operation," Myburgh explained. To assist managers in trouble shooting, ERS is now producing an on-line help manual with quick pop-ups with full explanations.
Enforcer
As much of the operational success is dependent on the manager who cannot be careless in updating information to payroll when employees miss clocking in or out, ERS's in-house developed Enforcer module – unique to ERS Biometrics – checks all records from the previous day and if a discrepancy is found, sends a prompt via e-mail to the store manager to update the records with the missing information within a given deadline time. If the store manager fails to respond, an e-mail is sent to the regional manager and if there is no action, the query escalates to the operational executive. The nagging ensures that records from yesterday are rectified and correct before close of business today.
The T & A system is linked into EHL's payroll Leave Management System whereby employees can apply electronically for leave. The approval is inputted into payroll which assists in explaining reasons for no or short clocks due to employees being on approved leave.
Other customised software is for stores that are located in large shopping malls with long business hours where staff operates in shifts. Working hours and payment scheduled can be programmed accordingly.
For corporate clients like EHL, ERS Biometrics has established a dedicated support service. Clocking devices are continuously monitored on a dashboard, providing a visual summary of the units and their locations, broken down by province or country. This function immediately alerts of any downtime or malfunction in the system and enables ERS to react timeously. "This function enables ERS to inform the branches before they can even detect a problem and ensures that clients have up-time all the time." Potgieter added that EHL will have their own dashboard in place to monitor the system.
R6 m/annum saving
Myburgh said that the bottom line for implementing a T&A system is the savings that can be achieved by tightening records on absenteeism, unauthorised leave and shortened working hours through arriving late and leaving early without a valid reason. "We are seeing a saving of around R500 000 per month. Another positive spin-off and so often not recognised is that by going electronic as opposed to the reams and reams of faxes sent out before, EHL has gone green."
For more information contact ERS Biometrics, 01 0593 0593, info@ersbiometrics.co.za, www.ersbiometrics.co.za
Further reading:
Cloud-based or on-premises access control
Salto Systems Africa Access Control & Identity Management Products
Choosing between cloud-based and on-premises access control solutions can be a difficult decision, however, the best solution for your organisation, property, or building type will depend on a range of factors.
Read more...
---
Improved security health check tool
Gallagher Access Control & Identity Management Products
Gallagher Security has streamlined its free Security Health Check tool, making it easier than ever to protect against potential system risks and improve business efficiencies.
Read more...
---
Suprema showcases integrated security solutions
Suprema Access Control & Identity Management Products
Apart from being an access terminal that supports multiple credentials such as facial recognition, RFID, mobile and QR codes, the BioStation 3 also supports VoIP Intercom and real-time video monitoring features to make it a truly multi-functional reader.
Read more...
---
Local electronic locks
Access Control & Identity Management
YeboTech is an electronics manufacturing company, founded in 2005, which designs, markets and sells an electronic key and locking systems, aimed at replacing all conventional mechanical locks.
Read more...
---
Selecting the correct access control system
Enkulu Technologies Access Control & Identity Management
Frazer Matchett, Managing Director of Enkulu Technologies, suggests the right questions to ask when selecting an access control solution; not just the access system, but the integrated solution that fits your requirements.
Read more...
---
Integrated guarding services
XtraVision Integrated Solutions Access Control & Identity Management Industrial (Industry)
XtraVision offers a few tips on how to go about planning and setting up an integrated approach to sustainable and successful security services, from the initial risk assessment to the technology and people required.
Read more...
---
Paxton secures multi-tenant office in Cape Town
Paxton Integrated Solutions Access Control & Identity Management Products
Cecilia Square in Paarl, Cape Town is an office building from where several businesses operate. The multi-tenant site has recently undergone a full refurbishment, including a complete upgrade of its security system for access control.
Read more...
---
AI face recognition OEM module
Suprema News Access Control & Identity Management Products
Suprema AI, a company specialized in artificial intelligence–based integrated security solutions, recently launched its high-performance face recognition OEM module called 'Q-Face Pro' in response to the growing need for contactless security solutions.
Read more...
---
KWAL raises a glass to security upgrade
Turnstar Systems Access Control & Identity Management Products
The Kenya Wine Agencies Limited (KWAL) was in need of an integrated security upgrade. This is where Turnstar came into the picture to provide a solution that would keep KWAL secure and efficient.
Read more...
---
Dahua Insider Series for touchless access
Dahua Technology South Africa Access Control & Identity Management Products
The Insider Series Access Control Solution offers touchless access (via Bluetooth) using the DMSS mobile app; it has three distance modes and two trigger modes (normal and shake).
Read more...
---