printer friendly version
Guarding sector must come clean
May 2013
News
The number of crimes committed against South African business is constantly climbing – and a substantial portion of this problem can be attributed to poor standards in the security guarding segment of South Africa's R50 billion private security industry.
Bernardo Luis, operations director at Guarding SA, has warned that both security companies and the companies that employ them need to get their houses in order if there is to be any chance of stemming the 380% rise in business crime that has occurred since 2004/5 (Source: Institute of Security Studies).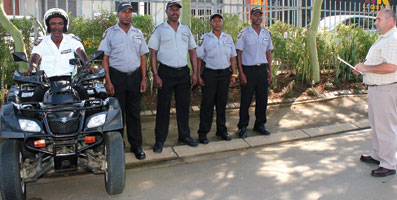 Bernardo Luis, operations director of Guarding SA is pictured right, taking the morning parade on site at an office park which is secured by the company's services.
He said that problems ranging from guards falling asleep on the job to those working in cahoots with organised syndicates and turning a blind eye to goods that are brazenly transported out of companies' warehouses contributed to the 7,5% increase in business crime recorded during the year ended April 2012. (Statistics released by the South African Police Services in September last year).
"It is extremely worrying if you look at how much crime is committed because people put too much trust in guards. Guarding is an extremely high-risk environment. Guards are constantly being bought. Threats come from both within and outside organisations.
As a result, he said, it was time to get back to basics. He pointed out that all companies as well as individual employees needed to be registered with the Private Security Regulatory Authority (PSRIA) as stipulated by the Private Security Regulation Act (2001) and subsequent amendments. The PSRIA website provides an online and extremely easy way to check credentials. It is a legal requirement for companies who employ outsourced security guards to ensure that they are registered with PSIRA, even if companies employ their own in house guards, both the company and the guards need to be registered with the organisation.
Luis advised that companies hiring guarding companies should also obtain references from other clients as well as investigate their operational and managerial systems. For starters, he said, companies should deal with guarding companies that both pre-screen and constantly monitor their staff.
He said one of the underlying difficulties was that, with a turnover of R50 billion, the South African private security industry was not only one of the largest but also one of the fastest growing security employers in the world. Again according to PSRIA, the number of private security officers and private security companies in South Africa has increased by 111,30% and 66,7% respectively.
The size and the ease with which new entrants could be trained and absorbed into the sector often results in extremely fleeting employee loyalty with guards simply moving from company to company should they be dismissed for misdemeanours. "That is why, for us, the crux is the screening process and maintaining that. Every single person who applies for a job at Guarding SA is polygraphed prior to being employed and also polygraphed periodically. We also infiltrate our own guards using undercover agents and offer a whistle blowing line. If we have two or three guys on site, you can rest assured that one is an undercover agent," he said.
Despite the fact that investigations frequently uncovered major criminal operations in which security guards were often an integral part, companies that employed them either dismissed their guards without reporting them or simply moved a guard to a less risky site. "That employee should be investigated and charged. However, many companies in the guarding industry are afraid that they will risk their credibility by doing that," he said, adding that many also failed to take action as they feared repercussions from terminating guards' services.
Luis said that while there was a lot to be done within the guarding sector, security companies and their clients could begin to pull up their socks and participate in the 'cleansing process' that would remove the many factors that tainted a sector that had a crucial part of play in the fight against crime in South Africa.
For more information contact Bernardo Luis, Guarding SA, +27 (0)31 308 0600.
Further reading:
Johnny Aucamp joins iPulse exco
News
Johnny Aucamp has joined iPulse Systems as its chief sales officer (CSO), adding a massive boost to the executive team.
Read more...
---
From the editor's desk: Security and resilience
Technews Publishing News
It's often said that South Africans are a resilient bunch, and history has proven this correct. When it comes to security, both cyber and physical, resilience is key to an effective defensive plan. ...
Read more...
---
Hikvision aims for solutions
Technews Publishing Hikvision South Africa Editor's Choice CCTV, Surveillance & Remote Monitoring News Integrated Solutions Conferences & Events
Hikvision recently held a roadshow titled Industry X, where the company highlighted its latest products and solutions, supported by partners and distributors.
Read more...
---
Olarm launches PRO 4G communicator
Olarm News Perimeter Security, Alarms & Intruder Detection Products
Olarm has announced an additional 4G/LTE version of its Olarm PRO smart communicator. It is aimed at areas suffering from poor connectivity by providing support for 4G, 2G and Wi-Fi networks.
Read more...
---
ADI Expo returns to South Africa
Technews Publishing ADI Global Distribution News
September saw the return of the ADI Expo to South Africa. The Johannesburg event was held at the Focus Rooms and the Durban event, two days later, at the Southern Sun Elangeni & Maharani.
Read more...
---
Technoswitch Awards dinner for 2022
Technews Publishing News Fire & Safety
Technoswitch hosted its fifth awards dinner at Montecasino in September, where customers and suppliers celebrated a year of success.
Read more...
---
Suprema joins FiRa Consortium
Suprema News Access Control & Identity Management
Suprema recently became a member of the FiRa Consortium, a consultative body that establishes standards for ultra-wideband (UWB) technology, the next generation of wireless communication.
Read more...
---
Reliable, low-maintenance video appliances
Technews Publishing Editor's Choice CCTV, Surveillance & Remote Monitoring News IT infrastructure Products
Symetrix, part of the Agera Group, has added the AES range of video recording servers, storage appliances and workstations to its portfolio.
Read more...
---
ZYTEQ Fire Engineering Summit 2022
ZYTEQ Fire Fire & Safety News
Cape Town-based ZYTEQ Fire hosted its inaugural Engineering Summit at the Commodore Hotel in Cape Town and the Leonardo Hotel in Sandton, Johannesburg.
Read more...
---
Nomad launches early adopter programme
Editor's Choice News Integrated Solutions Smart Home Automation
Participants in Nomad's Early Adopter Programme will receive 10% of their volume order to facilitate testing before the commercial launch later this year.
Read more...
---