printer friendly version
Service or surrender
April 2013
News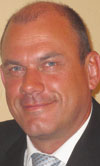 Michael Howard
Michael Howard does a lot of forward thinking. Howard's research into technology services, the Product-Service Evolution, highlights the significant differences between product centric and service centric thinking. Of notable significance is the critical but non-formalised approach to value-add over and above product in our industry. One of the things he thinks about is service delivery and how important it is to the changing nature of the distribution game in the security industry.
Howard has written for Hi-Tech Security Solutions on the topic, starting while still heading Bosch Security's Sub-Saharan African office. You can find those articles at www.securitysa.com/*howard1, www.securitysa.com/*howard2 and his latest offering, www.securitysa.com/*howard3. More recently, he joined Pinnacle Holdings, one of the largest IT distributors in Africa with revenues of around R6 billion and listed on the Johannesburg Stock Exchange.
Pinnacle had been active in the security market, with CCTV cameras and so forth as add-ons to its primary IT business for some time, but has now decided to focus more intently on the security industry. Howard was brought on as MD of Pinnacle Security Solutions (PinnSec), a company within the Pinnacle Holdings Group, made up of its existing security departments and boosted by the acquisition of high-end value-added reseller (VAR) Devtrade.
Howard says the Devtrade acquisition brings expertise for large complex projects and complements PinnSec with high-quality brands, as well as a team experienced in the higher-end of the market. He says PinnSec now offers a long overdue alternative to the market. The integration of Devtrade (originally based in Cape Town and later also Johannesburg) has run smoothly and has already contributed to the bottom line.
When looking at the potential success of PinnSec, Howard explains that Pinnacle already has about 600 sales people and over 1000 large clients around the country. As convergence forces the security industry into the IT world, more IT installers and integrators boost their revenues with IP-based security offerings, PinnSec is in a prime position to capitalise on the overlap.
PinnSec is also in a good position in that a significant percentage of its traditional lower-end surveillance business comes from a large quantity of customers that have on average a very low monthly spend. These are buyers that approach the company for small requirements, requiring little support from the PinnSec team. They also represent an opportunity for the company to focus on and increase their spend, simply doubling the average spent per month will make a significant impact to the bottom line.
At the high-end of the IT market, traditional Pinnacle business is well established and does significant business with government and enterprise customers. As more users look to simplify their procurement and the number of service providers they deal with, it will be a natural progression for these companies to source their security solutions from the same distributor.
With a parent that is an experienced player in the IT distribution market, PinnSec has the infrastructure and business processes in place to distribute successfully at truly competitive margins. While IT distributors are used to a low margin business, security distributors are still enjoying high margins which put further stress on global manufacturers who feel the pressures of product evolution and price erosion.
Where Howard intends to differentiate PinnSec in the market long term, apart from price, is in the services arena and he is determined to move Pinnacle away from the perception of being a simple box mover. Many distributors spend significant time and effort providing added value to clients and end users before they make the product sale, but this value is unappreciated and unbilled.
While it will be a long game, he intends to highlight the value of the services PinnSec can add and turn the company into a solution provider, where a solution is defined as the combination of product as well as value-adding services. The trick will be helping customers to understand the value of the services they receive, as clients do not often perceive services as a value item as it is intangible.
He adds that, in all truthfulness, most established products that do well in the market have few differentiating factors, when, and only when compared to the real requirements of the end-user. Increased complexity of larger projects demands not only an increase in skills and competence, but most importantly, a proven methodology for execution and fulfilment.
Howard explains that the methodology should take companies through the full life cycle of the solution, long term and short term. Most companies are driven by product sales in their business models and therefore will ultimately seek product revenues, to the detriment of services revenues. The full methodology is critical to the success of the project, but it is something many companies take for granted, leading to the frustration of a poorly performing solution – which is often blamed on the products.
PinnSec's goal will be to provide the optimal value to its clients in support of its high-end product range, differentiating itself from other distributors as well as offering the market more choice when it comes to purchasing quality products and services. The scale of the Pinnacle group immediately positions PinnSec as one of the largest players in the security industry. Now that PinnSec has emerged as a significant player in the security market, the focused effort from Howard and his team is sure to raise the bar for competition and get them thinking about their own business strategies for the future.
Credit(s)
Further reading:
Johnny Aucamp joins iPulse exco
News
Johnny Aucamp has joined iPulse Systems as its chief sales officer (CSO), adding a massive boost to the executive team.
Read more...
---
From the editor's desk: Security and resilience
Technews Publishing News
It's often said that South Africans are a resilient bunch, and history has proven this correct. When it comes to security, both cyber and physical, resilience is key to an effective defensive plan. ...
Read more...
---
Hikvision aims for solutions
Technews Publishing Hikvision South Africa Editor's Choice CCTV, Surveillance & Remote Monitoring News Integrated Solutions Conferences & Events
Hikvision recently held a roadshow titled Industry X, where the company highlighted its latest products and solutions, supported by partners and distributors.
Read more...
---
Olarm launches PRO 4G communicator
Olarm News Perimeter Security, Alarms & Intruder Detection Products
Olarm has announced an additional 4G/LTE version of its Olarm PRO smart communicator. It is aimed at areas suffering from poor connectivity by providing support for 4G, 2G and Wi-Fi networks.
Read more...
---
ADI Expo returns to South Africa
Technews Publishing ADI Global Distribution News
September saw the return of the ADI Expo to South Africa. The Johannesburg event was held at the Focus Rooms and the Durban event, two days later, at the Southern Sun Elangeni & Maharani.
Read more...
---
Technoswitch Awards dinner for 2022
Technews Publishing News Fire & Safety
Technoswitch hosted its fifth awards dinner at Montecasino in September, where customers and suppliers celebrated a year of success.
Read more...
---
Suprema joins FiRa Consortium
Suprema News Access Control & Identity Management
Suprema recently became a member of the FiRa Consortium, a consultative body that establishes standards for ultra-wideband (UWB) technology, the next generation of wireless communication.
Read more...
---
Reliable, low-maintenance video appliances
Technews Publishing Editor's Choice CCTV, Surveillance & Remote Monitoring News IT infrastructure Products
Symetrix, part of the Agera Group, has added the AES range of video recording servers, storage appliances and workstations to its portfolio.
Read more...
---
ZYTEQ Fire Engineering Summit 2022
ZYTEQ Fire Fire & Safety News
Cape Town-based ZYTEQ Fire hosted its inaugural Engineering Summit at the Commodore Hotel in Cape Town and the Leonardo Hotel in Sandton, Johannesburg.
Read more...
---
Nomad launches early adopter programme
Editor's Choice News Integrated Solutions Smart Home Automation
Participants in Nomad's Early Adopter Programme will receive 10% of their volume order to facilitate testing before the commercial launch later this year.
Read more...
---