printer friendly version
The changing role of the security systems integrator
February 2013
News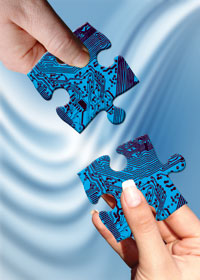 IHS has found that the transition to IP-based technology in the security industry is changing the role of its system integrators. Factors such as an increasingly competitive environment as new IT integrators enter the marketplace, declining product margins, and the increased importance of networking knowledge, are all contributing to this change. On the bright side, there are rewards for those integrators that adapt. The world market for systems integration is forecast to grow at an average rate of almost 10 percent to 2016.
Paul Bremner, market analyst at IMS Research comments, "As more IT integrators have been entering this market they have been fundamentally changing the way security systems integrators do business. IT integrators have brought their business model of lower equipment costs but higher service costs, and this has translated well when dealing with IP-based technology, which often requires a lot of network planning in the design stage to offer the best available solution. Design and consultancy services are likely to become a larger part of the typical integrator's revenues. Such services include risk analysis, vulnerability assessment and client security policy analysis, to name but a few."
The report, Security Systems Integration – World – 2012, found that one strategy some integrators were taking was to focus on specific vertical markets, as the knowledge the integrator gains from one project can then be directly applied to another project in the same vertical. This can further bolster the margin obtained from services, which can sometimes exceed 30 percent. This compares favorably with equipment margins, which can be lower than 10% in extreme cases.
Bremner continues, "The opportunity for design and consultancy revenues is highly dependent on the vertical market in question. Projects in transportation for example, are much more likely to include design and consultancy revenues than projects in either retail or commercial. This is mainly due to the nature of the projects themselves, but is also, in part, due to the different organisational structures found within those verticals."
This all said, integrators should not lose focus on providing the highest quality technology solution to their customers. Keeping track of major developments from their product vendors will still be fundamental to their success. The world market for physical security equipment sold through integrators and installers is forecast to be worth over $38 billion in 2016.
IMS Research's report, Security Systems Integration – World – 2012 Edition, was published in October in three regional volumes, the Americas, Asia and EMEA, and contains forecasts and analysis for this highly fragmented and competitive market.
For more information contact IMS Research, +44 1933 402 255, niall.jenkins@imsresearch.com, www.imsresearch.com
Further reading:
4IR is opportunity
News
In South Africa, digitalisation remains 'at a nascent stage' which means significant work still has to be done when it comes to addressing skills development around 4IR in the country.
Read more...
---
Five ways to reduce your cyber insurance premiums
Security Services & Risk Management News
With the global costs of cybercrime expected to soar to $13 trillion within the next five years, cyber insurance is booming as organisations try to mitigate the risk of financial losses.
Read more...
---
Client satisfaction boosted by 85% at Thungela Mine
Thorburn Security Solutions News Security Services & Risk Management Mining (Industry)
Thorburn Security, a division of Tsebo Solutions Group, has announced its recent collaboration with Kwa-Zulu Natal security company, Ithuba Protection Services, as part of its Enterprise Supplier Development (ESD) initiatives across Africa.
Read more...
---
Fidelity SecureFire steps into critical fire response space
News Fire & Safety
With the majority of fire stations around the country being crippled by a lack of resources to offer effective responses, Fidelity Fire Solutions has launched its own 'first responder' model, Fidelity SecureFire.
Read more...
---
The state of edge security report
News IT infrastructure
Edge computing has grown from being a niche use case in a handful of industries to offering a major opportunity for enterprises across industries to spread computing power around the world.
Read more...
---
CHI selects NEC XON as trusted cybersecurity partner
News Cyber Security Industrial (Industry)
CHI Limited, Nigeria's leading market player in fruit juices and dairy products, has engaged in a strategic cybersecurity partnership with NEC XON, a pan-African ICT systems integrator.
Read more...
---
Collaboration delivers integrated and holistic security
Guardian Eye CCTV, Surveillance & Remote Monitoring News Integrated Solutions
Guardian Eye and Lytehouse have partnered to integrate their speciality solutions and provide a holistic security offering that overcomes the fragmentation of security systems and services.
Read more...
---
Kaspersky appoints new GM for Africa
News Cyber Security
Kaspersky has announced the appointment of Andrew Voges as the new General Manager for Africa to boost regional market positioning and enterprise protection.
Read more...
---
AgentZero, the AI that writes emails for you
News
In an age where digital natives dominate the tech scene, two Boomers are proving that it's never too late to innovate; launching an AI business that promises to revolutionise email communication. It is called AgentZero.
Read more...
---
Elvey Group and Technoswitch part ways
Elvey Security Technologies Fire & Safety News
The Elvey Group (a division of the Hudaco Group of Companies) is relinquishing its distributorship of the Technoswitch brand, following Hudaco's acquisition of Brigit Fire.
Read more...
---