printer friendly version
The changing role of the security systems integrator
February 2013
News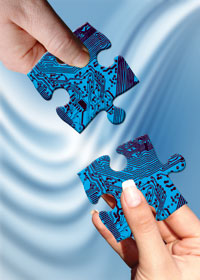 IHS has found that the transition to IP-based technology in the security industry is changing the role of its system integrators. Factors such as an increasingly competitive environment as new IT integrators enter the marketplace, declining product margins, and the increased importance of networking knowledge, are all contributing to this change. On the bright side, there are rewards for those integrators that adapt. The world market for systems integration is forecast to grow at an average rate of almost 10 percent to 2016.
Paul Bremner, market analyst at IMS Research comments, "As more IT integrators have been entering this market they have been fundamentally changing the way security systems integrators do business. IT integrators have brought their business model of lower equipment costs but higher service costs, and this has translated well when dealing with IP-based technology, which often requires a lot of network planning in the design stage to offer the best available solution. Design and consultancy services are likely to become a larger part of the typical integrator's revenues. Such services include risk analysis, vulnerability assessment and client security policy analysis, to name but a few."
The report, Security Systems Integration – World – 2012, found that one strategy some integrators were taking was to focus on specific vertical markets, as the knowledge the integrator gains from one project can then be directly applied to another project in the same vertical. This can further bolster the margin obtained from services, which can sometimes exceed 30 percent. This compares favorably with equipment margins, which can be lower than 10% in extreme cases.
Bremner continues, "The opportunity for design and consultancy revenues is highly dependent on the vertical market in question. Projects in transportation for example, are much more likely to include design and consultancy revenues than projects in either retail or commercial. This is mainly due to the nature of the projects themselves, but is also, in part, due to the different organisational structures found within those verticals."
This all said, integrators should not lose focus on providing the highest quality technology solution to their customers. Keeping track of major developments from their product vendors will still be fundamental to their success. The world market for physical security equipment sold through integrators and installers is forecast to be worth over $38 billion in 2016.
IMS Research's report, Security Systems Integration – World – 2012 Edition, was published in October in three regional volumes, the Americas, Asia and EMEA, and contains forecasts and analysis for this highly fragmented and competitive market.
For more information contact IMS Research, +44 1933 402 255, niall.jenkins@imsresearch.com, www.imsresearch.com
Further reading:
Olarm launches the Olarm LINK
Olarm Perimeter Security, Alarms & Intruder Detection News Products
Building on the success of smart-enabling, monitoring and controlling alarm panels and electric fences, Olarm has a new solution for customers to integrate gates, garage doors, pumps and other electrical products with the Olarm APP and Olarm PRO communicator.
Read more...
---
Ultimate smart monitoring and reliability
Olarm Perimeter Security, Alarms & Intruder Detection News Products
Olarm is gearing up to unveil its latest product, the Olarm MAX, set to be available in late 2023, which will redefine smart monitoring by offering unparalleled connectivity options and functionality.
Read more...
---
Insights from the 2023 Cloud Security Report
News Cyber Security
Increased costs, compliance requirements, hybrid and multi-cloud complexities, reduced visibility, and a lack of skilled practitioners cause organisations to slow or adjust their cloud adoption strategies.
Read more...
---
New algorithm for OT cybersecurity risk management
Industrial (Industry) Cyber Security News Commercial (Industry)
OTORIO's new risk management model and attack graph analysis algorithm technology, calculates OT cybersecurity threats and provides risk mitigation actions, prioritised according to actual exposure and potential impact on operations.
Read more...
---
Robots: a security opportunity or a threat?
Editor's Choice News Conferences & Events
Professor Martin Gill, Director of Perpetuity Research & Consultancy International and the School of Criminal Justice at the University of South Africa (UNISA), will be holding a Global Thought Leadership Security webinar on 22 June 2023 to discuss the contentious issue of robots operating in the security industry.
Read more...
---
UNISA sponsors Securex seminars
Editor's Choice News Conferences & Events
As part of UNISA's 150-year birthday celebrations, UNISA has sponsored the Securex Theatre Seminar Programme, which will include a number of prominent industry specialists, academics and security practitioners focusing on a number of themes.
Read more...
---
Facilities Management Seminar Theatre
Securex South Africa News
The free-to-attend Facilities Management Seminar Theatre, powered by Broll, delivers information on the latest market trends, thereby keeping attendees up to date on solutions and technology centred on increasing facility system optimisation.
Read more...
---
The latest security trends at Securex South Africa 2023
Securex South Africa News Conferences & Events Training & Education
Security technology evolves at a blistering pace, so it's important to keep up to date with changing trends in order to ensure maximised safety of human and personal assets. The Securex Seminar Theatre, powered by UNISA, is the place to be.
Read more...
---
Sustainability School opens for enrolment
Education (Industry) News Security Services & Risk Management
Three-part programme, first developed for Schneider Electric employees, is now available for free for companies worldwide. Attendees learn how to future-proof their businesses and accelerate their decarbonisation journeys.
Read more...
---
From the editor's desk: Get Smart
Technews Publishing News
Welcome to the fourth issue of Hi-Tech Security Solutions for 2023, which is also the first issue of Smart Security Solutions. As noted in previous issues, Hi-Tech Security Solutions has been rebranded to Smart Security Solutions.
Read more...
---