printer friendly version
On-road security solution
November 2012
Fire & Safety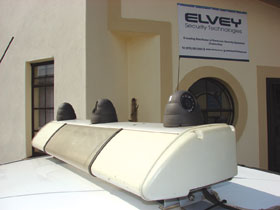 In the last two years, rapid advances in mobile digital video surveillance technology have taken fleet protection and management to unprecedented levels of sophistication and diversity.
However, warns Zane Greeff, technical director of Elvey Security Technologies, the market is now awash with mobile DVR products, some of which are woefully below standard. The main features of a high-end mobile DVR system include being able to record continuously for a lengthy period of time without failure; coping with the unstable power supply associated with vehicles and being able to withstand vibrations and impacts, factors which would be lethal for regular recorders.
"Prospective buyers need to do their homework carefully before making a purchase that could end up under-delivering," he says. "While a system might impress in a stable office environment, unless it offers five key elements, namely reliable power supply, effective anti-shock mechanism, high quality data transmission, solid interface and resistance to dust and heat, it is going to disappoint on the road.
"These elements, combined with 3G/GPRS technology and ever-increasing Internet and download speeds, will deliver the reliable, effective live video streaming that is so critical to vehicle security, driver behaviour management, fuel monitoring, theft reduction, evidence gathering and passenger safety."
Through the use of video streaming vehicle DVR systems fulfil a number of functions. Not only can they pinpoint the position of vehicles, they can also see in real-time what is happening on board.
The installation of PTZ cameras makes for additional control, he notes further, since owners and controllers can zoom in and out, and even change the direction of the camera in order to see what is happening on the road. The technology can also be used to provide evidence of traffic accidents and send alarm signals to the control centre in emergency situations.
Last but not least, a good quality mobile DVR will have a long life span and give stable performance, which will reduce maintenance costs.
To this end, Greeff urges anyone wanting a benchmark against which to measure mobile DVR systems to use Dahua's new mobile DVR, which he says boasts exceptional performance in all areas.
"Dahua's latest product, which is the size of a standard car radio and therefore easy to conceal, is ideal for deployment on buses, trains, taxis, law enforcement and cash-in-transit vehicles," he says. Designed for direct deployment in tough out-of-plant or on-road environments, this particular mobile DVR also boasts a powerful network software package which includes a built-in Web server and multi-DVR client and mobile phone surveillance software.
Dahua's pluggable HDD case has been designed to handle tough terrain and withstand shock. It boasts air connector converters which combine to deliver shockproof performance and water proofing. Its power supply operates on a range of 8 to 60 volts, and protects against over- and under-voltage, short circuits and over-current.
Other features include four channel audio input and two channel audio output as well as four channel simultaneous playback and smart-video functions such as motion detection, camera blank and video loss. Equipped with a SIM card slot at the back of the DVR, which allows for network connectivity, the system comes standard with two TV video outputs, an air connector to BNC and 1 VGA.
Four self-defined, four-sided zones allow for privacy masking on each camera, should there be any need to block out objects from the viewing field. Data back-up can be done in a number of ways: through the pluggable hard drive case, via USB flash drive, USB hard drive, USB CD/DVD writer, SD card or network downloads.
For more information contact Elvey Security Technologies, +27 (0)11 401 6700, tasha.smith@elvey.co.za, www.elvey.co.za
Credit(s)
Further reading:
Integrated security solution
Access & Identity Management Handbook 2020, Elvey Security Technologies , Access Control & Identity Management
The ability of access control solutions to seamlessly work with surveillance and building management systems is so important it cannot be overemphasised.
Read more...
---
Cloud-based access control
November 2019, Elvey Security Technologies , Access Control & Identity Management
Hattrix is a flexible and scalable security platform that marks a shift toward outsourcing security, similar to other services such as IT, HR, and legal services.
Read more...
---
Cable theft detection and alerting system
November 2019, Elvey Security Technologies , Products
Cable theft monitoring and alerting system makes use of Permaconn devices and the Pocket Secure app for real-time alerting.
Read more...
---
Camera Nest enclosure improves accessibility
November 2019, Elvey Security Technologies , Products
The launch of the South African made Camera Nest fundamentally changes the surveillance mounting and installation method.
Read more...
---
Thinking, learning video management system
November 2019, Elvey Security Technologies , Products
DeepAlert's real-time alerting solution leverages deep learning artificial intelligence (AI) technology to perform video analytics on a continuous basis.
Read more...
---
Security system for high-end hotel
CCTV Handbook 2019, Elvey Security Technologies , CCTV, Surveillance & Remote Monitoring, Integrated Solutions, Entertainment and Hospitality (Industry)
An international hotel group has made a substantial investment in upmarket hotels within a prestigious Northern Suburbs mixed-use precinct.
Read more...
---
Fire Beam Xtra covers up to 160 metres
October 2019, Technoswitch , Products, Fire & Safety
The Fire Beam overcomes traditional beam detection challenges where building movement and accessibility made beam detection unreliable and laborious to commission and maintain.
Read more...
---
Emergency voice communication system
October 2019, Technoswitch , Products, Fire & Safety
The Technoswitch Emergency Voice Communication Systems concept offers fire telephone and disabled refuge systems, as well as integrating emergency assist alarm systems in a single solution.
Read more...
---
Fast detection of smoke and flames
October 2019, Bosch Building Technologies , Editor's Choice, CCTV, Surveillance & Remote Monitoring, Fire & Safety
Video-based fire detection AVIOTEC from Bosch has been optimised for tunnels to provide early and reliable detection of smoke and flames in these dark environments.
Read more...
---
Mallett appointed as Elvey sales director
October 2019, Elvey Security Technologies , News
Ernest Mallett has been appointed as sales director of the Elvey Security Technologies group of companies.
Read more...
---