printer friendly version
Vehicle fire suppression systems
November 2012 Fire & Safety, Transport (Industry)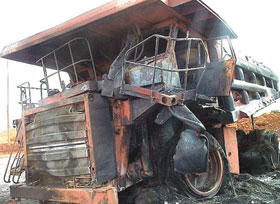 Alien Systems & Technologies is launching a new product line to complement its existing range of fire engineering solutions. The new ASTEX range of vehicle fire suppression systems now sits alongside AST's Pyroshield and Pyrogen fire protection solutions for substations, the PyroStorm fire protection solution for hydraulic and lubrication oil packs and the PyroScan3 conveyor belt fire detection system.
Vehicle fire protection is not a new field of fire protection engineering. Vehicles are critical process equipment that are utilised in all types of industry. One example could be a large open cast iron ore mine that relies on vehicle transportation of large bulk ore to a crusher. If a vehicle was rendered out-of-action, it would affect production and ultimately profits.
The technology of the engines used in these large types of vehicles has progressed significantly to meet the demands of modern mining. A key driving factor behind this advancement has been the implementation of larger turbo-chargers that have assisted diesel engines in powering even larger vehicles more efficiently. However, with every engineering step there is a pay-off. In the case of larger turbo-chargers it is an increase in heat. Turbo-chargers can become hot and pose an ignition point when things go wrong.
Diesel flashpoints vary, but typically it has a flashpoint between 52-degrees Celsius and 92-degrees Celsius. The flashpoint being the temperature that diesel will form vapour, which combined with air forms a volatile combustible cocktail when exposed to an ignition source. The source of ignition in a high performance turbo-charged diesel engine bay is that very hot turbo-charger. The root cause behind most mining vehicle fires is a broken fuel line. The resultant diesel fuel vapour and air mix from the broken fuel line comes into contact with the turbo-charger and ignites.
The outcome of this can lead to a tremendous fast burning fire that will spread rapidly burning the fuel lines, the fuel and ultimately leading to a secondary fire on the large rubber tyres. Should there be a hydraulic bay on the vehicle operating a telescopic arm for example, the hydraulic oil also adds to what is already a disastrous fire.
AST has addressed these problems, and many others caused by vehicle fires, by selecting the ASTEX fire extinguishing medium. Traditionally dry chemical powder has been used as a means of extinguishing vehicle fires. Although this technology can offer a very fast knock-down, it does not completely solve the problem of a diesel engine fire. When examining the fire triangle of heat, oxygen and fuel – the inherent ignition source being heat is not successfully dealt with. Dry chemical powders do not provide any cooling effect. Therefore it is possible to have a fire that has been knocked-down by the powder, only to reignite because the turbo-charger, engine and surrounding material has not been cooled down.
The solution to this problem was solved with the use of foam fire extinguishing technology. Foam is the traditional and proven method of extinguishing hydro-carbon fuel fires. It makes practical sense to use this type of extinguishing medium in the context of vehicles, where the primary risk area is a hydrocarbon fuel fire. Foam not only extinguishes the fire, but provides the benefit of cooling the affected area, preventing re-ignition.
When AST addresses the fire protection of any vehicle it follows the route of an engineered system that is unique to each vehicle and the requirements of the owner and their insurance company. Currently most systems offered on the market follow a pre-engineered approach which in essence is a one-shoe-fits-all approach that can ignore the small detail.
The first design step in an engineered approach is to perform a full weighted risk assessment control (WRAC) of the vehicle. This is a crucial step to understanding where all the potential risk areas are, the probability of a fire, and the outcome should a fire occur. It could be that the service foreman who is responsible for the maintenance of the vehicle has identified that small amounts of diesel fuel sometimes gather at a specific point that may be out of reach of typical nozzle locations. Although routine maintenance should eliminate leakage, this information is taken into account and additional nozzles can be placed in this location to cater for this specific need should a fire occur.
Once the initial risk assessment is completed the design of the system is performed by AST's design team to mitigate against the initial findings. This information is then input into the WRAC documentation and agreed upon by all affected parties. Regular maintenance parameters are defined and the WRAC documentation neatly fits in with the mine risk assessment policy. This documentation becomes a live document and any changes required are input into it with their outcomes. The ASTEX system and all vehicle fire protection designs comply 100% with AS5062:2006.
The protection offered by the ASTEX Vehicle Systems encompasses everything from small vehicles to large non-road equipment. The likes of excavators, drag lines, dozers, graders, underground mining equipment, buses, forklifts, medium sized commercial vehicles and four wheel drive vehicles for mine sites are all afforded the option to utilise the ASTEX system for maximum fire suppression and protection.
Three systems are now available to the African market and specifically designed to cope with the extremes of the African mining industry.
All ASTEX vehicle fire systems can use various methods of automatic detection and operation, while also offering manual operation of the system from the driver's cabin to dedicated strategic points on the vehicle. Detection methods include heat sensitive pressure devices that can open the foam cylinder valve to electrical heat sensitive detection using the ASTEX FireWire cable that can operate a solenoid valve. This provides increased configurability to meet specific customer needs.
Further reading:
Beating traffic jams with intelligent video technology
CCTV Handbook 2019, Hikvision South Africa , CCTV, Surveillance & Remote Monitoring, Transport (Industry)
As more city authorities begin to see the value of latest- generation video solutions for traffic management, adoption is accelerating.
Read more...
---
More secured and efficient transportation
October 2019, Dahua Technology South Africa , CCTV, Surveillance & Remote Monitoring, IT infrastructure, Transport (Industry)
Implementing comprehensive smart transportation solutions will guarantee transportation hubs more security, more efficiency and more profit.
Read more...
---
ContinuitySA offers ISO 22301 Lead Implementer course
October 2019, ContinuitySA , Training & Education, Security Services & Risk Management, Transport (Industry)
ContinuitySA is once again offer its five-day Certified ISO 22301 Lead Implementer course on 18-22 November 2019 at the company's Midrand facility.
Read more...
---
Fire Beam Xtra covers up to 160 metres
October 2019, Technoswitch , Products, Fire & Safety
The Fire Beam overcomes traditional beam detection challenges where building movement and accessibility made beam detection unreliable and laborious to commission and maintain.
Read more...
---
Emergency voice communication system
October 2019, Technoswitch , Products, Fire & Safety
The Technoswitch Emergency Voice Communication Systems concept offers fire telephone and disabled refuge systems, as well as integrating emergency assist alarm systems in a single solution.
Read more...
---
Fast detection of smoke and flames
October 2019, Bosch Building Technologies , Editor's Choice, CCTV, Surveillance & Remote Monitoring, Fire & Safety
Video-based fire detection AVIOTEC from Bosch has been optimised for tunnels to provide early and reliable detection of smoke and flames in these dark environments.
Read more...
---
TAPA conference 2019 explores layered approach to security
September 2019, Technews Publishing, TAPA (Transported Asset Protection Association) , News, Transport (Industry)
The Transported Asset Protection Association (TAPA) held its annual South African conference at Emperors Palace in Johannesburg on 26 July 2019.
Read more...
---
Dashcams useful for more than social media
September 2019, Graphic Image Technologies , CCTV, Surveillance & Remote Monitoring, Transport (Industry)
Logistics companies need to make sure that they have a complete solution that allows real-time driver monitoring and event notifications as they happen.
Read more...
---
Distributed architecture lowers TCO, increases scalability
September 2019, Technews Publishing , CCTV, Surveillance & Remote Monitoring, Transport (Industry)
Faced with a number of security challenges and planned future expansion, a major airport decided it was time to implement a scalable security surveillance solution.
Read more...
---
Choosing the right fire detection system
August 2019, FDIA (Fire Detection Installers Association) , Fire & Safety
Charles Thiong'o from the FDIA highlights important factors to consider when choosing a fire detection system.
Read more...
---