printer friendly version
Day/night video demystified
October 2012
CCTV, Surveillance & Remote Monitoring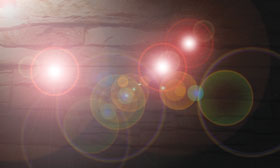 If a day/night camera is called for, it must be complemented with a quality day/night lens. However, there are night-time applications that rely on visible light and do not require day/night cameras.
How do you ensure that you are proposing a video system that will do everything that your customer wants, including recording clear images in all types of light, without running up the cost? Day/night cameras can be a dilemma. When do you propose them and when are they not required? What else do you need to propose as complementary products?
Day/night cameras are capable of providing usable images at night by changing camera parameters to work more efficiently in low light. A basic example of day/night operation is the use of infrared (IR) LEDs within the camera housing. That is because, although people can see only visible light, security cameras see both visible and IR light. The addition of artificial IR illumination enhances the ability of the camera to record an image without giving away the camera's presence or field of view.
While security cameras use colour filters (blue, green, and red) to create a colour image, each filter also allows IR light to pass through onto the sensor, muddying the colours. Since most lenses are designed for visible light only, most security cameras have an IR filter to block the IR light. This filter improves both the colour fidelity and sharpness of the image.
Some lower cost day/night cameras generally use software to create the best image they can, given the limitation of allowing both visible and IR illumination through the pixel colour filters. At night, the algorithm changes, giving a slight improvement to dark image recording. Changes include de-saturating the colours to deliver a black and white image.
Technology advances inside cameras have helped aid lighting needs. More sophisticated cameras, those cameras considered true day/night, can physically remove the IR filter from the light path, allowing the camera to see both visible daylight and IR light. This can make the camera 15 to 20 times more sensitive at night compared to a standard day-only camera.
What is a true day/night camera?
A true day/night camera has a movable IR filter. During day performance, the IR filter is in place blocking all the IR light, creating a nice colour image. In this case, the IR filter will block all IR light greater than about 750 nm wavelength. At night, when light decreases, the IR filter is replaced with a clear glass dummy filter. The clear glass allows all available visible and IR light to reach the sensor and be recorded.
Although removing the IR filter improves the light sensitivity, it does so at the expense of colour fidelity. To counteract the degraded colour in night mode, the software for most day/night cameras de-saturates the colours, creating a monochrome image.
For an example of a true day/night camera, the Infinova V6102-N Series Fixed Day/Night IP Camera can automatically switch between colour and B/W mode via ICR (IR Cut Removable) filter, which greatly enhances its sensitivity. Usable images can be delivered even in extremely low light conditions down to 0,01 lux @F1.2 (30 IRE, AGC ON).
Do you need a day/night lens?
A day/night lens may be used on any camera. However, a high quality day/night lens is absolutely required when using a day/night camera. Day/night lenses are designed with the criteria that they focus the infrared light to the same plane as the visible light. This means that the scene is in focus whether using visible light from the sun, moon, or street lights, IR light from these same sources or artificial IR illumination LEDs, or both. Without a day/night lens, the camera would give a soft focus effect at night when both IR and visible light are used at the same time.
Also be aware of back-focus. Many video cameras come with an automatic back-focus feature that can enable a camera to see a sharp image in IR light without the use of an IR correcting lens. When the camera is operating in night mode, the mechanism automatically moves the sensor to the focal plane for IR light. However, during twilight when there is a combination of visible and IR illumination, the image will not necessarily be in sharp focus. A quality day/night corrected lens is still required to keep the image in good focus with this type of camera.
Illumination sources
Artificial IR illumination can be provided by IR LEDs. These can enhance the naturally occurring light in the scene. Such lights can be mounted anywhere as long as the IR light can shine on the object that the camera is watching. There is no requirement that the IR lights be mounted at or near the camera. They can be scattered throughout a parking lot, for instance, bathing the entire area in IR light.
However, many visible light sources such as street lights, warehouse lights, incandescent lights, not to mention the sun and moon, are also sources of IR light that can be recorded by the camera's sensor. If the scene has such a light source at night, a day/night camera can record the scene without the aid of additional IR illumination.
If there is enough visible light in the scene, a standard camera (with IR filter) can be used for night security applications. Illumination sources like those mentioned above may provide sufficient visible light that use of a day/night camera in night mode may not be necessary at all. In this case, the use of a day/night lens is optional.
When there is adequate visible light at night, a non-day/night lens can be used with a standard, non-day/night camera. Just make sure that the lens can support the number of megapixels in the camera.
The bottom line, for night surveillance, if there is enough visible light in the scene, it may not be necessary to use a day/night camera and lens. However, if a day/night camera is called for, it must be complemented with a quality day/night lens. In this case, artificial illumination with IR LEDs will enhance existing light from streetlights and other sources.
For more information, contact Raine Sadie, IAC, +27 (0)12 657 3600, raine@iacontrol.co.za
Credit(s)
Further reading:
Drones and cybersecurity?
October 2019 , CCTV, Surveillance & Remote Monitoring
Hacker drones can eavesdrop electronically on conversations, can perform network attacks, or can create fake wireless access points.
Read more...
---
Body-worn cameras transforming security
October 2019 , CCTV, Surveillance & Remote Monitoring, Security Services & Risk Management
Police Service Northern Ireland now has over 7 000 officers using 2 500 cameras covering approximately 173 000 incidents each year.
Read more...
---
Camera Selection Guide 2019
CCTV Handbook 2019 , CCTV, Surveillance & Remote Monitoring
The Camera Selection Guide 2019 includes a range of IP, analogue, thermal and speciality cameras aimed at a broad range of surveillance functions.
Read more...
---
Intelligent analytics and the brains to match
September 2019, Bosch Building Technologies , CCTV, Surveillance & Remote Monitoring, Integrated Solutions
What if the brains behind our security cameras could be trained to improve their cognitive ability to pay attention, learn, and problem-solve according to specific rules and situations?
Read more...
---
AI-powered autonomous Drone-in-a-Box
September 2019 , CCTV, Surveillance & Remote Monitoring, Integrated Solutions
Organisations in the mining, energy and industrial, oil and gas, ports and terminals sectors can optimise security and business operations, whilst reducing risks and operational costs
Read more...
---
Cybersecurity for video surveillance systems
September 2019, Mobotix , Cyber Security, CCTV, Surveillance & Remote Monitoring
Video surveillance systems are increasingly accessible over any IP network, which has led to the rise of potential cyberattack.
Read more...
---
What are the cybersecurity issues in video surveillance?
November 2019, Axis Communications SA , Editor's Choice, CCTV, Surveillance & Remote Monitoring, Cyber Security
he importance of the data captured by surveillance cameras – and what can be done with it – has led to a new breed of cybercriminals, looking for insights to steal and sell.
Read more...
---
The safe city and its need for interoperability
November 2019 , Integrated Solutions, CCTV, Surveillance & Remote Monitoring
Interoperability continues to present one of the greatest challenges, particularly with video management systems, video recording devices and cameras.
Read more...
---
A platform approach to safer and smarter cities
November 2019, Milestone Systems , CCTV, Surveillance & Remote Monitoring
Selecting the right platform to manage the vast data collected from smart and safe cities is critical to the ultimate success of the project.
Read more...
---
Creating safe cities with smart technology
November 2019, Secutel Technologies , CCTV, Surveillance & Remote Monitoring
In a digital age, where resilience and responsiveness are paramount to fighting crime and creating a safer world, CCTV systems are becoming part of every city's infrastructure.
Read more...
---