printer friendly version
Day/night video demystified
October 2012
CCTV, Surveillance & Remote Monitoring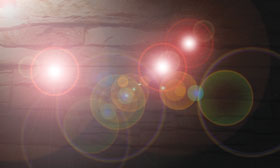 If a day/night camera is called for, it must be complemented with a quality day/night lens. However, there are night-time applications that rely on visible light and do not require day/night cameras.
How do you ensure that you are proposing a video system that will do everything that your customer wants, including recording clear images in all types of light, without running up the cost? Day/night cameras can be a dilemma. When do you propose them and when are they not required? What else do you need to propose as complementary products?
Day/night cameras are capable of providing usable images at night by changing camera parameters to work more efficiently in low light. A basic example of day/night operation is the use of infrared (IR) LEDs within the camera housing. That is because, although people can see only visible light, security cameras see both visible and IR light. The addition of artificial IR illumination enhances the ability of the camera to record an image without giving away the camera's presence or field of view.
While security cameras use colour filters (blue, green, and red) to create a colour image, each filter also allows IR light to pass through onto the sensor, muddying the colours. Since most lenses are designed for visible light only, most security cameras have an IR filter to block the IR light. This filter improves both the colour fidelity and sharpness of the image.
Some lower cost day/night cameras generally use software to create the best image they can, given the limitation of allowing both visible and IR illumination through the pixel colour filters. At night, the algorithm changes, giving a slight improvement to dark image recording. Changes include de-saturating the colours to deliver a black and white image.
Technology advances inside cameras have helped aid lighting needs. More sophisticated cameras, those cameras considered true day/night, can physically remove the IR filter from the light path, allowing the camera to see both visible daylight and IR light. This can make the camera 15 to 20 times more sensitive at night compared to a standard day-only camera.
What is a true day/night camera?
A true day/night camera has a movable IR filter. During day performance, the IR filter is in place blocking all the IR light, creating a nice colour image. In this case, the IR filter will block all IR light greater than about 750 nm wavelength. At night, when light decreases, the IR filter is replaced with a clear glass dummy filter. The clear glass allows all available visible and IR light to reach the sensor and be recorded.
Although removing the IR filter improves the light sensitivity, it does so at the expense of colour fidelity. To counteract the degraded colour in night mode, the software for most day/night cameras de-saturates the colours, creating a monochrome image.
For an example of a true day/night camera, the Infinova V6102-N Series Fixed Day/Night IP Camera can automatically switch between colour and B/W mode via ICR (IR Cut Removable) filter, which greatly enhances its sensitivity. Usable images can be delivered even in extremely low light conditions down to 0,01 lux @F1.2 (30 IRE, AGC ON).
Do you need a day/night lens?
A day/night lens may be used on any camera. However, a high quality day/night lens is absolutely required when using a day/night camera. Day/night lenses are designed with the criteria that they focus the infrared light to the same plane as the visible light. This means that the scene is in focus whether using visible light from the sun, moon, or street lights, IR light from these same sources or artificial IR illumination LEDs, or both. Without a day/night lens, the camera would give a soft focus effect at night when both IR and visible light are used at the same time.
Also be aware of back-focus. Many video cameras come with an automatic back-focus feature that can enable a camera to see a sharp image in IR light without the use of an IR correcting lens. When the camera is operating in night mode, the mechanism automatically moves the sensor to the focal plane for IR light. However, during twilight when there is a combination of visible and IR illumination, the image will not necessarily be in sharp focus. A quality day/night corrected lens is still required to keep the image in good focus with this type of camera.
Illumination sources
Artificial IR illumination can be provided by IR LEDs. These can enhance the naturally occurring light in the scene. Such lights can be mounted anywhere as long as the IR light can shine on the object that the camera is watching. There is no requirement that the IR lights be mounted at or near the camera. They can be scattered throughout a parking lot, for instance, bathing the entire area in IR light.
However, many visible light sources such as street lights, warehouse lights, incandescent lights, not to mention the sun and moon, are also sources of IR light that can be recorded by the camera's sensor. If the scene has such a light source at night, a day/night camera can record the scene without the aid of additional IR illumination.
If there is enough visible light in the scene, a standard camera (with IR filter) can be used for night security applications. Illumination sources like those mentioned above may provide sufficient visible light that use of a day/night camera in night mode may not be necessary at all. In this case, the use of a day/night lens is optional.
When there is adequate visible light at night, a non-day/night lens can be used with a standard, non-day/night camera. Just make sure that the lens can support the number of megapixels in the camera.
The bottom line, for night surveillance, if there is enough visible light in the scene, it may not be necessary to use a day/night camera and lens. However, if a day/night camera is called for, it must be complemented with a quality day/night lens. In this case, artificial illumination with IR LEDs will enhance existing light from streetlights and other sources.
For more information, contact Raine Sadie, IAC, +27 (0)12 657 3600, raine@iacontrol.co.za
Credit(s)
Further reading:
AI technology to empower vertical markets
Dahua Technology South Africa Mining (Industry) CCTV, Surveillance & Remote Monitoring Products
Dahua WizMind is a full portfolio of solutions comprising project-oriented products that use deep learning algorithms to provide more business value to its global customers and deliver reliable and comprehensive AI solutions for vertical markets.
Read more...
---
Elvey partners with HALO
Elvey Security Technologies News CCTV, Surveillance & Remote Monitoring
Elvey Group has partnered with HALO Europe to provide Africa's first body-worn solution with zero upfront costs. This includes an IP68-certified body camera and a 4G-connected device.
Read more...
---
Regal announces new partnership
Regal Distributors SA CCTV, Surveillance & Remote Monitoring
Having a bird's eye view of your surveillance data, with the capability to drill down to the details obtained via connected security solutions, is a game changer for security operators, companies and even officers on the ground.
Read more...
---
Invisible connection and tangible protection via cloud
Dahua Technology South Africa Perimeter Security, Alarms & Intruder Detection CCTV, Surveillance & Remote Monitoring Products
Dahua Technology has launched its AirShield security solution that uses advanced, stable and reliable RF communication technology and cloud services, integrating alarm hubs, various detectors and accessories, with several software apps.
Read more...
---
Hikvision expands solar-powered solutions
CCTV, Surveillance & Remote Monitoring Products
Hikvision is offering a portfolio of solar solutions, the 4G solar-powered camera kit, a wireless bridge, and mobile solar security tower solutions to assist in keeping remote and isolated areas safe in a simple, practical, and cost-effective way.
Read more...
---
Affordable entry-level cameras from Dallmeier
Dallmeier Electronic Southern Africa CCTV, Surveillance & Remote Monitoring Products
Dallmeier has introduced the 'E' version of the DOMERA camera family, offering high image quality with 2 MP and 5 MP resolution, and providing detailed images even in low light conditions.
Read more...
---
The importance of the operator's frame of reference
Leaderware Editor's Choice CCTV, Surveillance & Remote Monitoring Security Services & Risk Management Mining (Industry)
The better the operator's frame of reference and situational awareness, and the more informed they are in dealing with CCTV surveillance in the mining industry, the more successful they are likely to be in surveillance.
Read more...
---
Enhancing surveillance on mines
Avigilon Technews Publishing Axis Communications SA Forbatt SA Hikvision South Africa Bosch Building Technologies Editor's Choice CCTV, Surveillance & Remote Monitoring Integrated Solutions Mining (Industry)
Smart Security approached a number of surveillance vendors to find out what the latest in surveillance technology is that can make a difference to security operations in mines, as well as general operations.
Read more...
---
Surveillance to improve worker safety
Axis Communications SA Mining (Industry) CCTV, Surveillance & Remote Monitoring Integrated Solutions
With substantial deposits of mineral resources, mining is critical for South Africa's economic growth and prosperity; however, mining can be dangerous, especially for the people working on the ground and in the shafts.
Read more...
---
Radar-video fusion camera
Axis Communications SA CCTV, Surveillance & Remote Monitoring Mining (Industry) Products
The AXIS Q1656-DLE Radar-Video Fusion Camera device brings video and radar analytics together in AXIS Object Analytics to deliver detection and visualisation.
Read more...
---