printer friendly version
Mobile application for biometrics
September 2012
Access Control & Identity Management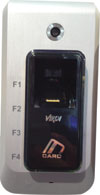 The ViRDI Smart-i biometric reader from Virdi Distribution is a solution for applications where a dedicated network is unavailable. Designed for use with Android mobile devices and iPhones, the Smart-i utilises iUNIS software to capture and manage system users.
"After demands from the market to address connectivity issues at remote locations, UNION Community set to work on the design and development of the Smart-i," says Virdi Distribution's product manager Chris Grauls.
"The Smart-i, when used in conjunction with Android mobile devices or iPhones, has all the functionality of a standard, networked biometric device. "When registering new people on the system, the operator controls the Smart-i from his tablet or iPhone, enrolling templates directly onto the device. These templates can then be captured by iUNIS and transferred to other Smart-i devices, dependent on specific on-site access permissions. A 1,3-megapixel camera allows for capture of transactions as they happen and the system can store up to 10 000 images."
The Smart-i allows registration of up to 1000 users and 1000 templates and has a 1 000 000-transaction memory. Should an operator need to check on previous transactions, it is as simple as returning to the Smart-i access point in question and downloading the relevant data using iUNIS on the Android mobile devices or iPhone.
In addition to its wireless capabilities, the Smart-i can also be connected via Wi-Fi to the standard UNIS software for uploading or downloading of data. The unit has a touch keypad F1 to F4 and a built-in card reader, either standard 125 kHz Wiegand or Mifare.
The Smart-i works in conjunction with the ViRDI BLC-015 lock controller. "The BLC-015 is placed on the secure side of the door and controls access to the entrance point. Communication between the two units is conducted via 485," Grauls said.
The Smart-i is IP65-rated for use in extreme outdoor climatic conditions. The unit has a diecast casing for durability and robustness, so maintenance is reduced to an absolute minimum, making it the ideal access control mechanism for remote locations.
Because all information is captured using a mobile device, the need for a dedicated keypad and LCD has been obviated in the Smart-i's design. The beta version of this slimline biometric reader was launched at IFSEC 2012.
For more information contact Virdi Distribution, 086 118 4734, chris@virditech.co.za, www.virditech.co.za
Credit(s)
Further reading:
A contact-free hotel experience
Issue 7 2020, Technews Publishing , Access Control & Identity Management
Check-in and go straight to your room without stopping at the reception desk at Hotel Sky in Sandton and Cape Town.
Read more...
---
AI digitises coronavirus management
Issue 7 2020, NEC XON , Access Control & Identity Management
NEC XON is using NeoFace Watch and specialised thermography cameras to measure temperature and identify employees and visitors.
Read more...
---
Combining visual and IR face recognition
Issue 7 2020, Suprema , Access Control & Identity Management
The FaceStation F2 offers face recognition and anti-spoofing performance.
Read more...
---
Anviz unveils FaceDeep5
Issue 7 2020, ANVIZ SA , Access Control & Identity Management
Anviz Global has unveiled its new touchless facial recognition identity management and IoT biometric device.
Read more...
---
Touchless biometric options
Issue 6 2020, Entry Pro , Access Control & Identity Management
When it comes to estate access control management, the foremost topic of conversation at the moment seems to be the importance of touchless biometrics.
Read more...
---
Fast access to Kevro production facilities
Issue 6 2020, Turnstar Systems , Access Control & Identity Management
Employee and visitor access at Kevro's Linbro Park premises in Gauteng is controlled through eight Dynamic Drop Arm Barriers from Turnstar.
Read more...
---
Know your facial recognition temperature scanner
Issue 6 2020, ViRDI Distribution SA , Access Control & Identity Management
Facial recognition with temperature measurement is, for the most part, available in one of two technologies – thermopile and thermography/IRT.
Read more...
---
Suprema integrates with Paxton's Net2 access control
Issue 6 2020, Suprema , Access Control & Identity Management
Suprema has announced it has integrated its devices with Paxton's access control system, Net2.
Read more...
---
Contactless check-in at hotels
Issue 6 2020 , Access Control & Identity Management
Onity has delivered the DirectKey mobile access solution to hotel chains around the globe, which allows for contactless check-in and property access.
Read more...
---
UFace facial recognition now in SA
Issue 6 2020, Trac-Tech , Access Control & Identity Management
Trac-Tech has secured the distribution rights to the UFace range of contactless biometric facial recognition and identity management IoT devices.
Read more...
---