printer friendly version
Mobile application for biometrics
September 2012
Access Control & Identity Management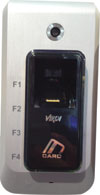 The ViRDI Smart-i biometric reader from Virdi Distribution is a solution for applications where a dedicated network is unavailable. Designed for use with Android mobile devices and iPhones, the Smart-i utilises iUNIS software to capture and manage system users.
"After demands from the market to address connectivity issues at remote locations, UNION Community set to work on the design and development of the Smart-i," says Virdi Distribution's product manager Chris Grauls.
"The Smart-i, when used in conjunction with Android mobile devices or iPhones, has all the functionality of a standard, networked biometric device. "When registering new people on the system, the operator controls the Smart-i from his tablet or iPhone, enrolling templates directly onto the device. These templates can then be captured by iUNIS and transferred to other Smart-i devices, dependent on specific on-site access permissions. A 1,3-megapixel camera allows for capture of transactions as they happen and the system can store up to 10 000 images."
The Smart-i allows registration of up to 1000 users and 1000 templates and has a 1 000 000-transaction memory. Should an operator need to check on previous transactions, it is as simple as returning to the Smart-i access point in question and downloading the relevant data using iUNIS on the Android mobile devices or iPhone.
In addition to its wireless capabilities, the Smart-i can also be connected via Wi-Fi to the standard UNIS software for uploading or downloading of data. The unit has a touch keypad F1 to F4 and a built-in card reader, either standard 125 kHz Wiegand or Mifare.
The Smart-i works in conjunction with the ViRDI BLC-015 lock controller. "The BLC-015 is placed on the secure side of the door and controls access to the entrance point. Communication between the two units is conducted via 485," Grauls said.
The Smart-i is IP65-rated for use in extreme outdoor climatic conditions. The unit has a diecast casing for durability and robustness, so maintenance is reduced to an absolute minimum, making it the ideal access control mechanism for remote locations.
Because all information is captured using a mobile device, the need for a dedicated keypad and LCD has been obviated in the Smart-i's design. The beta version of this slimline biometric reader was launched at IFSEC 2012.
For more information contact Virdi Distribution, 086 118 4734, [email protected], www.virditech.co.za
Credit(s)
Further reading:
Smart parking management platform
Access Control & Identity Management Asset Management, EAS, RFID
Parket builds a seamless bridge between supply and the ever-increasing, but fluid – and often temporary – demand for parking bays.
Read more...
---
Visible-light facial recognition terminal
ZKTeco Access Control & Identity Management Products
The SpeedFace-V5L [P] is a visible-light facial recognition terminal using intelligently engineered facial recognition algorithms and the latest computer vision technology.
Read more...
---
Facial and palm verification
ZKTeco Access Control & Identity Management Products
The ProFace X [P] supports both facial and palm verification, with a large capacity and rapid recognition.
Read more...
---
Glide Master High Security 90° Sliding Gate
BoomGate Systems Access Control & Identity Management Products
Boomgate Systems was asked to make a sliding gate that can turn 90 degrees. The gate had to offer high security and be vandal-proof.
Read more...
---
Informing, entertaining and communicating across your landscape
Evolving Management Solutions Access Control & Identity Management
For the first time, the attraction of large shopping malls with many stores, entertainment and food courts no longer offers enough appeal to attract customers.
Read more...
---
Suprema's new BioStation 3
Suprema Access Control & Identity Management Products
The brand new BioStation 3 is not only Suprema's smallest face recognition device to date, but it also comes packed with the largest variety of features.
Read more...
---
Suprema renews international privacy and security standard certifications
Suprema News Access Control & Identity Management
Suprema has simultaneously renewed two important international standard certifications regarding information security management (ISO/IEC 27001) and privacy information management (ISO/IEC 27701).
Read more...
---
SuperVision biometric access control
Integrated Solutions Access Control & Identity Management Products
SuperVision is a time & attendance (T&A) biometric access control system Fourier IT has been developing and enhancing for 18 years.
Read more...
---
Manage energy usage with Paxton access control
Paxton Access Control & Identity Management Products
Paxton provides access control systems that can integrate with existing infrastructure and manage a building's energy-consuming activities to save energy and costs.
Read more...
---
Why Multi-Factor Authentication, universal ZTNA and Zero Trust matter
Access Control & Identity Management Cyber Security
Malicious cyber actors are experimenting with new attack vectors and increasing the frequency of zero-day and other attacks, according to Fortinet's 1H 2022 FortiGuard Labs Threat Landscape report.
Read more...
---