printer friendly version
Stepping up to the business plate
September 2012
News
Hi-Tech Security Solutions spoke to Nash Lutchman, vice president and group head of protection services at Gold Fields, about the dynamics of the security manager's role.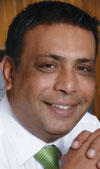 Nash Lutchman
"Traditionally security managers managed physical security and facilities, and mostly protected this with fences, gates, guards, alarms and dogs. Physical security and guarding is still a key component in delivering a security strategy, however, there has been a shift in focus which has required a significant change in approach," said Lutchman.
"Speaking from the position of a company that handles high-value assets and products, it has become necessary to look at our security risks from the viewpoint of the crime syndicates that target our operations. By understanding criminal business practices and how they impact the business you are securing, you are a step closer to mitigating the risk. Typically, we begin by identifying and understanding threat vectors, which leads to implementing dynamic risk management models to inform the deployment of resources, processes, procedures and technology in fit-for-purpose security solutions."
Lutchman believes that it is critical for the security manager to understand issues such as integrated solutions, building management systems and new technologies (such as IP communications) so that he can incorporate them into his job description.
Step out of tradition
This is based on the premise that security spend and an efficient security strategy are aimed primarily at enabling businesses to ensure business sustainability, and therefore the security manager needs to step out of the traditional role of gatekeeper. In doing so, the security function ceases to be a grudge purchase and becomes a business function.
With the adoption of increased job functionality, the security manager is being increasingly exposed to the IT function within the business. "My view is that the IT manager should provide infrastructure to enable business efficiency, business availability and business continuity. The security manager, on the other hand, should focus on network integrity, network business risk mitigation and secure network architecture."
Lutchman pointed out that this will require an expanded skills set. "While it would be rare for a security manager to be an IT specialist, they will need to understand and be able to implement the skills needed to check the integrity of company networks using, for example, a network penetration test. This of course, presupposes that the security manager has a thorough understanding of the existing risks and partners with the IT specialists to mitigate against these risks.
"The IT department normally has its own set of security systems in place – often standard in the network design – including firewalls, anti-virus software and intrusion prevention or detection systems. Typically, the IT professionals are focused on increasing the speed of the network and reducing any system downtime, thus focusing on business continuity and business availability. It is the security manager's role to ensure that the business risk is being managed."
A business enabler
The security manager needs to convince management that his function can evolve into one of a business enabler, rather than merely being a cost centre. Where security is seen as providing both business and security risk management, the job of the security manager is critical. In addition security managers, IT managers and risk managers should have an interactive relationship, exploiting synergies in their business portfolios and managing enterprise risk, thus enabling the achievement of business targets.
Furthermore, security managers need to sharpen their skills in the security value chain of security in terms of prevention, detection, risk management, investigation and intelligence. Business savvy is another job essential and an understanding of financials, return on investment, environmental risk analysis and sustainable development is critical for a successful security manager.
Credit(s)
Further reading:
Consumer robotics is a market in transition
September 2019 , Home Security, News
ABI Research says smart home integration will drive consumer robot shipments into the home to the tune of 39 million units per year by 2024.
Read more...
---
Distributed architecture lowers TCO, increases scalability
September 2019, Technews Publishing , CCTV, Surveillance & Remote Monitoring, Transport (Industry)
Faced with a number of security challenges and planned future expansion, a major airport decided it was time to implement a scalable security surveillance solution.
Read more...
---
TAPA: The role of an effective treasury function in business risk management
June 2019, Technews Publishing , News
Neil Le Roux, the Founder of Diligent Advisors will speak at the TAPA SA (Transported Asset Protection Association) annual conference on 26 July 2019.
Read more...
---
From the editor's desk: More things change
September 2019, Technews Publishing , News
Welcome to the CCTV Handbook 2019. This year's handbook breaks a long tradition of publishing the handbook in the first half of the year by releasing it along with the October issue of Hi-Tech Security ...
Read more...
---
A platform approach to innovation and value
September 2019, Technews Publishing , Editor's Choice, CCTV, Surveillance & Remote Monitoring, Integrated Solutions, IT infrastructure
Moving to the platform model of doing business holds tremendous advantages for end users and smaller developers, but also for the whole technology supply chain.
Read more...
---
Open does not always mean easy integration
September 2019, VERACITECH, Technews Publishing , Editor's Choice, CCTV, Surveillance & Remote Monitoring, Integrated Solutions
Customers who opt for best-of-breed solutions will have to rely on their integrators to develop customised integrated solutions for them.
Read more...
---
The impact of AI on the surveillance industry
September 2019, G4S South Africa, Hikvision South Africa, Myertal Tactical Security, Technews Publishing , Editor's Choice, CCTV, Surveillance & Remote Monitoring
What the impact of AI will be on companies, the services and solutions they supply, as well as on the jobs people do.
Read more...
---
Video analytics and AI
September 2019, Axis Communications SA, Dallmeier Electronic Southern Africa , Hikvision South Africa, Technews Publishing, Dahua Technology South Africa , Editor's Choice, CCTV, Surveillance & Remote Monitoring, Integrated Solutions
Artificial intelligence has the potential to deliver real benefits in the world of video analytics and many companies are already delivering customer benefits.
Read more...
---
Integration insights
September 2019, Gijima Electronic and Security Systems (GESS), Technews Publishing, neaMetrics , Integrated Solutions
The security industry would be a vastly different place if installers and integrators were not able to make a range of different products work together.
Read more...
---
Taking analogue to HD
September 2019, Dahua Technology South Africa, Technews Publishing, Hikvision South Africa , CCTV, Surveillance & Remote Monitoring
Hi-Tech Security Solutions spoke to two companies that are driving the two primary analogue HD technologies.
Read more...
---