printer friendly version
Stepping up to the business plate
September 2012
News
Hi-Tech Security Solutions spoke to Nash Lutchman, vice president and group head of protection services at Gold Fields, about the dynamics of the security manager's role.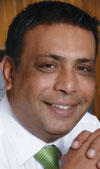 Nash Lutchman
"Traditionally security managers managed physical security and facilities, and mostly protected this with fences, gates, guards, alarms and dogs. Physical security and guarding is still a key component in delivering a security strategy, however, there has been a shift in focus which has required a significant change in approach," said Lutchman.
"Speaking from the position of a company that handles high-value assets and products, it has become necessary to look at our security risks from the viewpoint of the crime syndicates that target our operations. By understanding criminal business practices and how they impact the business you are securing, you are a step closer to mitigating the risk. Typically, we begin by identifying and understanding threat vectors, which leads to implementing dynamic risk management models to inform the deployment of resources, processes, procedures and technology in fit-for-purpose security solutions."
Lutchman believes that it is critical for the security manager to understand issues such as integrated solutions, building management systems and new technologies (such as IP communications) so that he can incorporate them into his job description.
Step out of tradition
This is based on the premise that security spend and an efficient security strategy are aimed primarily at enabling businesses to ensure business sustainability, and therefore the security manager needs to step out of the traditional role of gatekeeper. In doing so, the security function ceases to be a grudge purchase and becomes a business function.
With the adoption of increased job functionality, the security manager is being increasingly exposed to the IT function within the business. "My view is that the IT manager should provide infrastructure to enable business efficiency, business availability and business continuity. The security manager, on the other hand, should focus on network integrity, network business risk mitigation and secure network architecture."
Lutchman pointed out that this will require an expanded skills set. "While it would be rare for a security manager to be an IT specialist, they will need to understand and be able to implement the skills needed to check the integrity of company networks using, for example, a network penetration test. This of course, presupposes that the security manager has a thorough understanding of the existing risks and partners with the IT specialists to mitigate against these risks.
"The IT department normally has its own set of security systems in place – often standard in the network design – including firewalls, anti-virus software and intrusion prevention or detection systems. Typically, the IT professionals are focused on increasing the speed of the network and reducing any system downtime, thus focusing on business continuity and business availability. It is the security manager's role to ensure that the business risk is being managed."
A business enabler
The security manager needs to convince management that his function can evolve into one of a business enabler, rather than merely being a cost centre. Where security is seen as providing both business and security risk management, the job of the security manager is critical. In addition security managers, IT managers and risk managers should have an interactive relationship, exploiting synergies in their business portfolios and managing enterprise risk, thus enabling the achievement of business targets.
Furthermore, security managers need to sharpen their skills in the security value chain of security in terms of prevention, detection, risk management, investigation and intelligence. Business savvy is another job essential and an understanding of financials, return on investment, environmental risk analysis and sustainable development is critical for a successful security manager.
Credit(s)
Further reading:
Cyber resilience is more than cybersecurity
Technews Publishing Editor's Choice Cyber Security Integrated Solutions IT infrastructure
Hi-Tech Security Solutions held a round-table discussion focusing on cyber resilience and found that while the resilience discipline includes cybersecurity, it also goes much further.
Read more...
---
Crossing the chasm
Editor's Choice News Security Services & Risk Management Training & Education
Industry reports suggest that in the next ten years, millions of jobs could go unfilled because there simply are not enough people to fill them.
Read more...
---
The greatest asset for driving transformation
News
Dell Technologies' research from 40+ countries details how, after two years of accelerated digital transformation, business leaders are more aware than ever of the role employees play in driving successful change
Read more...
---
Top six priorities for business security this festive season
News
At this time of year it is not uncommon to see criminals enter a business posing as a customer or a delivery supplier, and then proceed to hold staff at gunpoint.
Read more...
---
DeltaTrak and Ericsson IoT offer real-time cold chain traceability
News Products Logistics (Industry)
Ericsson's Internet of Things (IoT) business and DeltaTrak announced a collaboration through Deutsche Telekom that will drive cold chain traceability enhancements powered by the Ericsson IoT Accelerator platform.
Read more...
---
No supply chain delays from Germany
Dallmeier Electronic Southern Africa News CCTV, Surveillance & Remote Monitoring Products
Dallmeier announces that its complete Domera single-sensor camera family is available without delivery problems for installers and channel partners.
Read more...
---
Lukas van Emmenis joins Olarm in Gauteng
Olarm News
Lukas van Emmenis has joined Olarm as its regional manager based in Gauteng, where he will make full use of his experience in the electronic security, security distribution and discreet manufacturing fields.
Read more...
---
A new dawn in sustainable storage optimisation
Technews Publishing Asset Management, EAS, RFID Security Services & Risk Management Products
Industry is experiencing a move from VRLA (valve regulated lead–acid) batteries, which have been used in data centres for decades, to lithium-ion battery technology.
Read more...
---
Residential Estate Security Conference 2022
Technews Publishing Residential Estate (Industry) Conferences & Events
The first Residential Estate Security Conference since March 2020 discussed the people, technology and processes involved in mitigating risks to deliver smart, secure living.
Read more...
---
From the editor's desk: Social beings
Technews Publishing News
      Welcome to Hi-Tech Security Solutions Issue 7. We have slightly fewer topics in focus in this issue because the bulk of the editorial covers one topic, the Residential Estate Security Conference 2022. ...
Read more...
---