printer friendly version
A light at the end of the tunnel
August 2012
Fire & Safety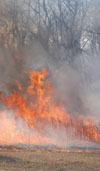 The consequences of a runaway fire can be catastrophic, killing people, destroying property and possessions, closing down businesses and people losing their jobs, but still there are no governmental controls over this industry. There is no government legislation, leaving the industry in a free for all.
The current status of the fire detection and gaseous suppression industries is, however, undergoing change.
Skills levels
Skills levels and knowledge of fire detection and gaseous suppression is poor from the fire departments, insurers, consulting engineers to the contractors, leaving the end user or purchaser at the mercy of an unskilled industry. He can end up getting a fire protection system that could be badly designed, poorly installed, poorly tested and in the end, may never work. The fire department may come and give it a cursory glance, but are not skilled to test it or know if it is working at all. There is no recourse for the long-suffering end user.
At present there is no control over who designs a fire system, who installs it or who commissions it. Anyone short of work can claim knowledge of fire protection and fool the client into knowing what he is doing, the consequences are often dire, leaving the client with an under designed and poorly installed system that may never work.
However, there is light at the end of the tunnel as the SAQCC Fire has been appointed by the Department of Labour to start the registration process of technicians engaged in the field of fire detection and gaseous suppression. This has been done on the back of the new revised Pressure Equipment Regulation requiring all technicians working with these systems to be registered.
It will now be illegal for persons not registered with SAQCC Fire to work on a fire detection or gaseous suppression systems.
Registration with the SAQCC Fire will bring long awaited controls into the industry where persons will be measured for their competency and have to undergo continued professional development.
The SAQCC Fire has established the levels for registration and the process is underway. They have appointed a subcommittee to establish a series of training programmes for technicians to reach artisan level. Part of the agreement with the Department of Labour was to develop a training programme to offer technicians entering the fire industry the chance to reach artisan level by learning a progressive set of skills.
Training
Training is currently conducted in house or in the field by larger contracting organisations, training on products is offered by certain product suppliers with courses developed for their own needs, none of this is vetted and none of it carries any approvals.
Although registration and training for technicians operating in the field will be provided in the future, there are few facilities available for the end user to gain knowledge of how to conduct fire assessments within his premises. The Fire Protection Association of South Africa (FPASA) and FATA provide some form of fire training, but once again it is not approved by any person. Although much help is sought from the SETAs, none has proven fruitful.
System evaluation
There is no current legal requirement for completed installations to be evaluated. The client is at the mercy of the organisation that installs it, at the mercy of the engineer who claims he is competent in fire but has no training or qualifications to prove it. The fire department inspection is worthless when it comes to system installations. They give a cursory glance at things they do not understand.
There is again hope for the end user who can put his trust into third-party inspectorate bodies such as the ASIB and FSIB. These organisations are headed by experts in their field who conduct third-party audits of the installed systems to ensure they are installed in accordance with approved South African standards. These organisations are privately owned and again cannot gain any legal standing because there is no governmental legislation to support them.
The third-party inspectorates are the only organisations the end user can trust as there is no added benefit for them once the audit has been conducted. They have no allegiance with any contractors, suppliers or design consultant so provide an unbiased opinion of the installed system.
The SAQCC Fire registration process is seriously needed as the pass rate of newly installed systems meeting the requirements of South African standards hovers around 10% countrywide, which is totally unacceptable.
Without governmental controls the industry has had to become self regulated and organisations like ASIB, FDIA, FSIB and SAQCC Fire have put in a lot of hard work, all voluntary, without remuneration, to bring about these changes. The Engineering Council of South Africa has relented after 14 years of pressure to recognise fire as an engineering practice, recently announcing the category of fire inspector.
So although the current barriers of entry to the industry are low, training facilities and programmes inadequate and end user protection nonexistent, there are positive signs on the horizon for the fire industry.
For more information contact Fire Systems Inspection Bureau, +27 (0)11 608 1249, [email protected]
Further reading:
Incorporate fire safety in the design phase
Fire & Safety
ASP Fire CEO Michael van Niekerk says companies can prevent their infrastructure project from going up in flames by incorporating fire safety in the design phase.
Read more...
---
Fire-fighting force at Vergelegen
Editor's Choice Fire & Safety Residential Estate (Industry)
Vergelegen wine estate in Somerset West, and its neighbours, are set to enjoy greater peace of mind this summer, thanks to the delivery of a brand new fire truck .
Read more...
---
Rhino103 extinguishing control panel
Technoswitch Fire Detection & Suppression Fire & Safety Products
Technoswitch has released the Rhino103 extinguishing control panel range, designed and manufactured in South Africa to comply with EN54 parts 2 and 4, and EN12094.
Read more...
---
Technoswitch partners with Ciqurix for video fire detection
Technoswitch Fire Detection & Suppression News Fire & Safety
Technoswitch is pleased to announce the signing of an exclusive distribution agreement with Ciqurix (UK), a leading supplier of video fire detection products.
Read more...
---
Fire protection for new Fuchs warehouse
Fire & Safety
The new warehouse at Fuchs Lubricants South Africa in Isando, Johannesburg, not only incorporates the latest technology but complies with stringent fire detection and prevention requirements.
Read more...
---
Fire-safety risks during load shedding
News Fire & Safety
The current load shedding implemented by electricity utility Eskom, as it faces unplanned breakdowns, poses a heightened fire risk for homeowners and their families.
Read more...
---
FlameSpec flame detectors from Technoswitch
Technoswitch Fire Detection & Suppression Fire & Safety
The FM-approved FlameSpec detectors address slow-growing fires and fast eruptions of fire while maintaining high performance and reliable detection in all weather and light conditions.
Read more...
---
Improved hydraulic performance and efficiency
Johnson Controls Global Products Fire & Safety
Tyco 5.8K LFII sprinkler from Johnson Controls Global Products brings improved hydraulic performance and efficiency to residential fire protection.
Read more...
---
One-bolt coupling
Johnson Controls Global Products Fire & Safety
The G-Fire One-Bolt Figure 579A is a grooved, rigid coupling ready for out-of-the-box, push-on installation including self-lubricating gaskets for a smooth installation experience.
Read more...
---
Ensure your generator is fire-safe
Fire & Safety
A backup power supply such as a genset is critical during loadshedding, however, it is vital that such important equipment is maintained properly and serviced regularly to be able to cope with outages.
Read more...
---