printer friendly version
The case for mobile device management
July 2012
Cyber Security
With a diversity of mobile devices such as smartphones and tablets proliferating companies at every level, monitoring and securing these devices, and managing the type of information that can be shared on them, both inside and outside the office, has become one of the biggest and most pressing challenges for businesses today.
Gartner has predicted that the consumerisation of IT will be the most significant trend affecting companies in the next decade. Yet, few companies in South Africa are prepared for dealing with the challenges associated with empowering worker mobility.
"In South Africa, few companies have a well-constructed strategy for managing mobile devices and CIOs and IT departments are often on the back foot as companies rush to deploy mobile devices, or allow employees to use their own for business purposes," says Patrick Evans, CEO at Advanced Cloud Technologies. "When employees are able to use a choice of mobile devices, whether they are company-owned or their own, to do their work, it gives rise to a host of threats. Companies have to consider how to maintain visibility and control of these devices in order to mitigate these potential threats.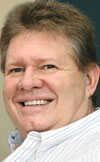 Patrick Evans
"This cannot happen haphazardly because there is too much to think about. Companies need to have a strategic approach to managing mobile devices in the enterprise and this must be supported by a robust and effective solutions infrastructure."
Device security is probably the most pertinent business case for mobile device management (MDM). At a very basic level, companies will want to have the capability to wipe clean mobile devices that have been lost or stolen in order to protect any critical business information that may be housed on them. However, Evans says that mobile device management goes beyond just securing the device.
"There has been a revolution in the way that companies engage with their markets and companies are enthusiastically embracing bi-directional communications with their customers and their employees, as well as social networking. The mobile device is the centre of it all.
"To be effective in protecting the business against emerging threats arising from the pervasive use of mobile devices by savvy and highly-connected users, mobile device management must include corporate policy around what kind of information can be downloaded and shared with mobile devices; user validity; secure access; data loss prevention; regulatory and corporate compliance; and application control amongst others."
The market is burgeoning with vendors offering mobile device management solutions that enable companies to address these aspects. Some of them are on-premise solutions and others are cloud-based. Historically, mobile device management has been done with on-premise solutions, but there is a move towards on-demand, cloud-based systems because they are more cost-effective and quicker to deploy."
There are a number of applications that really lend themselves to the cloud and mobile device management is one of them. Opting for a cloud-based mobile device management solution is probably the easiest and most effective way for companies to gain visibility and control of a plethora of mobile devices while managing costs and enjoying access to qualified support.
"We anticipate a dramatic increase in the demand for cloud-hosted mobile device management solutions in South Africa as more companies scurry to implement a solution for managing mobile device threats. For those on the MDM journey for the first time, the cloud should be the first point of departure. Obviously, choosing the right provider and right technology is critical," Evans says.
Cloud-based mobile device management is becoming a more viable option for companies in South Africa. Mobile device management technology from Zenprise, included in Gartner's Critical Capabilities for MDM Report and described as "one of the more innovative platforms available", is being delivered by local IT security company, Securicom, as a cloud-based service, in partnership with Blue Turtle Technologies (Blue Turtle) which has the rights to distribute the technology in South Africa.
With Zenprise MobileManager, companies can have complete visibility and control over device security from a secure, user-friendly management console. From the console, the company administrator can perform device compliance checks; block devices if they are unmanaged, lost or do not adhere to company blacklist or whitelist policy; monitor network traffic and user behaviour; block disallowed apps; identify mobile threats and compliance violations and enforce device security upgrades.
Evans concludes: "If you understand the relevance and importance of mobile devices in your organisation and you are ready to unlock the opportunities of limitless worker mobility, get a solid device management strategy in place, sooner rather than later."
For more information contact Blue Turtle Technologies, +27 (0)11 206 5600, michaelh@blueturtle.co.za, www.blueturtle.co.za
Further reading:
Exploiting the global pandemic
Issue 7 2020 , Cyber Security
Cyber criminals targeting remote work to gain access to enterprise networks and critical data reports FortiGuard Labs.
Read more...
---
Integrated security is key to Huawei Mobile Services
Issue 7 2020 , Cyber Security
To ensure sufficient mobile device security, the technology giant incorporates security into its chip, device and cloud capabilities.
Read more...
---
Cybersecurity becomes key enabler of sustainable business growth
Issue 7 2020 , Cyber Security
The adoption of rushed digital transformation strategies has left many facing unintended complexities and challenges.
Read more...
---
Challenges healthcare is facing
Issue 6 2020 , Cyber Security
The healthcare industry has been forever changed by digital transformation, but cybercriminals are targeting the healthcare sector now more than ever.
Read more...
---
Secure IoT devices and networks
Issue 6 2020, Technews Publishing , Cyber Security
Check Point Software's IoT Protect solution secures IoT devices and networks against the most advanced cyber-attacks.
Read more...
---
SentinelOne Protects the AA
Issue 6 2020 , Cyber Security
National provider of 24-hour motorist assistance stays on the road thanks to accelerated, AI-powered threat prevention, detection and response.
Read more...
---
Protecting database information
Issue 6 2020 , Cyber Security
SearchInform has officially released Database Monitor, a solution for the protection of information stored in databases.
Read more...
---
Work from home securely
Issue 5 2020 , Cyber Security
First Consulting provides enterprise-level IT security to working-from-home employees at more than 40 South African organisations.
Read more...
---
Agility, meticulous alignment and testing
Issue 5 2020 , Cyber Security
Data loss can put the nails in the coffin for unprepared businesses. Investing in cyber resilience is key to succeed in the age of digital transformation.
Read more...
---
Cybersecurity comment: A holistic approach to threat vulnerability
Issue 5 2020 , Cyber Security
Any organisation, whether large or small, public or private, should follow an established framework in order to protect itself against cyber threats.
Read more...
---