printer friendly version
Electronic visitor management
July 2012
Access Control & Identity Management
ATEC Systems and Technologies (ATEC), a national specialist ICT and software company focused on telecommunications, security and management systems, has launched the ATEC Book in a Box electronic visitor management system, comprising all the components, software and features required by customers to take full and sustainable control over visitor access management.
Book in a Box is used to scan documents and other means of identification, including passports, car registration licence and picture snapshots, and then transmit the data collected to a central database. The information is then safely stored with easy to use search and retrieve functionality.
The Book in a Box System includes the ATEC Mini i-Dentifid scanner, decryption software, Wi-Fi, remote management service and server with desktop software.
The i-Dentifid scanner is also available for a larger access control deployment which can be integrated into an existing biometric access control system, such as Impro or Softcon, to validate and manage visitors. It can scan 2D barcodes (drivers licences and car registration licences) and 1D barcodes (ID documents, passports and custom barcodes), as well as magnetic cards.
Additional benefits of this scanning equipment include the fact that visitors and contractors can enrol their fingerprints quickly and effortlessly without having to leave their vehicles, users enter and exit the premises by means of fingerprints – they are assigned full accountability of their access patterns. The fingerprint templates of visitors/contractors carry a set validity period, after which they expire and are no longer accepted for access.
The system is designed to eliminate the need for traditional forms of access control such as visitor cards and drop-boxes. All the information scanned is transmitted via a wired or wireless link to a central database. The system also features Wi-Fi capability, offline operation and USB charging.
ATEC is aiming the offering at office parks and properties that require effective exit and entry management strategies. Placing an ATEC i-Dentifid scanner at an entry/exit point will enable security guards to scan the physical properties of a vehicle (registration, colour and model), then the drivers licence of the individual behind the wheel (photo, ID number, name and surname). Upon the exit of a vehicle, security personnel will scan the vehicle registration disk and drivers' licence to ensure that captured details from the vehicle entering is accurate.
"It is important to remember that the information that is scanned is stored in the barcodes. The scanner itself does not link up to any database. The information is sent via Wi-Fi to the server on site and an electronic record is created in real-time. No extra costs per scan are charged. A database will be created on site and reports can be run from the server," explains Louis Parker, CEO of ATEC.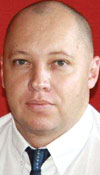 Louis Parker
According to Parker increasing threats to the physical security of people and property in commerce has forced decision makers to rethink and review their access control strategies. Technology and advanced systems plays a critical role within these strategies.
The benefits of ATEC's Book in a Box include accurate identification and scanning of people and relevant details, automatic generation of digital, easily accessible records, simple integration into existing security systems and faster security operation compared to the traditional, manual processes.
"We have introduced a simple, easily managed system that eliminates complex, cumbersome access control procedures. This is an advantage to any sized company, office park or secure residential area which is dependent on secure, efficient access control of people and vehicles," adds Parker.
A Pre-Clearance facility can be added to ATEC's i-Dentifid Solution, which allows residents to pre-clear their visitor/s with a pin-code SMS.
For more information contact ATEC, 0861 122 832, info@atec.co.za, www.fibresuburb.co.za
Credit(s)
Further reading:
Access control for enterprises
Issue 7 2020, LD Africa , Access Control & Identity Management
Access control has always played a vital role in any organisation with the main objective being to protect physical, IP and human assets.
Read more...
---
A contact-free hotel experience
Issue 7 2020, Technews Publishing , Access Control & Identity Management
Check-in and go straight to your room without stopping at the reception desk at Hotel Sky in Sandton and Cape Town.
Read more...
---
AI digitises coronavirus management
Issue 7 2020, NEC XON , Access Control & Identity Management
NEC XON is using NeoFace Watch and specialised thermography cameras to measure temperature and identify employees and visitors.
Read more...
---
Combining visual and IR face recognition
Issue 7 2020, Suprema , Access Control & Identity Management
The FaceStation F2 offers face recognition and anti-spoofing performance.
Read more...
---
Anviz unveils FaceDeep5
Issue 7 2020, ANVIZ SA , Access Control & Identity Management
Anviz Global has unveiled its new touchless facial recognition identity management and IoT biometric device.
Read more...
---
Delta Scientific introduces new 'Open Frame' vehicle barrier
Issue 7 2020 , Access Control & Identity Management
Delta Scientific has announced the new shallow foundation Open Frame vehicle barrier built on a foundation of only 61 cm.
Read more...
---
Traffic booms for test track
Issue 7 2020, Turnstar Systems , Access Control & Identity Management
Three Turnstar Velocity traffic booms enhance safety and security at Nissan's Tshwane test track facilities.
Read more...
---
Touchless biometric options
Issue 6 2020, Entry Pro , Access Control & Identity Management
When it comes to estate access control management, the foremost topic of conversation at the moment seems to be the importance of touchless biometrics.
Read more...
---
Fast access to Kevro production facilities
Issue 6 2020, Turnstar Systems , Access Control & Identity Management
Employee and visitor access at Kevro's Linbro Park premises in Gauteng is controlled through eight Dynamic Drop Arm Barriers from Turnstar.
Read more...
---
Know your facial recognition temperature scanner
Issue 6 2020, ViRDI Distribution SA , Access Control & Identity Management
Facial recognition with temperature measurement is, for the most part, available in one of two technologies – thermopile and thermography/IRT.
Read more...
---