printer friendly version
Cisco Consumer Privacy Survey
Issue 6 2023 News & Events, AI & Data Analytics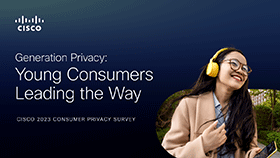 Cisco published its 2023 Consumer Privacy Survey, an annual global review of consumers' perceptions and behaviours on data privacy. This year's survey highlights how younger consumers take deliberate action to protect their privacy, as 42% of consumers aged 18-24 exercise their Data Subject Access Rights, compared with just 6% for consumers 75 and older.
Many say they have lost trust in organisations because of their use of artificial intelligence (AI), and 50% of respondents look to the government to set rules and enforce privacy protections. The survey also provides early insights into Generative AI (Gen AI), revealing that only 12% of respondents identify as regular users.
Artificial intelligence and privacy concerns
From shopping to streaming services and healthcare, 48% of survey respondents agree that AI can improve their lives. Most respondents (54%) said they are willing to share their anonymised personal data to help improve AI products and decision-making.
Nevertheless, 62% of surveyed consumers expressed concern about how organisations use their personal data for AI today, with 60% saying that they have already lost trust in organisations because of their AI use. Organisations can implement measures to (re)gain customer trust, such as auditing products and solutions for bias, being more transparent and explaining how the AI works, ensuring human involvement, and instituting an AI Ethics Management Programme.
"The world is watching how companies will approach AI in a responsible way," said Dev Stahlkopf, Cisco Executive Vice President and Chief Legal Officer. "For Cisco, this means keeping a keen focus on respecting privacy and human rights as we incorporate AI technology."
Generative AI: The privacy contradiction
The survey also provides an early snapshot of the use of Gen AI and some of the potential risks and privacy challenges. Generative AI is still relatively new to most people. Over half (52%) of survey respondents said they were not aware of it.
Of those that use Gen AI regularly (12%), only half indicated that they were refraining from entering personal or confidential information into Gen AI applications. Notably, the other 50% may indeed be entering personal or confidential information. This is despite 88% of respondents indicating that they would be 'Somewhat' or 'Very' concerned if their data entered in Gen AI were to be shared.
Young consumers championing data privacy
This year, 33% of respondents qualify as 'Privacy Actives'; they care about privacy, are willing to act to protect it, and have acted, for example, by switching companies or providers because of their data policies or data sharing practices. Younger consumers are the most willing to take action to protect their privacy. Forty-two percent of consumers aged 18-34 are Privacy Actives, a percentage that steadily decreases with age.
The percentage of consumers requesting data deletions or change rose to 19%, up from 14% last year. Again, this is highly correlated with age; 32% of consumers aged 18-24 make data deletion or change requests compared to only 4% of older consumers.
Public awareness of privacy laws continues to be relatively low, with 46% of respondents aware of their country's privacy law. Those aware of the law are more likely to feel they can adequately protect their data; only 40% of those unaware of their country's law feel they can protect their data compared to 74% of those who are aware of the law. Sixty-eight percent of consumers aged 18-24 feel they can protect their data, and this gradually declines to 47% of consumers over the age of 65 saying so.
Role of laws and governments
Many consumers look to the government to set the standard of care and enforce privacy protections. Half (50%) of respondents said national or local government should have the primary role in protecting data, whereas 21% said private companies should be primarily responsible for protecting data.
"As governments pass laws and companies seek to build trust, consumers must also take action and use technology responsibly to protect their privacy," says Harvey Jang, Cisco Vice President, Deputy General Counsel and Chief Privacy Officer.
Consumers are split on the value of data localisation. Most have heard about such requirements, and 76% indicated initially that data localisation might be good. However, when considering the cost associated with it, thereby making products and services more expensive, only 44% favoured data localisation.
Download the 2023 Cisco Consumer Privacy Survey at https://www.cisco.com/c/en/us/about/trust-center/consumer-privacy-survey.html.
Further reading:
Pentagon appointed as Milestone distributor
Elvey Security Technologies News & Events Surveillance
Milestone Systems appointed Pentagon Distribution (an Elvey Group company within the Hudaco Group of Companies) as a distributor. XProtect's open architecture means no lock-in and the ability to customise the connected video solution that will accomplish the job.
Read more...
---
Re-introduction of the booking system
PSiRA (Private Security Ind. Regulatory Authority) News & Events
[Sponsored] PSiRA is reintroducing the booking system for branch visits. Effective Monday, 4 December 2023, clients will be required to book a slot to visit any PSiRA branch.
Read more...
---
Embracing next-generation surveillance for safer cities
Surveillance Integrated Solutions AI & Data Analytics
With the South African government highlighting the importance of building smart cities by integrating advanced technologies to make them more resilient and liveable, the role of next-generation network video and surveillance technologies cannot be ignored.
Read more...
---
From the editor's desk: A sad but exciting goodbye
Technews Publishing News & Events
Welcome to the final monthly issue of SMART Security Solutions. This is the last issue of the year and the last monthly issue we will print. The SMART Security Solutions team wishes all our readers and advertisers a relaxing festive season and a peaceful and prosperous 2024.
Read more...
---
Regal celebrates successful golf day
Regal Distributors SA News & Events
Regal Distributors held its first official Regal Golf Day on 18 October at the Glendower Golf Course in Johannesburg. SMART Security Solutions was there on a hot summer's day to meet many players and sponsors around the course.
Read more...
---
Gallagher Security releases Command Centre v9
Gallagher News & Events Access Control & Identity Management Integrated Solutions
Richer features, greater integrations, with the release of Gallagher Security's Command Centre v9 security site management software designed to integrate seamlessly with various systems and hardware.
Read more...
---
Regal launches direct-to-branch WhatsApp communication
Regal Distributors SA News & Events
With a quick scan of a QR code and a few taps on your phone, installers, integrators, technicians or even end-users can chat directly with the team at their preferred Regal branch via WhatsApp
Read more...
---
FM Expo highlights industry trends and challenges
Securex South Africa News & Events Facilities & Building Management
Keeping tabs on what is happening within the building/facilities management arena can be frustrating, however, a quick way to find out what current trends, challenges, and solutions are available can be found at the Facilities Management Expo.
Read more...
---
A simple system for complex protection
Surveillance AI & Data Analytics IoT & Automation
Reconeyez is a company that provides autonomous wireless visual verification systems with built-in artificial intelligence. Running on batteries, each device includes communication capabilities, creating a mesh network between the various devices, linking them to the control room.
Read more...
---
Lock down your access control with Alcatraz AI
C3 Shared Services Healthcare (Industry) Access Control & Identity Management AI & Data Analytics
Alcatraz AI, represented in South Africa by C3 Shared Services, changes access control by harnessing the power of artificial intelligence and analytics at the edge, where facial recognition becomes the essential credential autonomously.
Read more...
---