printer friendly version
Security for critical industries
Issue 6 2023 Government and Parastatal (Industry), Access Control & Identity Management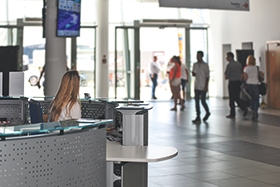 In today's rapidly evolving world, ensuring the safety and security of critical industries, such as government institutions, parastatals, national key points, power stations, prisons, and courts, has become a paramount concern. These sectors are responsible for safeguarding sensitive information, vital infrastructure, and the well-being of citizens.
The traditional reliance on human observation and physical presence for security is being complemented and, in many cases, replaced by biometric technology to enhance risk management and ensure comprehensive protection.
Government agencies and related organisations play a crucial role in the functioning of a country and the protection of its citizens. Public security is of utmost importance to safeguard digital and physical assets while allowing secure access where necessary. Embracing advanced technology, such as biometric solutions, can significantly contribute to bolstering overall security in government facilities and critical installations.
The integration of biometric solutions, such as those developed by ZKTeco, can provide superior service experiences for government departments. These solutions offer numerous advantages, including person/card not present transactions, efficient workflows, elevated security, and device agnostic software. By adopting these technologies, departments can enhance public loyalty and satisfaction, while ensuring stringent security measures are in place.
Access control critical
To effectively address potential threats in advance, responsible public institutions can leverage their own intelligence and optimise internal structures. By adopting cost-effective security measures, they can strike a careful balance between costs and benefits, allowing for enhanced security without compromising efficiency.
Biometric technology aids in streamlining identity proofing processes, particularly in border management and national security concerns. At border crossings, ports, airports, courts, and government institutions, advanced biometric systems enable swift passport and ID verification, expediting the processing of travellers and visitors.
Access control is a critical aspect of security for sensitive government facilities. Traditional methods, such as security screening certificates and briefing forms, can now be modernised through biometric devices. Utilising fingerprint, facial recognition, and palm print scanning, these systems facilitate efficient and secure access to information and resources. By ensuring that only authorised individuals gain entry, government security can effectively safeguard critical assets and services.
Surveillance with biometrics
Constant monitoring of large areas can be a tedious task, especially in settings where raising false alarms can be detrimental. Here, advanced biometric technology can play a significant role. By implementing intelligent surveillance systems with biometric capabilities, these technologies can distinguish between authorised personnel and potential intruders, minimising false alarms while ensuring no genuine threats go unnoticed.
The integration of cutting-edge biometric technology, like the solutions developed by ZKTeco, is revolutionising security measures for critical industries. Government institutions, parastatals, national key points, power stations, prisons, and courts can now enhance risk management and ensure the safety of people, places, and important assets. By embracing these innovative technologies, governments can proactively mitigate threats, optimise security measures, and provide efficient access control, thereby safeguarding the well-being and prosperity of their communities and citizens. The future of security lies in these advanced biometric solutions, driving us toward a safer and more secure tomorrow.
For more information, contact ZKTeco (SA), +27 12 259 1047, [email protected], www.zkteco.co.za
Credit(s)
Further reading:
Paxton opens first experience centre in South Africa
Paxton News Access Control & Identity Management
The new Paxton Experience Centre in Johannesburg is now open and welcoming security installers and end users who want to see Paxton's products in action.
Read more...
---
A surge of cybersecurity for the energy sector
Government and Parastatal (Industry) Cyber Security
With a rapid transition towards renewable energy, the energy sector has an increased reliance on technology. This makes it particularly vulnerable with regards to cybersecurity, as it depends on interconnected systems and digital technologies.
Read more...
---
Securing a luxurious residential estate
Turnstar Systems Residential Estate (Industry) Access Control & Identity Management
Turnstar Systems recently partnered with Balwin Munyaka Residential Estate to secure the entrance to its Crystal Lagoon, ensuring only authorised residents and guests can access the site.
Read more...
---
ZK-IWB Series
ZKTeco Products Access Control & Identity Management
Experience the ultimate virtual meeting solution with ZKTeco's ZK-IWB system. Featuring a built-in 13-megapixel UHD camera and 6-microphone array, the solution ensures clear audio and video experiences with an 8 metre pickup distance.
Read more...
---
Facial recognition from live cameras
Secutel Technologies Government and Parastatal (Industry)
The need for accurate and live facial recognition is an important consideration for safe and smart city surveillance systems. Secutel Technologies and NEC XON now offer a comprehensive 98%-plus accurate facial solution to market.
Read more...
---
Optimising electrical substations
Hikvision South Africa Government and Parastatal (Industry)
How to maximise efficiency, as well as maintain security for sites and staff, are the paramount concerns for substations as they update and upgrade their video security systems.
Read more...
---
Securing access to NKP
BoomGate Systems Government and Parastatal (Industry)
For its latest national key point project, Boomgate had to secure all vehicle access points and used three Glide Master Retractable Speed Gates as well as Warrior Hydraulic Bollards combined with Warrior Static Bollards.
Read more...
---
Access control in harsh environments
ZKTeco Products Access Control & Identity Management
The ProMA is a robust outdoor access control terminal with face and fingerprint recognition. It's water, dust, and vandal-proof and supports the ZKTeco PUSH protocol, making it ideal for access control in harsh environments.
Read more...
---
The road to Zero Trust not necessarily paved with gold
Editor's Choice Access Control & Identity Management Cyber Security
Paul Meyer says that while Zero Trust must be the goal, there are a few potholes to navigate on the journey. Here he expands on these caveats, but also exposes the greatest ally of Zero Trust.
Read more...
---
More agile, flexible access management
ASSA ABLOY South Africa Editor's Choice Access Control & Identity Management
Tim Timmins from ASSA ABLOY Opening Solutions examines the growing shift towards cloud access management. How can organisations benefit, and what should they look for when choosing a cloud access control solution?
Read more...
---