printer friendly version
Protecting poultry processing plant
Issue 6 2023
Fire & Safety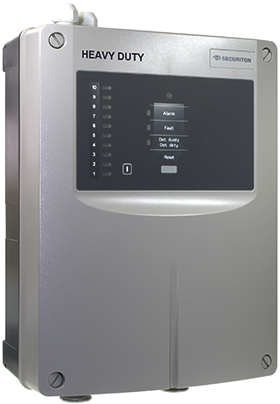 Grain Field Chickens, based in Reitz in the Orange Free State Province, is known for its high quality poultry products and being Proudly South African farmers. The company upholds high quality and service standards to supply the SA market with only the best poultry products.
The plant features all the typical fire detection challenges one would expect to encounter in a food processing facility. The extreme temperature fluctuations in the processing and packaging areas and the high humidity, moisture, and steam levels generated by the operations necessitate a specialised fire detection system to effectively cover the risks in these harsh conditions. Some processes create combustible conditions, and equipment in these areas has to be certified for use in explosive atmosphere applications.
The SecuriSmoke ASD535 HD was installed in the cold storage, fresh chiller, plant room and dispatch areas. This heavy-duty ASD suits areas with large amounts of dust and moisture. External filtration can be added to limit dust ingress and ensure successful air monitoring for smoke particles to reduce false alarms. Water retaining boxes restrict moisture from entering the dust filters and sampling chamber to limit blockages and faults in the system. Additionally, heated sampling points on the pipe network in the cold storage applications will prevent the sampling holes from icing up.
The SecuriHeat LHD Heavy-Duty ADW was installed in the evisceration and de-feathering, main packaging, palletising and wrapping areas. The heavy-duty ADW is explosion-proof and is suited for areas with large amounts of dust, high temperatures, and large volumes of steam where the site has been classified as explosive. The detector is installed outside the environment, and the sensing tube is inside the risk area. The sensing tube's robust construction and flexibility allow the sensing element to be installed close to the fire risk for early detection. Additionally, the ADW allows for fixed and rate-of-rise temperature monitoring.
Fire-Quip and Technoswitch successfully tested the performance of the equipment in simulated off-site environments, giving the end user complete confidence in the products and solutions provided.
The client was pleased with the test results and the contractor's efforts to prove that the technology could be successfully installed in their facility. Technoswitch assisted Fire Quip with the final design to ensure the best protection and a cost effective solution.
Eleven heavy-duty SecuriSmoke aspirating smoke detectors with 2960 metres of sampling pipe and five line-type SecuriHeat ADW detectors connected to 1000 metres of sensing tube now protect this state-of-the-art processing plant.
Technoswitch prides itself in partnering with Securiton International and Fire-Quip. Based on these relationships and their reliable support, it could provide Grain Field Chickens with an effective, world-class solution and build a new partnership.
Credit(s)
Further reading:
Fidelity SecureFire steps into critical fire response space
News Fire & Safety
With the majority of fire stations around the country being crippled by a lack of resources to offer effective responses, Fidelity Fire Solutions has launched its own 'first responder' model, Fidelity SecureFire.
Read more...
---
Long-distance connectivity with Simplex ES Net Life Safety
Johnson Controls Global Products Fire & Safety Products
ES Net Network Bridge allows fire alarm system data to be transmitted across distant buildings via a customer's existing network infrastructure, improving system-wide monitoring and control in facilities and campuses where life safety networks are often widely dispersed.
Read more...
---
Elvey Group and Technoswitch part ways
Elvey Security Technologies Fire & Safety News
The Elvey Group (a division of the Hudaco Group of Companies) is relinquishing its distributorship of the Technoswitch brand, following Hudaco's acquisition of Brigit Fire.
Read more...
---
From one month to 10 minutes
Dahua Technology South Africa Fire & Safety
Dahua has integrated technology with the inspection mode of the photovoltaic power station in order to create a robust system that can monitor the fire situation in the power plant and its surrounding areas 24/7.
Read more...
---
Fire prevention for energy systems
Technoswitch Fire Detection & Suppression Fire & Safety
With the significant push towards renewable energy, such as wind and solar, the demand for battery energy storage systems has grown exponentially, as has the need for fire safety solutions for these environments.
Read more...
---
Fire risks in solar panel installations
Technoswitch Fire Detection & Suppression Fire & Safety
Installed global solar capacity doubled in three years from 2018, and the expectation is that in the next three years, it will more than double. In South Africa, the year-on-year growth from 2021 to 2022 was 24,90%.
Read more...
---
Smart firefighting
Fire & Safety IT infrastructure
By integrating smart radios, innovative wireless technologies, fusion field networks, and IoT sensors, firefighters can respond faster and coordinate better during emergencies, protecting lives, property, and their own safety.
Read more...
---
Compliant with the National Building Regulations?
Fire & Safety
Over the past few years, there has been a surge in building fires, increasing the risk for loss of life and damage to structures and property.
Read more...
---
Make sure your alternative power solutions are not a fire hazard
Fire & Safety
While alternative heating and energy devices fulfil a crucial role in the current energy crisis, Fidelity Fire Solutions reminds users that such devices can pose a risk if not installed, stored and used properly.
Read more...
---
New FireClass Essential Panel
Johnson Controls Global Products Fire & Safety Products
Part of the complete FireClass conventional fire detection portfolio from Johnson Controls, the new conventional panel is easy to use out of the box, helping to reduce lifecycle costs, and meets EN54-2, EN54-4 approvals.
Read more...
---