printer friendly version
Record number of visitors attend Securex South Africa 2023
Issue 5 2023 Editor's Choice, News & Events, Conferences & Events
The turnout at Securex South Africa, held from 6 to 8 June 2023, was staggering, with a record number of 6401 Securex visitors crossing the threshold at Gallagher Convention Centre in Midrand. In addition, the combined number of visitors to Securex South Africa and the co-located A-OSH EXPO, Facilities Management Expo, and Firexpo, also reached a record high – with 11 465 people visiting the expos over the three days.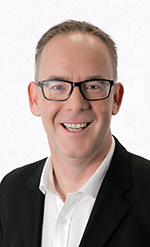 Mark Anderson.
"Securex South Africa lived up to its reputation as being the largest and most comprehensive platform for security offerings on the continent, with the feedback received from both visitors and exhibitors reinforcing its popularity," says Mark Anderson, Portfolio Director at Specialised Exhibitions – a division of Montgomery Group.
"This is our fourth time at Securex and we feel it is essential for us to be here as the return on investment is fantastic. We have had excellent quality visitors on our stand, including several people from the SANDF and two large retailers who have shown great interest in our products. Securex is undoubtedly the top event for high-tech security technology. We are hoping to secure successful contracts like we did in 2022, one of which was an anti-poaching project securing 75 000 Ha. Subsequently, there have been no rhinos poached in this area. Finally, I would like to encourage women to become involved in the security sector, they have so much to offer," stated Colin Glaeser, Axxonsoft.
"This is our 15th time at Securex, and I was very pleased with not only how busy the show was this year, but more so about the high quality of visitors at our stand. We find that people came to see our offerings last year, then returned this year, after discovering the true capabilities and abilities of our solutions, with the sole intention of buying the products. On the first day alone, we had 50 solid leads. We had a great response to our new doorbell, which when combined with a face recognition NVR, increases security by knowing who is at your door," said Clyde Elhadad from Provision ISR.
On-show features
In addition to exhibitor products and services, Securex South Africa also included several visitor attractions. The Outstanding Security Performance Awards (OSPAs) were held in the Securex Seminar Theatre (powered by UNISA) on 7 June. The following awards were made:
• Outstanding Security Installer/Integrator – Olarm.
• Outstanding New Security Product – CathexisVision Carbon – Cathexis Technologies.
• Outstanding Security Equipment Manufacturer – Paxton.
According to the OSPAs South Africa judging panel, "The 2023 South Africa OSPA winners were selected from a pool of exceptional nominees, representing diverse sectors of the security industry. These winners have demonstrated exemplary commitment, innovation, and excellence in their respective categories. The South Africa OSPAs would like to express gratitude to Securex South Africa for their collaboration in hosting the awards ceremony, as well as their continued support in recognising excellence within the security industry."
The SAIDSA Techman competition, held on 6 June, once again attracted some of the industry's most talented certified technicians, who competed to wire up an alarm circuit board in the fastest time (with the highest level of accuracy). The winner was Anesh Randayal from Blue Security, second place went to Keeren Ruiters, also from Blue Security, and third place was awarded to Jean Janse Van Rensburg from CSS Security.
SAIDSA and ESDA held a breakfast function on 7 June, with a welcome from SAIDSA's Johan  Krogh. The event ended with a lively session by well-known comedian Barry Hilton. ESDA's Xarion Comoretto outlined two projects being instituted by ESDA:
• A podcast that covers an objective interview with an ESDA member where relevant topics, proposed by the member, are discussed recorded and published online.
• An online portal that registers distributors and installers, allowing an online lookup to ensure that the installer has been ratified by the manufacturer to install the product. The end user would be encouraged to leave reviews on the installer and installation.
The K9 Law Enforcement Demonstration, held in the Link Node, was a huge drawcard, with visitors and exhibitors alike entranced by the skills of the Totan Aviation K9 animals. In a similar vein, the Drone Demonstration Zone, hosted by African Drone Kings, held the audience captive with regular displays of the prowess of the drones and their operators.
In the Securex Seminar, powered by UNISA, visitors were regaled by 19 knowledgeable speakers who tackled a number of thorny issues and provided solutions to various industry challenges. The diversity and scope of the sessions was large and the feedback received from the visitors was positive.
"We would like to say a special thanks to our industry partners, sponsors and media partners. Endorsement by leading industry professional bodies like SAIDSA, ESDA, FPASA, PSiRA, SASA, the National Bargaining Council for the Private Security Sector, and ISS lends great credibility to the expo, allowing not only current members of these associations to benefit from the relationship, but furthermore, for prospective members to engage on the exhibition floor with the industry bodies," says Anderson.
This year's events were so successful that the organisers have extended the floorspace into Hall 4 (the expos are currently in Halls 2 and 3), to accommodate the demand from exhibitors, at the 2024 four co-located shows, being held at Gallagher Convention Centre from 28 to 30 May 2024.
Wialon reaches 3,6 million fleet assets
At Securex, Wialon, the global fleet management platform created by European software developer Gurtam, announced it has reached a record number of 3,6 million fleet vehicles and assets connected on the platform worldwide, including 34 000 in South Africa.
Wialon provides software solutions for fleet management and security, via over 2400 partner companies in over 150 countries. In South Africa, Wialon works with almost 90 partner companies, who provide fleet management services to thousands of businesses in diverse sectors such as cargo shipping, delivery services, security personnel, long-haul transportation, cold chain transportation and agribusinesses.
The fleet management market in South Africa is on an upward trajectory, with a forecasted CAGR of 12,6 percent. This means the number of active fleet management systems deployed in commercial vehicle fleets in South Africa, which reached an estimated 2 million in Q4 2021, is predicted to grow to about 3,6 million by 2026.
Aliaksandr Kuushynau, Head of Wialon, who attended Securex to meet with South African partners and clients, states, "There is growing interest in fleet management in Africa, and a marked increase in the adoption of telematics, the use of electric vehicles, and in the emphasis on safety and data analytics, reflecting the continent's focus on efficiency and sustainability. However, it is also important to acknowledge the security challenges that the region faces. Theft, hijacking, and vehicle vandalism are serious issues that can have a significant impact on businesses and the local economy. As a result, fleet managers need to adopt security measures to protect their assets and employees."
Wialon provides a range of solutions for security in fleet management, helping businesses in Africa protect their vehicles and other assets. The platform's GPS tracking and geofencing technology, combined with remote vehicle disabling, and the option to integrate security technologies, enables fleet managers to monitor their vehicles in real time and respond quickly to safety and security incidents.
Joining Wialon at Securex, Carla Greyling, Sales Executive at Tracking Africa, Wialon's South African partner, commented on the benefits of fleet management software and telematics technology for South African companies. "The top priorities in fleet management in South Africa centre on safety and security of vehicles, goods and drivers (including stolen vehicle recovery), video surveillance, fuel control and asset tracking. Features such as driver identification, panic buttons, remote engine blocking and real time location monitoring have seen high growth in the demand and adoption rate for businesses in South Africa."
A-OSH EXPO 2023
As Africa's largest platform for occupational safety and health (OSH) products and services, A-OSH EXPO 2023 proved that it is popular with the market, with a record number of 4 005 industry professionals attending.
"We've been exhibiting at A-OSH EXPO for the past 11 years as we believe it's important to expose people to the products that will maximise their protection in the workplace. We had high quality visitors coming through our stand. This year we focused on our mask filters and gas detection range," said Sagaran Chetty of Draëger.
"This was our first time exhibiting at A-OSH EXPO. As a Belgian manufacturer, we are actively looking for resellers in South Africa and saw A-OSH EXPO as the perfect platform to launch our products into the country. All the visitors to our stand were very enthusiastic, and I can only say positive things about the event. We will definitely be back next year," said Wim Vanderschueren from Safety Jogger.
Opportunities to learn
In addition to the OSH products and services on display by the 86 local and international exhibitors, A-OSH EXPO featured two free-to-attend seminar theatres – the Saiosh Seminar Theatre, and the Working at Height and Safety Seminar Theatre (powered by SafetyCloud) – together with the Saiosh Health & Safety Conference.
"We welcomed SafetyCloud as the sponsor of the Working at Height and Safety Seminar Theatre this year. Formed 72 years ago, SafetyCloud (previously known as NOSA) remains the industry leader in occupational health, safety, and environmental training. The organisation has helped over 20 000 businesses to build their safety cultures and create healthy, happy work environments," says Anderson.
"Both of the free-to-attend seminar theatres were packed to capacity over the three days of the expo, and Saiosh CEO, Neels Nortjé reported that the Saiosh Conference was oversubscribed, with extra chairs being brought into the venue to accommodate the additional delegates. This is a clear indication that there is an enormous hunger from industry for high quality and informative content."
The Saiosh Conference shared critical information on the sector, with many high profile speakers captivating the audience. Dr Sanjay Munnoo, Chief Business Development Officer, Federated Employers Mutual Assurance and Saisosh President, addressed the impact of occupational injuries. "Injuries that occur in the workplace have a devastating effect on the individual and their families in terms of having to care for the injured person afterwards, i.e. bedsores, stepdown facilities, and mental health. Construction is three to six times more dangerous than a normal working environment, and since 2000 there have been 1639 fatalities in construction, which equates to an average of 71 per year. In addition, there were 54 900 construction site injuries between 2015-2021, attracting medical costs of over R1 billion," says Munnoo.
An interesting talk by Nicolette Visser, Chief Wellness Coordinator (Wellness Guru) Reality Wellness Group, on mental health in the construction industry unpacked that 27% of South Africans deal with severe mental disorders and receive treatment for it. She shared some practical tips for employers to help employees to cope, including:
• Become aware – do a mental and physical check-in with your employees and teams.
• Identify the problem and note the triggers.
• Create a self-care plan for employees and schedule the plan as part of their daily routine.
• Have a digital detox.
• Maintain a good work and life balance – set boundaries – add family time into day-to-day routines.
"The feedback we received from our visitors and exhibitors was unanimously in favour of the continued co-location of A-OSH EXPO with Securex South Africa, Facilities Management Expo, and Firexpo. This allows visitors to not only source a wide range of safety solutions from the A-OSH EXPO exhibitors, but furthermore to find products and services in the security, facilities management, and fire detection/management sectors," says Anderson.
"We would be remiss not to mention the invaluable support from our sponsors and industry partners, which included Dromex, Pinnacle Welding, Saiosh, and SafetyCloud, FFETA, FPASA, SAQCC Fire, and SAPEMA."
Firexpo 2023
Firexpo celebrated its second birthday and visitor numbers increased by 200 people at this year's event, as did the number of exhibitors. The Firexpo exhibitors were very happy with the quality of visitors attending.
"We have 12 Securex/Firexpo exhibitions under our belt. We had visitors from the DRC, Zimbabwe, Malawi and Tanzania who are proactively sourcing solutions for their future needs. A huge shout out to Specialised Exhibitions for the effort put into marketing and organising the expo – the success was apparent in the large number of high quality visitors," said Frikkie Stroh, Safequip.
"We are previous Securex exhibitors but haven't been on the show for a few years. However, this year we joined forces with our supplier Carrier Fire and Security South Africa (rebranding as Kidde Commercial), and taking a stand at Firexpo was the best decision we could have made. Our stand was extremely busy and we saw a mixture of end users, insurance companies, installers, and representatives from government departments including the Department of Correctional Services. We were satisfied with the co-location of Firexpo with Securex, A-OSH EXPO, and Facilities Management Expo, it is the ideal mix and brings in potential customers from all our target markets," said Nichola Allen, G2 Fire.
"The success of Firexpo can be attributed to several stakeholders – our exhibitors, the visitors seeking fire safety solutions, the industry bodies we have partnered with, our sponsors, and our media partners," says Anderson.
Organisations wishing to exhibit at Securex South Africa 2024 or the other shows can contact Zelda Jordaan on zelda.jordaan@montgomerygroup.com to book a space or capitalise on a sponsorship opportunity. See some of the Securex South Africa 2023 highlights https://youtu.be/vQT3ULRl4I4
Credit(s)
Further reading:
From the editor's desk: A sad but exciting goodbye
Technews Publishing News & Events
Welcome to the final monthly issue of SMART Security Solutions. This is the last issue of the year and the last monthly issue we will print. The SMART Security Solutions team wishes all our readers and advertisers a relaxing festive season and a peaceful and prosperous 2024.
Read more...
---
FM Expo highlights industry trends and challenges
Securex South Africa News & Events Facilities & Building Management
Keeping tabs on what is happening within the building/facilities management arena can be frustrating, however, a quick way to find out what current trends, challenges, and solutions are available can be found at the Facilities Management Expo.
Read more...
---
The human factor side of video management systems
Leaderware Editor's Choice Surveillance Risk Management & Resilience
A video management system (VMS) is central to, and the most vital element to any control room operation using CCTV as part of its service delivery, however, all too often, it is seen as a technical solution rather than an operational solution.
Read more...
---
Get the basics right to win more business
ServCraft Editor's Choice Risk Management & Resilience
The barriers to entry in security are not high. More people are adding CCTV and fencing to their repertoire every year. Cowboys will not last long in a space where customers trust you with their safety.
Read more...
---
All aspects of data protection
Technews Publishing Editor's Choice Information Security Infrastructure AI & Data Analytics
SMART Security Solutions spoke to Kate Mollett, Senior Director, Commvault Africa, about the company and its evolution from a backup specialist to a full data protection specialist, as well as the latest announcements from the company.
Read more...
---
Global strength, local craft
Impro Technologies Editor's Choice
Impro Technologies is a resounding success story. Started in South Africa, the company remains true to its roots and still designs and manufactures its access control systems and solutions in the country.
Read more...
---
Identity verification and management trends
Technews Publishing Information Security
Insights into what we can expect from identity fraudsters and the industry next year, ranging from criminal exploitation of AI and digital IDs to multi-layer fraud protection and the need for more control over personal information sharing.
Read more...
---
South Africans play a role in becoming scam victims
Editor's Choice Risk Management & Resilience
The South African fraud landscape is becoming increasingly risky as fraudsters and scammers look to target individuals with highly sophisticated scams, in an environment where it is becoming increasingly difficult for lawmakers and authorities to bring these criminals to justice.
Read more...
---
Service orientation and attention to detail
Technews Publishing Editor's Choice Risk Management & Resilience
Lianne Mc Hendry evolved from working for an accounting firm to an accomplished all-rounder familiar with the manufacturing, distribution, and system integration aspects of the security industry value chain.
Read more...
---
Are you leaving money on the table?
Editor's Choice Security Services & Risk Management
How many customers have you helped since starting your business? Where does most of your new business come from? If the answer is not from your database's existing customers, you might have a problem.
Read more...
---