printer friendly version
Nymbis Cloud Report unveils South Africa's cloud landscape
Issue 4 2023 Infrastructure, News & Events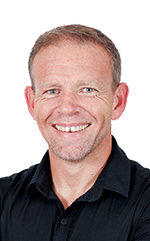 Sean Rose.
Nymbis Cloud Solutions powered by Vivica Holdings, in partnership with Veeam and Africa Analysis, launched their first South Africa Cloud Report this year. The report aims to share accurate data on cloud adoption, migration, and innovation specific to the South African landscape.
The company wanted relevant local insights and data that would allow for a clearer understanding of South African business expectations and requirements within the cloud narrative, and to create a body of research that represented local data rather than global or continent based trends.
"Most reports and surveys focus on Africa as a whole or on the global context which meant we didn't have concise, up-to-date and useful data about South African cloud adoption," says Sean Rose, Senior Product Manager at Nymbis. "We commissioned the report to gain better insights and to validate that our understanding of the market isn't just a niche experience, but an overarching representation of the South African market. It includes insights that are relevant to a range of different business stakeholders to allow for informed business decision-making across the C-Suite."
The report found that up to 70% of South African companies are actively engaged in a cloud technology adoption strategy with a focus on migrating services and implementing changes within tight budget constraints. Around 50% are implementing a cloud-first strategy, 48% are planning to move 100% of their workload to the cloud, and 69% are using a hybrid cloud model. The report unpacks cloud combinations, levels of adoption, challenges inhibiting cloud adoption, and financial management, among other key cloud conversations and priorities.
Most organisations are prioritising convenience, reliability and security with the expectation of flexibility, high performance and five-star service and support. Common themes that arose within the report include:
• The complexities of bill-cost management and the operating efficiency of the technology stack.
• Mitigating operational risk while accelerating cloud adoption, innovation and service delivery.
• Partnering with service providers that support a pragmatic approach to technology road mapping.
• Sector-relevant support and advisory services that facilitates and guides organisations to adopt technology solutions which support their unique operating models.
• Cloud adoption is not an all-or-nothing strategy, but it remains a strategic business priority.
"The report underscored the need for clearer planning and road mapping to improve cost modelling so that companies can mitigate the risks around unplanned expenses," says Rose.
The Nymbis Cloud Report provides an in-depth, research-based analysis of cloud adoption trends in South Africa and looks at ongoing development, adoption and delivery, the factors inhibiting cloud adoption, and global cloud trends mirrored in the country. It can be downloaded and further information can be found at https://nymbis.cloud/
Further reading:
Enhanced cellular connectivity is critical for farm safety
Infrastructure Agriculture (Industry)
In South Africa, the safety of our rural communities, particularly on farms, is a pressing concern. Nearly 32% of South Africa's 60 million people live in these areas, where security challenges are constantly in the spotlight.
Read more...
---
All aspects of data protection
Technews Publishing Editor's Choice Information Security Infrastructure AI & Data Analytics
SMART Security Solutions spoke to Kate Mollett, Senior Director, Commvault Africa, about the company and its evolution from a backup specialist to a full data protection specialist, as well as the latest announcements from the company.
Read more...
---
Revolutionising networking technology for the future
Infrastructure IoT & Automation
[Sponsored] In the fast-evolving landscape of networking technology, RUCKUS Networks stands out as a trailblazer, offering innovative solutions that redefine connectivity experiences across various industries.
Read more...
---
Edge could help transform South Africa's healthcare
Axis Communications SA Infrastructure
Edge computing has emerged as a game-changing technology for many industries, and the healthcare sector is no exception. In particular, South Africa's healthcare industry could significantly benefit from the potential of this technology.
Read more...
---
Cloud platform for cyber resilience in the hybrid enterprise
Infrastructure
The Commvault Cloud brings together data protection, security, intelligence, and recovery on one platform, offering AI capabilities to defeat cyber threats, and includes integration with Microsoft Azure OpenAI Service.
Read more...
---
Rapid rise in DNS attacks drives demand for new approach
Infrastructure Risk Management & Resilience
As ransomware grows more sophisticated and DNS attacks become more frequent, businesses are increasingly trying to protect themselves by adopting innovative approaches and technologies to bolster the integrity and security of their backup systems.
Read more...
---
Majority of South African companies concerned about cloud security
Information Security Infrastructure
Global and local businesses share a common concern when it comes to cloud security. 95% of global businesses and 89% of local businesses are concerned about the security of public clouds.
Read more...
---
Consolidated cybersecurity management
Technews Publishing Editor's Choice Information Security Infrastructure
SMART Security Solutions spoke to Gareth Redelinghuys, Country Managing Director, African Cluster at Trend Micro, to find out what makes Trend stand out from the crowd and also its latest market offerings.
Read more...
---
Access to data centre secured
Suprema Access Control & Identity Management Infrastructure
GBM required a modern access control system to increase the security of its facilities in a productive environment without affecting the operation of the offices and the data centre, which are carried out 24/7/365.
Read more...
---
Africa's growth lies on shoulders of renewable energy
News & Events Infrastructure
The Africa Tech Festival from 13 to 16 November in Cape Town will unpack the challenges and discuss the pivotal role of sustainability & renewable energy in advancing technological development in Africa.
Read more...
---