printer friendly version
Smart buildings require smarter networks
Issue 2/3 2023 Commercial (Industry), IT infrastructure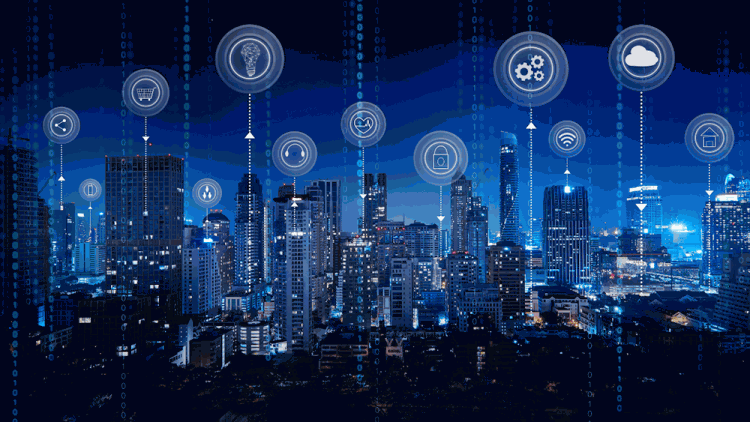 As the social conscience of the modern world shifts towards more sustainable, environmentally friendly, and efficient business models, the microscope is being placed on buildings, offices, and the construction and revamp of these. The smart building is not a new concept, but it's more than just four walls built sustainably. It is, in fact, a network that interconnects people, processes, data, and things. Lots and lots of things.
According to a recent study by Honeywell, over 90% of facilities managers see remote building management as a primary driver of smarter buildings – driving efficiency or sustainability, including data aggregation, machine learning (ML) and artificial intelligence (AI). The business needs for smart buildings are numerous, extending beyond sustainability and efficiency needs to the use of IoT and AI as a way for these buildings to support performance optimisation and a seamless occupant experience.
And a part of this is the network, which is no longer just a layer in a building but is the nervous system of the smart building itself.
Building better connections
A smart building has a hive of connected systems, including various building systems, such as HVAC, lighting, security, and communication. They also house sensors, analytics, and automation to monitor and control these systems, delivering real-time data and insights that a building manager can use to optimise performance, reduce energy costs, improve employee efficiency, and assist with future planning.
While the infrastructure of intelligent buildings comprises a complex array of systems and devices, it simply wouldn't be able to function without a network. But not just any network can support the needs of a smart building, which comes with layers of new requirements and connections both on-premises and in the cloud.
One of the key benefits of an intelligent building is that it can be monitored and controlled remotely, giving a building manager the power to identify and resolve issues from anywhere. Conversely, the smart technologies within, such as sensors, collect and collate data that needs to be transported across the network, where it is then prepared for analytics to deliver insights and recommendations to help improve operational efficiencies.
This data could assist a business with improving energy efficiency, optimising heating, ventilation and air conditioning (HVAC) systems, adjusting the consumption of lighting and other energy-consuming devices, reducing energy waste, and lowering costs. IoT devices can also monitor and control access and improve physical security.
A smarter network
Quintessentially, modern smart buildings have specific demands and requirements of a network. Firstly, network coverage goes beyond a single ethernet port to desks. Instead, coverage needs to extend to the people, the machines, and all the walls of the smart building, including campus-wide deployments that could extend outdoors.
Secondly, capacity is critical. The different applications that make up a smart building demand that the network can handle all traffic requirements with minimal connection latency. This is not just the devices and sensors in the building but those carried into the building by guests and staff.
Thirdly, cost control is essential, especially when there is a need to upgrade the wired infrastructure of a smart building. A network upgrade may include the addition of switch ports, access points, Wi-Fi, and advanced management systems. On a positive note, the network technologies we are seeing from partners like Extreme Networks are much more cost-effective than the networks of old – an upgrade could cost you an investment in the short term but bring the ROI of your network down dramatically in the long term.
Wired, wireless, and cloud
When navigating the nature of the network your smart building needs, I urge you to look past proprietary architecture. Adding more ports for more capacity will add to your network's complexity. So, consider adding a software-defined network (SDN) layer to your wired network, giving you the flexibility, agility and scalability a smart building requires.
Another important consideration is upgrading to Wi-Fi 6, which provides nearly four times the capacity of Wi-Fi 5 and better supports IoT and smart building applications. More modern wireless infrastructure will assist in future-proofing your Wi-Fi investment, and Wi-Fi 6E adds the 6 GHz spectrum that results in faster speeds, lower latency, and more security.
Starting a smart building initiative is also an excellent time to explore how cloud-based networking can support mission-critical applications. An existing management system that can be moved to the cloud will deliver access anywhere, convenience, and productivity. It also provides centralised and uniform access control, automated deployment, updates, troubleshooting, APIs for extensibility, and the benefit of analytics.
And finally, don't forget the security of your network. Adding 'things' to your network is going to weaken it. Ensure your security extends to access control, authentication, identity management, and traffic encryption. Remember, you must add protection to your sensors and devices, as their off-the-shelf security can be lacking, and don't overlook adding additional factors such as environmental monitoring.
By leveraging advanced technologies and integrating various building systems into a single network, smart buildings provide occupants with a more comfortable, efficient and sustainable environment.
Further reading:
Five reasons why your board should push cybersecurity 'boundaries'
Security Services & Risk Management IT infrastructure
From a technological perspective, micro-segmentation of your IT security environment can be viewed as a way to identify, isolate and curtail the reach of any threat – even once it is in your network.
Read more...
---
Plan to use AI? Get your data ready
Integrated Solutions IT infrastructure
Artificial Intelligence (AI) is often perceived as an intelligent system that can handle any task. However, this notion crumbles when the AI is given poorly formatted or incorrect data. You cannot simply provide a few spreadsheets or databases to AI and expect it to work flawlessly.
Read more...
---
Paratus signs re-seller agreement with Starlink for Africa
News IT infrastructure
Pan-African telco and network services provider Paratus Group announced it has entered an agreement as a distributor for Starlink's high-speed services across the African continent, available immediately in Mozambique, Kenya, Rwanda and Nigeria.
Read more...
---
The state of edge security report
News IT infrastructure
Edge computing has grown from being a niche use case in a handful of industries to offering a major opportunity for enterprises across industries to spread computing power around the world.
Read more...
---
Manage security systems remotely
Hikvision South Africa CCTV, Surveillance & Remote Monitoring IT infrastructure Products
Hikvision launched a new generation of smart managed switches that, in conjunction with the Hik-Partner Pro mobile app, enable installers to remotely deploy and configure security systems with comprehensive operation and maintenance capabilities.
Read more...
---
Synology enhances functions for advanced surveillance integration
Technews Publishing CCTV, Surveillance & Remote Monitoring IT infrastructure Products
With the capability to function as both an API client and server, Surveillance Station offers a versatile platform for integration, whether it's embedding video streams into other platforms or overlaying external data onto recorded video.
Read more...
---
Simplify adoption of Generative AI
News IT infrastructure Products
Nutanix simplifies adoption of Generative AI with Nutanix GPT-in-a-Box, an AI infrastructure solution that accelerates customers' path to GPT and LLMs while keeping organisations in control of their data.
Read more...
---
Veeam's route to immutability
News Cyber Security IT infrastructure
National and international data protection and ransomware recovery experts gathered to exchange data protection and ransomware recovery best practise that bolster cyber resilience at VeeamON Tour: Expand 2023.
Read more...
---
Smart obsession: Cities within security
Business Connexion Integrated Solutions IT infrastructure
Rebatho Madiba, from BCX, explores the security and connectivity considerations that define the development of smart city foundations, naturally, with connectivity and security the most important considerations.
Read more...
---
Smart firefighting
Fire & Safety IT infrastructure
By integrating smart radios, innovative wireless technologies, fusion field networks, and IoT sensors, firefighters can respond faster and coordinate better during emergencies, protecting lives, property, and their own safety.
Read more...
---