printer friendly version
VMS 7.2 supports the investigation process and adds cloud capabilities
Issue 8 2022 Surveillance, Integrated Solutions, Products & Solutions
Qognify has launched the second release of its video management software Qognify VMS. The latest software version – Qognify VMS 7.2 – comes with extended support for body-worn video, additional functionalities to support investigations, and a new web client architecture.
VMS 7.2 addresses the increasing use of body-worn video (BWV) across many sectors, ranging from police and security applications to customer service and quality control. As BWV has become an important component in the security ecosystems of many Qognify VMS customers, the need to integrate BWV footage into a fully-featured VMS environment for investigation purposes has become increasingly apparent.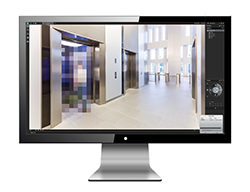 In this context, it is crucial that the BWV integration framework can maintain the chain of custody of captured footage for law enforcement applications. Qognify has worked closely with manufacturers of BWV systems to ensure that chain of custody protocols are adhered to – especially when devices are used in multiple shifts by different users. With Qognify VMS 7.2, these extended capabilities are now available for organisations using BWV from Axis, with integrations of other manufacturers to follow in future releases.
In addition to supporting further video sources, Qognify VMS 7.2 offers new enterprise-class capabilities to simplify investigations and enhance privacy. Cameras, maps, and layouts can now be provided with logical labels, and thus be grouped accordingly. For example, when operators need to see video feeds from all the cameras in a particular stairwell, they simply select the respective entity label, and all corresponding cameras are automatically presented – regardless of where these may sit in the physical structure of the installation. As a result, the operators can obtain a comprehensive understanding of the situation more quickly and realise efficiency gains.
As the investigation process is often related to privacy considerations, Qognify VMS 7.2 now also makes it possible to restrict access of particular cameras to dedicated workstations. Furthermore, a new static scramble function enables the blurring of a designated area within the camera view using an adjustable privacy mask, opening up video masking for a whole new range of applications.
As part of the release, Qognify now provides cloud storage offerings designed for the specific requirements of video management. The use of traditional cloud storage solutions often comes with unpredictable costs, as typically the cloud storage provider charges for the retrieval of video footage from their servers. Many IT departments cannot reflect this in their budget structure, which often prevents them from using this technology. In contrast, Qognify only charges the volume of cloud storage used on a per-terabyte basis, no matter how often the customer needs to retrieve video – resulting in a consistent 'pay as you go' cost that is easy to budget for.
The new software version also provides the very first look at Qognify's new web client architecture, which is characterised by high-performance video display capabilities. Yaniv Toplian, VP R&D; at Qognify, explains Qognify's approach: "Many VMS web clients either require the installation of additional software components, which makes them inflexible and creates cybersecurity risks, or compromise on display performance and latency. To overcome this, we've developed a new streaming and playback technology that enables the display of video streams with very low latency in a standard browser environment, without any additional software components. This is even more important as the web client is an essential part of Qognify's comprehensive cloud strategy, which aims to offer organisations a maximum amount of flexibility for their deployments."
The new Qognify Web Client creates a framework that will allow organisations to improve their investigation and response processes via adaptive workflows and enhanced communication and coordination capabilities. Limited functionality will be available for Qognify VMS 7.2, with enhancements being developed in each release moving forward.
Further reading:
Pentagon appointed as Milestone distributor
Elvey Security Technologies News & Events Surveillance
Milestone Systems appointed Pentagon Distribution (an Elvey Group company within the Hudaco Group of Companies) as a distributor. XProtect's open architecture means no lock-in and the ability to customise the connected video solution that will accomplish the job.
Read more...
---
Effective access control
Flow Systems Access Control & Identity Management Products & Solutions
Flow Systems has introduced its new Extra Heavy Duty Industrial Rising Vehicle Barrier, which provides a high level of protection. It is a traditional-looking control barrier with the benefits of high-level physical protection.
Read more...
---
Safer roads to a sustainable future
Dahua Technology South Africa Surveillance
With the ever-increasing number of vehicles on the road, it is imperative to constantly improve the quality of transportation monitoring and traffic management in urban and rural areas.
Read more...
---
SafeQuip introduces lithium fire extinguishers
Fire & Safety Products & Solutions
With the use of Lithium batteries increasing in many types of portable devices and battery storage solutions, SafeQuip, in partnership with AVD Lithex, is introducing a fire extinguisher aimed at suppressing and extinguishing, and also preventing re-ignition of lithium fires.
Read more...
---
From damage management to false alarm prevention
Dallmeier Electronic Southern Africa Transport (Industry) Surveillance Logistics (Industry)
Video surveillance is undergoing an exciting evolution; today's IP-based solutions can be fully integrated into digital systems. With the increasing integration of artificial intelligence (AI); logistics, in particular, can make processes more transparent and exploit previously untapped potential.
Read more...
---
New generation of cyber-focused controllers
Gallagher News & Events Access Control & Identity Management Products & Solutions
The C7000 gives users an opportunity to leverage their hardware and firmware to build a platform designed to catapult their organisation into the future, with cybersecurity baked in from inception.
Read more...
---
Nextivity CEL-FI ROAM R41 boosts your cell signal
IoT & Automation Products & Solutions
Designed for cars, trucks, and boats, it is the industry's most powerful cellular coverage solution for on-the-go applications. It features the 4th generation IntelliBoost chip to deliver channelised coverage for mobile network operator (MNO) signals.
Read more...
---
Olarm advances smart security with Texecom integration
Olarm News & Events Perimeter Security, Alarms & Intruder Detection Products & Solutions
Following Olarm's achievement as the OSPA 2023 winner of 'Outstanding Security Integrator', it has taken another significant step in its innovation journey with the announcement of its integration with Texecom Premier Elite.
Read more...
---
Marshall Security partners with Blacklight to introduce Reconeyez to KZN
News & Events Surveillance Power Management
Marshal Security has joined forces with Blacklight Group to launch Reconeyez, a cutting-edge battery-powered surveillance platform with mesh network capability, in the KwaZulu-Natal market.
Read more...
---
Professional mobile video management in your pocket
Dallmeier Electronic Southern Africa Surveillance
With the SeMSy Mobile Client for its Domera and Panomera cameras, Dallmeier is now launching a solution that combines the functional and security requirements of professional organisations with the user-friendliness and simplicity of consumer apps.
Read more...
---