printer friendly version
Smart car parking solution eases traffic flow
Issue 8 2022 CCTV, Surveillance & Remote Monitoring, Integrated Solutions, Products
Ethiopia's first smart parking lot, designed to improve traffic flow and management efficiency, has been built and installed using Dahua Technology's smart parking solutions.
Meskel Square is a historic site in Addis Ababa used for public gatherings and festivals, which was redeveloped in 2021 to include a 1400-space underground car park and, a range of retail facilities.
The car park operator's objectives were to reduce the need for cumbersome manual entry, payment and exit procedures which held up traffic, causing long queues and requiring many security personnel to administer. In addition, the lack of an integrated system resulted in poor efficiency, ineffective and inflexible charging systems, and no effective supervision and recording of charges, leading to unfortunate loss and even complaints from visitors.
Dahua's smart parking solutions, installed by Anhui Antai Technology, include entrance and exit cameras, intercoms and barriers, intelligent parking guidance, video surveillance and a unified software platform.
Features of the installation
• Powerful AI algorithm: Fast automatic Under Vehicle Scanning System (UVSS), ANPR, seamless entry and exit, and parking space guidance provide a logical and seamless flow of Entry–Park–Pay–Find Car–Exit to ensure safety and improve efficiency.
• Complete parking solution: The comprehensive solution includes entrances and exits, UVSS, parking toll systems, parking guidance, and a CCTV control and monitoring centre, which helps operators improve the security, safety, and management of the facility. The system has helped to find one lost government vehicle and detect two thefts.
• Advanced technology: Accurate and reliable parking toll system ensures reliable parking income, helps the operator file tax returns quickly and effectively, and facilitates better and more efficient commercial operation.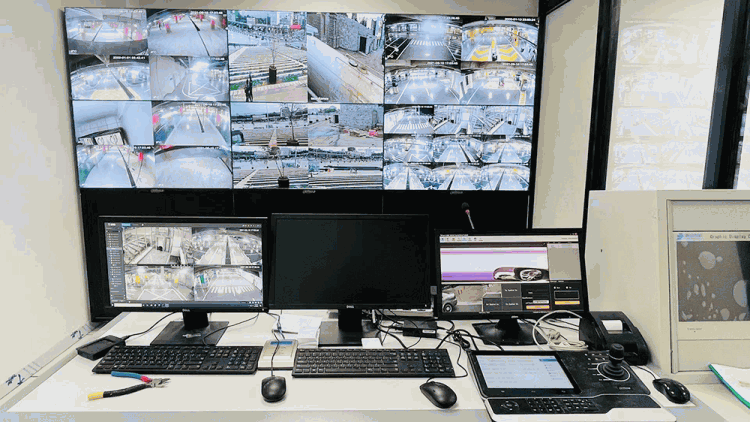 Dahua's parking solutions integrate ANPR with video analytics, enabling automatic entry and exit without human intervention. Vehicle way-finding and location systems are embedded to enhance users' experience.
The smart parking lot provides a stress-free and seamless experience for visitors, eliminating unnecessary delays and the need to search for vacant spaces. The system also enables drivers to quickly, and easily, locate their vehicles on their return and to enter, pay and exit the parking lot without paper tickets.
Innovative parking products installed include 280 of Dahua's parking space detection cameras, which detect both the status of three parking spaces and when unauthorised vehicles are parked in restricted spaces, and 43 indoor LED screens which display red/green arrows in three directions and up to nine digits.
Satisfying results
The project has significantly improved the monitoring quality in the parking lot. During the project delivery, one of the new project cars of the admin was stolen. The new system's ANPR and smart searching functions successfully helped the admin located the video footage when the car exited the parking lot and allowed the vehicle to be retrieved within the day.
Credit(s)
Further reading:
Smart water management
Axis Communications SA CCTV, Surveillance & Remote Monitoring Integrated Solutions
South Africa is currently facing a water crisis, with scarcity and inefficient water management posing significant challenges to sustainable, consistent access to water. Smart technology and powerful partnerships may offer a proactive solution to SA's water crisis.
Read more...
---
Helping retailers optimise monitoring and security
Guardian Eye Retail (Industry) CCTV, Surveillance & Remote Monitoring
From a smart retail perspective, it is crucial to understand that monitoring stock and other assets through camera surveillance and a variety of Internet of Things (IoT) sensors stretches further than the stores themselves.
Read more...
---
Empowering Istanbul's public transportation
Dahua Technology South Africa CCTV, Surveillance & Remote Monitoring Integrated Solutions
Dahua's intelligent transportation solution, using technologies like DSM and AI-based passenger flow counting, has facilitated an intelligent system upgrade for nearly 6 400 minibuses and electric buses in Istanbul.
Read more...
---
Smart manufacturing redefined
Hikvision South Africa CCTV, Surveillance & Remote Monitoring Industrial (Industry)
AI and intuitive visualisation technology allows managers to monitor manufacturing sites, production, and operational processes, and to respond in real time in the event of an issue – helping to drive efficiency and productivity.
Read more...
---
Long-distance connectivity with Simplex ES Net Life Safety
Johnson Controls Global Products Fire & Safety Products
ES Net Network Bridge allows fire alarm system data to be transmitted across distant buildings via a customer's existing network infrastructure, improving system-wide monitoring and control in facilities and campuses where life safety networks are often widely dispersed.
Read more...
---
AI is getting smarter, and critical infrastructure is set to benefit
Axis Communications SA CCTV, Surveillance & Remote Monitoring
With technology advancing at an astonishing pace, AI has emerged as a defining trend in today's business arena. Enterprises across all sectors are prioritising this technology, embracing its transformative potential to drive change and growth.
Read more...
---
Visitor management via QR code
ATG Digital Access Control & Identity Management Products
ATG Digital has launched its QR Code Reader to enhance access control's security and efficiency. The new QR Code Reader enables seamless, contactless access control, creating an efficient user journey.
Read more...
---
District secures activity centre
Paxton Access Control & Identity Management Products
Paxton's Net2 access control solution is a user-friendly and flexible networked access control system, which made installing and managing access control security at an activity centre straightforward.
Read more...
---
Collaboration delivers integrated and holistic security
Guardian Eye CCTV, Surveillance & Remote Monitoring News Integrated Solutions
Guardian Eye and Lytehouse have partnered to integrate their speciality solutions and provide a holistic security offering that overcomes the fragmentation of security systems and services.
Read more...
---
Manage security systems remotely
Hikvision South Africa CCTV, Surveillance & Remote Monitoring IT infrastructure Products
Hikvision launched a new generation of smart managed switches that, in conjunction with the Hik-Partner Pro mobile app, enable installers to remotely deploy and configure security systems with comprehensive operation and maintenance capabilities.
Read more...
---