printer friendly version
The greatest asset for driving transformation
Issue 7 2022
News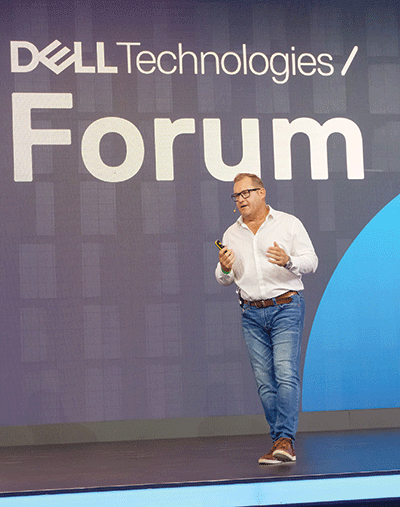 Doug Woolley.
After two years of accelerated digital transformation, more than half of IT leaders say their organisation knows what it takes to digitally transform a workforce, but after such rapid change, many employees are now facing a challenge to keep up the pace, according to a new Dell Technologies survey. What's more, 69% of respondents believe their organisations underestimate how to engage with their people properly when planning transformation programmes.
The results highlight how the recent period of rapid transformation is leaving businesses and their workforces in need of time to recharge, reflect and refine before embarking on new projects or iterating on existing ones. Despite the huge progress and efforts of the past few years, the research highlights how there is still a potential for transformation to stall, as 62% of respondents believe their people's resistance to change can lead to failure. Meanwhile, 50% say they are still worried that they may be left behind due to a lack of senior vision/authority to now capitalise on the opportunity in front of them.
"True, sustainable breakthrough transformation happens at the intersection of people and technology, along three frontiers: connectivity, productivity and empathy," says Doug Woolley, MD of Dell Technologies South Africa. "Building your breakthrough requires optimising your organisation to uncover strategic insights with simplicity, speed and scale. By connecting people, applications and data, you can power your organisation with trusted IT solutions and focus on inspiring innovation rather than managing infrastructure."
Now is the time for organisations to take stock before embarking upon new digital transformation projects, ensuring their workforce is supported and has clarity on the next stage of implementation.
Benchmarking readiness for digital change
Dell and independent behavioural experts studied survey respondents' appetite for digital change and found that 20% of the workforce – from senior business leaders to IT decision-makers and staff – are pursuing modernisation projects. Furthermore, 23% are slow or reluctant to embrace change.
This is how the global workforce is comprised today: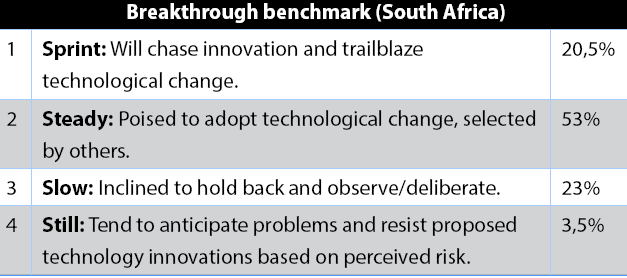 The study charts a path forward. It signposts opportunities for businesses to focus and keep pace with transformation, with breakthroughs happening at the intersection of people and technology along three frontiers.
1. Connectivity
Businesses performed tremendous feats to connect, collaborate and conduct business online during the pandemic. But they're not finished.
More than 60% of respondents say they need their organisations to provide the necessary tools and infrastructure to work anywhere (along with the autonomy to choose their preferred working pattern). In fact, they worry their people might be left behind because they don't have the right technology to shift to a highly distributed model (where work and computing are not tied to a central place but occur everywhere).
The technology alone isn't sufficient. Businesses also need to make work equitable for people with different needs, interests and responsibilities, including the 83% of respondents that would like their organisation to do any of the following:
• Clearly define their ongoing commitment to flexible work arrangements and the practicalities of making it work.
• Equip leaders to manage remote teams effectively and equitably.
• Empower employees to choose their preferred working pattern and provide the necessary tools/infrastructure.
2. Productivity
People's time is limited and there are now too few qualified candidates for open roles. To address these strains, businesses can delegate repetitive tasks to automated processes and free up people to focus on enriching, higher-value work.
At present, 40% say their work is stimulating and not repetitive. With the opportunity to automate more repetitive tasks, 75% would look forward to learning new, sought-after skills and technologies like leadership skills, courses in machine learning, or focusing on more strategic opportunities to elevate their role.
However, businesses with limited budgets are concerned they won't be able to advance their workforce and compete. This is when an as-a-service model becomes a favourable option for many businesses.
3. Empathy
At their heart, businesses must build a culture, modelled by empathetic leaders, that treats people as their greatest source of creativity and value.
The research shows there is still work to do and empathy has to inform decision-making, from simplifying technology for 54% of respondents who often feel overwhelmed by complex technologies, to tailoring change programmes to individuals' skills (34% of employees believe their leaders do this).
For more information visit www.dell.com/breakthrough
Further reading:
Paxton opens first experience centre in South Africa
Paxton News Access Control & Identity Management
The new Paxton Experience Centre in Johannesburg is now open and welcoming security installers and end users who want to see Paxton's products in action.
Read more...
---
Paratus signs re-seller agreement with Starlink for Africa
News IT infrastructure
Pan-African telco and network services provider Paratus Group announced it has entered an agreement as a distributor for Starlink's high-speed services across the African continent, available immediately in Mozambique, Kenya, Rwanda and Nigeria.
Read more...
---
4IR is opportunity
News
In South Africa, digitalisation remains 'at a nascent stage' which means significant work still has to be done when it comes to addressing skills development around 4IR in the country.
Read more...
---
Five ways to reduce your cyber insurance premiums
Security Services & Risk Management News
With the global costs of cybercrime expected to soar to $13 trillion within the next five years, cyber insurance is booming as organisations try to mitigate the risk of financial losses.
Read more...
---
Client satisfaction boosted by 85% at Thungela Mine
Thorburn Security Solutions News Security Services & Risk Management Mining (Industry)
Thorburn Security, a division of Tsebo Solutions Group, has announced its recent collaboration with Kwa-Zulu Natal security company, Ithuba Protection Services, as part of its Enterprise Supplier Development (ESD) initiatives across Africa.
Read more...
---
Fidelity SecureFire steps into critical fire response space
News Fire & Safety
With the majority of fire stations around the country being crippled by a lack of resources to offer effective responses, Fidelity Fire Solutions has launched its own 'first responder' model, Fidelity SecureFire.
Read more...
---
The state of edge security report
News IT infrastructure
Edge computing has grown from being a niche use case in a handful of industries to offering a major opportunity for enterprises across industries to spread computing power around the world.
Read more...
---
CHI selects NEC XON as trusted cybersecurity partner
News Cyber Security Industrial (Industry)
CHI Limited, Nigeria's leading market player in fruit juices and dairy products, has engaged in a strategic cybersecurity partnership with NEC XON, a pan-African ICT systems integrator.
Read more...
---
Collaboration delivers integrated and holistic security
Guardian Eye CCTV, Surveillance & Remote Monitoring News Integrated Solutions
Guardian Eye and Lytehouse have partnered to integrate their speciality solutions and provide a holistic security offering that overcomes the fragmentation of security systems and services.
Read more...
---
Kaspersky appoints new GM for Africa
News Cyber Security
Kaspersky has announced the appointment of Andrew Voges as the new General Manager for Africa to boost regional market positioning and enterprise protection.
Read more...
---