printer friendly version
HS 6040 security X-ray inspection system
Issue 8 2022 Asset Management, EAS, RFID, Products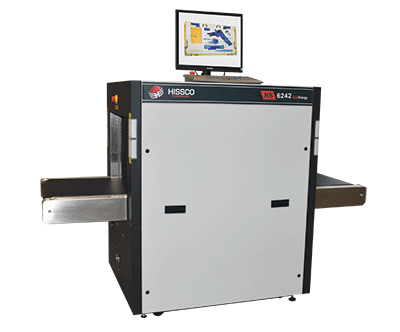 Hissco's HS 6040 DE is a compact, versatile security X-ray machine used in a wide range of applications, from airports, government buildings, banks and hotels, to correctional services and numerous other limited-space applications.
The HS 6040 is the most commonly deployed device on the market due to its high-definition imaging, upgradable in-the-field technology and easy-to-use operator interface.
In addition, Hissco offers a secondary version, the HS 6240, with a tunnel dimension of 620 x 420 mm. All equipment is manufactured under the strictest ISO 9001:2015 and CE standards, meeting both Swiss and German TUV approval. Approved and currently in use in numerous airports worldwide, the HS 6040 competes against the highest of international standards.
With ultra-high-definition detectors and cutting-edge micro photosensors developed specifically for Hissco, the HS 6040 DE offers picture-pure resolution, enabling seamless scanning of extremely thin objects placed on the belt, negating the need for obscurities such as search trays or buckets.
The HS 6040 achieves a minimum resolution value of 40 AWG (American Wire Gauge) guaranteed, and 42 AWG typical, with a steel penetration depth of up to 42 mm. The HS 6040 supports up to 500 000-image archiving, 100-image onscreen playback, and the ability to export data in a variety of formats to meet the needs of the client.
All Hissco security systems come standard with a 36-month parts guarantee and are manufactured in Pretoria, South Africa. Backed by a team of specialised design, fabrication and technical engineers with combined in-house experience of 100+ years, Hissco is Africa's leading manufacturer and exporter of conventional security detection systems.
For more information contact Hissco International, +27 11 397 1323, [email protected], www.hisscoint.com
Further reading:
Turkish university installs IDIS surveillance
CCTV, Surveillance & Remote Monitoring Products
IDIS video streamlines complex surveillance systems for learning institution, upgrading a 350-camera system with 24/7 control room monitoring to transform security for Social Sciences University of Ankara (ASBU).
Read more...
---
Telematics help protect SA trucks against expanding risks
Logistics (Industry) Asset Management, EAS, RFID
South Africa's road freight transport sector currently accounts for about 85% of all goods transported in the country and is growing rapidly annually. "To ensure that goods are delivered safely, promptly, and affordably is a challenge," says Justin Manson of Webfleet.
Read more...
---
The right security solution removes the opportunity
Asset Management, EAS, RFID Retail (Industry)
South African retailers are facing a multitude of challenges, including economic fluctuations, changing consumer behaviour, increased competition, supply chain disruptions, regulatory changes and the need to adapt to digital transformation, not to mention theft.
Read more...
---
Long-distance connectivity with Simplex ES Net Life Safety
Johnson Controls Global Products Fire & Safety Products
ES Net Network Bridge allows fire alarm system data to be transmitted across distant buildings via a customer's existing network infrastructure, improving system-wide monitoring and control in facilities and campuses where life safety networks are often widely dispersed.
Read more...
---
Visitor management via QR code
ATG Digital Access Control & Identity Management Products
ATG Digital has launched its QR Code Reader to enhance access control's security and efficiency. The new QR Code Reader enables seamless, contactless access control, creating an efficient user journey.
Read more...
---
District secures activity centre
Paxton Access Control & Identity Management Products
Paxton's Net2 access control solution is a user-friendly and flexible networked access control system, which made installing and managing access control security at an activity centre straightforward.
Read more...
---
Manage security systems remotely
Hikvision South Africa CCTV, Surveillance & Remote Monitoring IT infrastructure Products
Hikvision launched a new generation of smart managed switches that, in conjunction with the Hik-Partner Pro mobile app, enable installers to remotely deploy and configure security systems with comprehensive operation and maintenance capabilities.
Read more...
---
From overwhelm to oversight
Editor's Choice Cyber Security Products
Security automation is vital in today's world, and Microsoft Sentinel is a widely adopted, but complex answer. ContraForce is an easy-to-use add-on that automatically processes, verifies and warns of threats round-the-clock.
Read more...
---
Synology enhances functions for advanced surveillance integration
Technews Publishing CCTV, Surveillance & Remote Monitoring IT infrastructure Products
With the capability to function as both an API client and server, Surveillance Station offers a versatile platform for integration, whether it's embedding video streams into other platforms or overlaying external data onto recorded video.
Read more...
---
Simplify adoption of Generative AI
News IT infrastructure Products
Nutanix simplifies adoption of Generative AI with Nutanix GPT-in-a-Box, an AI infrastructure solution that accelerates customers' path to GPT and LLMs while keeping organisations in control of their data.
Read more...
---