printer friendly version
From Hill Street Blues, to Hillbrow, to managing risk for BMW
Issue 5 2022 Editor's Choice, News & Events, Security Services & Risk Management
People are drawn to the security industry for a variety of reasons. For Jane-Eleanor Morrison, however, the television series Hill Street Blues convinced her she wanted to fight for justice and "catch the bad guys". Of course, as a coloured female from a conservative family, growing up in KwaZulu-Natal, there were more than a few challenges she had to overcome.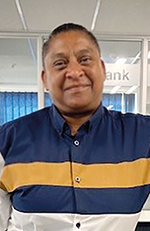 Jane-Eleanor Morrison.
Jane matriculated in 1989 in Durban, in the middle of the era of stayaways and general political unrest in the coloured community in that area (although it certainly wasn't restricted to that community or area). In those days, the expectations in her community were that she would get married, settle down, have children, and perhaps find a job in a retail store. Jane, however, wanted more. She wanted to broaden her horizons and gain further education.
Moreover, she knew that being a coloured, lesbian female would make it difficult to establish a career and find her own destiny in KZN, so she made the decision to leave. (In those less enlightened times, her sexual orientation, although evident, remained hidden until she hit her thirties.)
Her parents were very protective of Jane as their only female child, but eventually allowed her to move to Johannesburg with her cousin. She stayed with her mother's cousin in Soweto for a while, amid the unrest there which made her want to join law enforcement. Of course, she would have been called a traitor if she joined the SAP. Six months later she, her cousin and three friends found employment and moved into a flat together in Hillbrow, Johannesburg.
An opportunity at a braai
One evening while the group was having a braai on their balcony with some friends, they witnessed a woman being robbed. One of the friends was Eddie White, an SAP member who became her mentor for many years. Seeing the crime, Jane jumped over the ground floor balcony, chased the criminal down and "put him down." The thief was later escorted to Park Station, no doubt feeling very sorry for himself.
This led to Eddie advising and assisting her in joining the SAP (before it became SAPS). She was fast-tracked and started at the Police Training College in September 1991. At this stage, the police still segregated its colleges to keep the different races apart (future training colleges would be integrated). Jane was in the last intake of what used to be known as the 'Kitskonstabels'. She says the training she received was good and it taught her discipline, patience and various facets of the law. It also "opened her horizons," for which she is grateful.
As the only English-speaking coloured woman at the college, she also had to learn Afrikaans quickly, as all instructions and exams were in Afrikaans. Nonetheless, she still won the award of 'Student of the Semester' due to her determination to make it work. Having graduated, she started as a uniformed officer earning the princely salary of R1270 per month (R970 after deductions).
She was soon promoted to work in the detective group, where she was the only non-white woman. Following that she moved onto the Highway Patrol division that was created to patrol the country's national roads. The highway division was using BMWs donated for the task, equipped with the ability to trace vehicles equipped with Tracker devices. In a four-month period, Jane and her partner recovered the most vehicles for Tracker when compared to her colleagues.
Joining the private security industry
Based on her performance, Tracker offered her a job, and in June 1998 she started with the company as a control room operator, soon moving up to supervisor and then investigator. While with Tracker she continued her education (as she did in the SAPS), and Tracker sponsored Jane in obtaining her National Diploma in Policing and then Forensic Investigation.
Jane spent 18 years at Tracker doing investigations and as an expert witness for the company in various court cases. In the last four years of her employment with the company, this involved moving from province to province, wherever arrests were made. Jane was also involved in recovering stolen vehicles from Lesotho, Botswana and Zimbabwe.
Her education continued during this period, with Jane doing courses in management, before she was approached by BMW South Africa, this time in the field of technical security and the physical security sector. She made the move to BMW in 2016 and has not looked back since.
Industry challenges
Despite achieving the success she has, Jane still faces day-to-day issues with the security industry, primarily on the human resources side. The high turnover rate of security officers means that security service providers employ a pool of people who are trained to think the same way and are afraid to think out of the box. This often means mass hiring practices with no due diligence with respect to compliance to the law, skills upgrades and so forth. "Sometimes it feels as if their only focus is to provide a warm body to meet contractual obligations," she says.
Despite this, standards can never be compromised, and Jane insists that her service providers conduct proper assessments and can prove that the people supplied to BMW obtained an 80% or higher pass mark. She also conducts personal interviews before deploying any guards and has developed a set of standard operating procedures (SOP) for all onsite personnel to adhere to.
She says there is also a negative stigma attached to lesbian black women within the security industry, as they do not form part of the 'old white boys' club'. Slurs are limited because it is known that repercussions can be followed in today's industry. However, shunning is still prevalent. Non-white women in the security industry are underestimated and exploited in many spheres. Many major security companies lack black female representation at the board level and she believes this should change. Diversity is a topic that is being addressed by corporates, so there is optimism that things will change in a positive way.
Serving the youth of South Africa
Jane is not only focused on the security industry, however. She is active in the LGBTQ+ community as a coach to young people having difficulty in accepting and understanding their gender identity. Her advice to these youths is pertinent to all youngsters concerned about their future, and that is to work towards what you want, don't stop and don't give up.
She believes that if you want something there will be an internal desire and drive to achieve it, and if you pursue it and persevere, there will be light at the end of the tunnel. "Every decision you make in life will have repercussions," she states. "If you are careful and make the right decisions, the right repercussions will follow, enabling you to achieve your goals as long as you steadfastly chase them."
With her passion for law enforcement, she also advises young people to work hard and find people who can mentor and assist them in achieving their dreams – even if this takes time, and it will. She warns them not to give up in the interim and to stay away from crime and drugs. She says the same mantra she teaches the security officers at BMW applies; it may sound simple, but it is vital:
• Do what you are supposed to do.
• Do not do what you are not supposed to do.
• Do not do what you should not do.
Finally, Jane also advises people to think outside the box. "Thought is free; use and apply your mind to what you can do differently that will benefit yourself and your organisation."
Not done yet
While Jane has an enviable track record in the security industry, she is not done yet. She is still learning and wants to move into more strategic management roles, which includes her dream of running the company's full security function, not only in South Africa, but for the African continent. She also wants some expat experience to compare strategies employed at other BMW plants in different countries, adopting and sharing best practices across the global group.
She ends by noting: "There are always new ways in which we can improve efficiencies and optimise security operations, and that has been and still remains my focus going forward."
Credit(s)
Further reading:
From the editor's desk: A sad but exciting goodbye
Technews Publishing News & Events
Welcome to the final monthly issue of SMART Security Solutions. This is the last issue of the year and the last monthly issue we will print. The SMART Security Solutions team wishes all our readers and advertisers a relaxing festive season and a peaceful and prosperous 2024.
Read more...
---
The human factor side of video management systems
Leaderware Editor's Choice Surveillance Risk Management & Resilience
A video management system (VMS) is central to, and the most vital element to any control room operation using CCTV as part of its service delivery, however, all too often, it is seen as a technical solution rather than an operational solution.
Read more...
---
Get the basics right to win more business
ServCraft Editor's Choice Risk Management & Resilience
The barriers to entry in security are not high. More people are adding CCTV and fencing to their repertoire every year. Cowboys will not last long in a space where customers trust you with their safety.
Read more...
---
All aspects of data protection
Technews Publishing Editor's Choice Information Security Infrastructure AI & Data Analytics
SMART Security Solutions spoke to Kate Mollett, Senior Director, Commvault Africa, about the company and its evolution from a backup specialist to a full data protection specialist, as well as the latest announcements from the company.
Read more...
---
Global strength, local craft
Impro Technologies Editor's Choice
Impro Technologies is a resounding success story. Started in South Africa, the company remains true to its roots and still designs and manufactures its access control systems and solutions in the country.
Read more...
---
Identity verification and management trends
Technews Publishing Information Security
Insights into what we can expect from identity fraudsters and the industry next year, ranging from criminal exploitation of AI and digital IDs to multi-layer fraud protection and the need for more control over personal information sharing.
Read more...
---
Tech developments lead hologram growth in 2024
News & Events Security Services & Risk Management
Micro-lenses, micro-mirrors and plasmonics are among the rapidly-emerging optical devices that have evolved on the back of holographic and diffractive technologies, and are seen as part of the natural evolution of optical science by R&D teams.
Read more...
---
South Africans play a role in becoming scam victims
Editor's Choice Risk Management & Resilience
The South African fraud landscape is becoming increasingly risky as fraudsters and scammers look to target individuals with highly sophisticated scams, in an environment where it is becoming increasingly difficult for lawmakers and authorities to bring these criminals to justice.
Read more...
---
Service orientation and attention to detail
Technews Publishing Editor's Choice Risk Management & Resilience
Lianne Mc Hendry evolved from working for an accounting firm to an accomplished all-rounder familiar with the manufacturing, distribution, and system integration aspects of the security industry value chain.
Read more...
---
Are you leaving money on the table?
Editor's Choice Security Services & Risk Management
How many customers have you helped since starting your business? Where does most of your new business come from? If the answer is not from your database's existing customers, you might have a problem.
Read more...
---