printer friendly version
Africa's largest data centre obtains internationally accredited certifications
Issue 3 2022 News, IT infrastructure, Financial (Industry)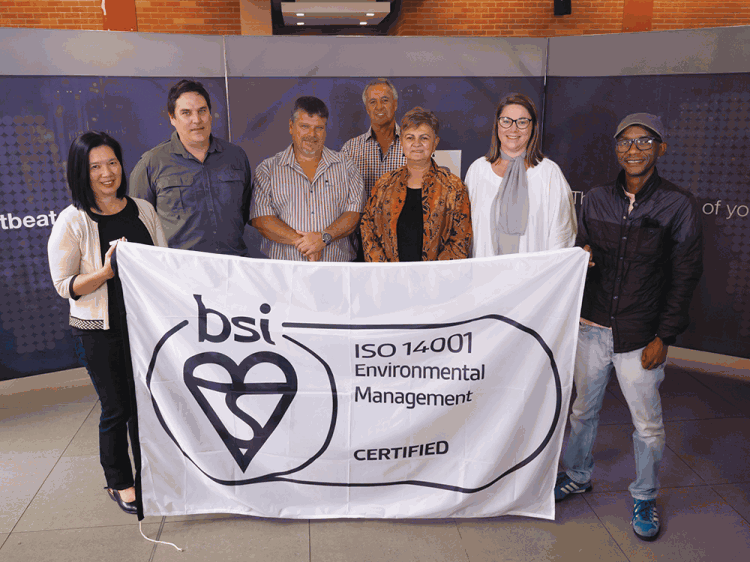 The team at Africa Data Centres accepts their BSI stamp of approval. Pictured from left to right are: Dawn Simpson, business process coordinator, Stefan Rademeyer, HSE Construction specialist, Henk Gerber, business process manager, Sewes Erasmus, QHSE executive, Dawn Abrahams, executive assistant, Robyn Eckert, governance and enterprise risk manager and Vusumuzi Dladla, health, safety and environment officer.
Africa Data Centres has strengthened the integrity of its day-to-day running by acquiring ISO certifications through the internationally recognised authority in ISO certification, the British Standards Institution South Africa (BSI).
Through the BSI's Integrated Management System (IMS), Africa Data Centres was able to implement the certifications seamlessly. By following the IMS route, more applicable certification was implemented while retaining the return on investment and enabled the company to remain up to date with its accreditation requirements.
"When a company starts the journey to obtain ISO certification, it's quite scattered and you realise how expensive the process is. By utilising BSI's IMS approach, we were able to make a 35% saving on the entire process." explains Hendrik Crous, the quality, accreditation and resilience manager at Africa Data Centres.
"ISO standards are integrated, meaning that one builds upon the other. As Africa Data Centres we were able to integrate the certifications to a point that there's a single body that can manage and control them which saves on resources and of course external and internal audits." adds Crous.
BSI – the preferred choice
When Africa Data Centres sought out the authority to acquire certification, it made sense that BSI was chosen to accompany it on the journey to certification. Apart from their vast experience of helping businesses improve and maintain high standards for over 100 years, the seamless IMS approach as well as cost saving and global renown won Africa Data Centres over.
Crous further adds that the foundation of all the ISO standards is the quality management standard ISO 9001. For data centres such as Africa Data Centres, they have legislative and regulatory requirements they need to comply with. BSI's integrated route of certification allowed the company to then obtain the other relevant ISO certifications, namely, ISO/IEC 27001 which deals with information security management, which forms the core part of the business as they are entrusted with highly sensitive data from clients.
The company also obtained ISO 14001 which pertains to environmental management and helps the company's day-to-day operations be more sustainable. ISO 45001 ensures that the company is proactive in occupational health and safety, which demonstrates commitment to providing a safe, healthy and sustainable work environment.
Working during a global pandemic means that many industries were disrupted, however ISO 22301 which deals with business continuity, ensured that all of Africa Data Centres contingency plans remained intact and the company was able to remain productive despite the drastic changes happening globally.
Africa Data Centres offers scalable and secure co-location services to support data, applications and back end systems to meet all current and future business needs. It has locations across the continent's major regional business and trade hubs. These locations are rapidly emerging as epicentres for public and private cloud hosting, attracting both multinationals and the largest African enterprises.
"Put simply, excellence is in our DNA. From the top-class service from our team of experts to the secure and reliable data centres, we take pride in our business and want the best for our customers too. This perfectly resonates with our standards." says Crous.
ISO accreditation enhances business
Obtaining the certification has opened gateways for new business opportunities for Africa Data Centres. These business opportunities have created savings in the aspects of collective implementations. Each ISO enhances, amongst other things, productivity, continual improvement, helps the business adopt a more proactive approach, increases sustainability, encourages innovation and ensures quality and service excellence is maintained.
"Being certified has also helped us grow our sales pipeline, especially in the financial services industry and cloud sector, where certifications are a critical part of their data centre site selection criteria." adds Crous.
Like many organisations, Africa Data Centres has had to adapt to working under the constraints of a global pandemic which has brought with it the increase of remote work for many. This increased need has opened the door for Africa Data Centres as a carrier neutral co-location data centre along with its parent company, Cassava Technologies, which provides solutions such as fibre broadband networks, cloud and cybersecurity, digital platforms, renewable energy and fintech solutions.
ISO certifications have ensured that, as a data centre, Africa Data Centres offers clients the assurance that the organisation offers a safe and dependable environment.
For more information go to www.africadatacentres.com
Further reading:
Spend on cloud to accelerate across Africa in 2023
News
More than two-thirds of companies using cloud computing across major African markets plan to increase their spending on cloud services in 2023.
Read more...
---
ChatGPT's impacts will be social, not technical
News
ChatGPT is truly a remarkable achievement, an artificial intelligence (AI) that you can have a conversation with and ask to do everything from writing essays to coding computer programs.
Read more...
---
Artificial intelligence in Africa: levelling the narrative
News
While AI can benefit multiple industries, in Africa the key sectors that stand to gain are financial services (specifically fintech) and agriculture.
Read more...
---
Improving data security for a hybrid society
News
Researchers from Tokyo University of Science develop a method that can perform computations with encrypted data faster and at a lower cost than conventional methods, while also improving security.
Read more...
---
Cybersecurity in 2023: The latest trends and developments
News
In 2023, experts predict that several trends will shape the cybersecurity landscape, including the growing use of artificial intelligence (AI), the increasing focus on the Internet of Things (IoT), and the rise of quantum computing.
Read more...
---
SAN market set for growth
Technews Publishing News IT infrastructure
Storage-area network (SAN) market to hit US$ 26,86 billion in revenue by the end of 2029 due to factors like widespread adoption of Hybrid SAN-NAS solutions.
Read more...
---
Enterprise threats in 2023
News Cyber Security
Large businesses and government structures should prepare for cybercriminals using media to blackmail organisations, reporting alleged data leaks, and purchasing initial access to previously compromised companies on the darknet.
Read more...
---
Advanced server performance and energy efficient design
Editor's Choice IT infrastructure Products
Dell PowerEdge server portfolio expansion offers more performance, including up to 2.9x greater AI inferencing while Dell Smart Flow design and Dell Power Manager software advancements deliver greater energy efficiency.
Read more...
---
Trends in the proptech industry for 2023
News
By mixing real estate with technology to optimise industries, create new ones, and generate efficiencies or capabilities that improve revenue generation, something as fundamental as the concept of parking has been turned on its head.
Read more...
---
31 percent of all IoT SIMs managed with third-party IoT CMPs
News Integrated Solutions
Berg Insight recently released new findings about the market for IoT connectivity management platforms (CMPs), a standard component in the value proposition from mobile operators and IoT MVNOs around the world.
Read more...
---