printer friendly version
Africa's largest data centre obtains internationally accredited certifications
Issue 3 2022 News & Events, Infrastructure, Financial (Industry)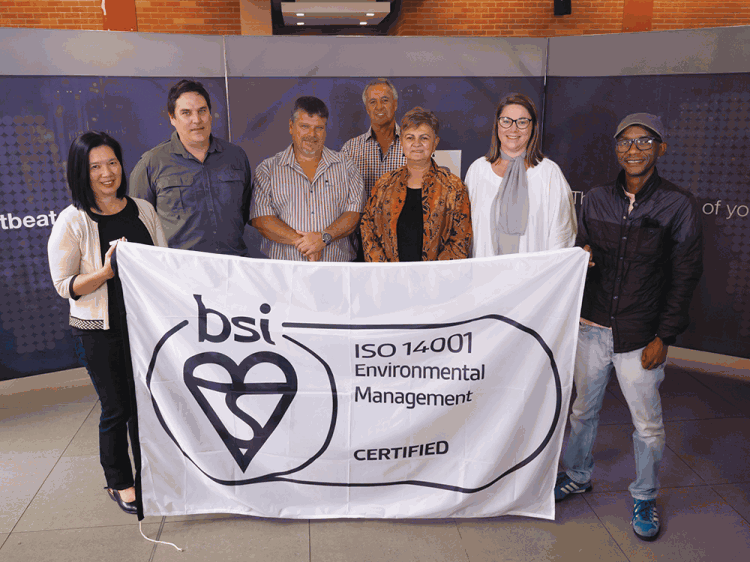 The team at Africa Data Centres accepts their BSI stamp of approval. Pictured from left to right are: Dawn Simpson, business process coordinator, Stefan Rademeyer, HSE Construction specialist, Henk Gerber, business process manager, Sewes Erasmus, QHSE executive, Dawn Abrahams, executive assistant, Robyn Eckert, governance and enterprise risk manager and Vusumuzi Dladla, health, safety and environment officer.
Africa Data Centres has strengthened the integrity of its day-to-day running by acquiring ISO certifications through the internationally recognised authority in ISO certification, the British Standards Institution South Africa (BSI).
Through the BSI's Integrated Management System (IMS), Africa Data Centres was able to implement the certifications seamlessly. By following the IMS route, more applicable certification was implemented while retaining the return on investment and enabled the company to remain up to date with its accreditation requirements.
"When a company starts the journey to obtain ISO certification, it's quite scattered and you realise how expensive the process is. By utilising BSI's IMS approach, we were able to make a 35% saving on the entire process." explains Hendrik Crous, the quality, accreditation and resilience manager at Africa Data Centres.
"ISO standards are integrated, meaning that one builds upon the other. As Africa Data Centres we were able to integrate the certifications to a point that there's a single body that can manage and control them which saves on resources and of course external and internal audits." adds Crous.
BSI – the preferred choice
When Africa Data Centres sought out the authority to acquire certification, it made sense that BSI was chosen to accompany it on the journey to certification. Apart from their vast experience of helping businesses improve and maintain high standards for over 100 years, the seamless IMS approach as well as cost saving and global renown won Africa Data Centres over.
Crous further adds that the foundation of all the ISO standards is the quality management standard ISO 9001. For data centres such as Africa Data Centres, they have legislative and regulatory requirements they need to comply with. BSI's integrated route of certification allowed the company to then obtain the other relevant ISO certifications, namely, ISO/IEC 27001 which deals with information security management, which forms the core part of the business as they are entrusted with highly sensitive data from clients.
The company also obtained ISO 14001 which pertains to environmental management and helps the company's day-to-day operations be more sustainable. ISO 45001 ensures that the company is proactive in occupational health and safety, which demonstrates commitment to providing a safe, healthy and sustainable work environment.
Working during a global pandemic means that many industries were disrupted, however ISO 22301 which deals with business continuity, ensured that all of Africa Data Centres contingency plans remained intact and the company was able to remain productive despite the drastic changes happening globally.
Africa Data Centres offers scalable and secure co-location services to support data, applications and back end systems to meet all current and future business needs. It has locations across the continent's major regional business and trade hubs. These locations are rapidly emerging as epicentres for public and private cloud hosting, attracting both multinationals and the largest African enterprises.
"Put simply, excellence is in our DNA. From the top-class service from our team of experts to the secure and reliable data centres, we take pride in our business and want the best for our customers too. This perfectly resonates with our standards." says Crous.
ISO accreditation enhances business
Obtaining the certification has opened gateways for new business opportunities for Africa Data Centres. These business opportunities have created savings in the aspects of collective implementations. Each ISO enhances, amongst other things, productivity, continual improvement, helps the business adopt a more proactive approach, increases sustainability, encourages innovation and ensures quality and service excellence is maintained.
"Being certified has also helped us grow our sales pipeline, especially in the financial services industry and cloud sector, where certifications are a critical part of their data centre site selection criteria." adds Crous.
Like many organisations, Africa Data Centres has had to adapt to working under the constraints of a global pandemic which has brought with it the increase of remote work for many. This increased need has opened the door for Africa Data Centres as a carrier neutral co-location data centre along with its parent company, Cassava Technologies, which provides solutions such as fibre broadband networks, cloud and cybersecurity, digital platforms, renewable energy and fintech solutions.
ISO certifications have ensured that, as a data centre, Africa Data Centres offers clients the assurance that the organisation offers a safe and dependable environment.
Further reading:
Pentagon appointed as Milestone distributor
Elvey Security Technologies News & Events Surveillance
Milestone Systems appointed Pentagon Distribution (an Elvey Group company within the Hudaco Group of Companies) as a distributor. XProtect's open architecture means no lock-in and the ability to customise the connected video solution that will accomplish the job.
Read more...
---
South Africa shows a 1200% increase in deepfake fraud
News & Events Risk Management & Resilience
Sumsub released its third annual Identity Fraud Report of the year, analysing identity fraud across industries and regions based on millions of verification checks across 28 industries and over 2 million fraud cases.
Read more...
---
Projections for 2024's Advanced Threats Landscape
News & Events Information Security
Kaspersky Global Research and Analysis Team (GReAT) experts offer insights and projections for 2024 in the Kaspersky Security Bulletin, with a focus on the evolution of Advanced Persistent Threats (APT).
Read more...
---
Helping South African university students and staff to stay safe
News & Events
Buzzer is a free mobile app that allows users to quickly and easily report incidents of crime, violence, or harassment to campus security and other relevant authorities.
Read more...
---
Tech developments lead hologram growth in 2024
News & Events Security Services & Risk Management
Micro-lenses, micro-mirrors and plasmonics are among the rapidly-emerging optical devices that have evolved on the back of holographic and diffractive technologies, and are seen as part of the natural evolution of optical science by R&D teams.
Read more...
---
Trellix detects collaboration by cybercriminals and nation states
News & Events Information Security
Trellix has released The CyberThreat Report: November 2023 from its Advanced Research Centre, highlighting new programming languages in malware development, adoption of malicious GenAI, and acceleration of geopolitical threat activity.
Read more...
---
People are craving connection
News & Events
As 2023 nears its close, global security manufacturer Gallagher Security is sharing key observations from some of the year's biggest industry events, chief among them the rising importance of community building these events facilitate.
Read more...
---
ePSiRA online system
PSiRA (Private Security Ind. Regulatory Authority) News & Events
[Sponsored] As part of the digitisation of the security industry, the Private Security Industry Regulatory Authority (PSiRA) introduced the ePSiRA online system, which allows clients to transact online.
Read more...
---
New generation of cyber-focused controllers
Gallagher News & Events Access Control & Identity Management Products & Solutions
The C7000 gives users an opportunity to leverage their hardware and firmware to build a platform designed to catapult their organisation into the future, with cybersecurity baked in from inception.
Read more...
---
New T&A terminal features revolutionary AI technology
Suprema News & Events Access Control & Identity Management AI & Data Analytics
Suprema has launched BioStation 2a, the world's first deep learning-based fingerprint recognition solution, providing powerful access control features and an improved ability to extract templates from low-quality fingerprints.
Read more...
---