printer friendly version
Five things you can do for workplace fire safety
Issue 2 2022
Fire & Safety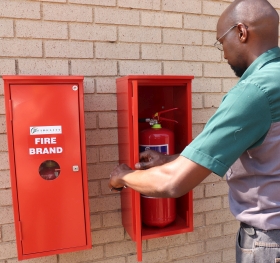 Any responsible business owner or office manager should be concerned about things potentially going wrong when it comes to workplace fire safety and whether or not there are enough preventative measures to avoid this from becoming a reality. When it comes to fires and workplace safety, there are five simple steps to take today that could make a major difference tomorrow.
"Preventing a small flame from becoming a bigger one and potentially burning down your office or factory involves important change behaviour on the part of your staff or colleagues. It also demands crucial investment in firefighting equipment," says Andrew Worthington, general manager: Fidelity Fire Solutions, a division of the Fidelity Services Group.
He suggests these steps that could be taken:
• Keep it clean and neat. Any workspace that is cluttered or untidy, could play a big part in the ignition of or the rapid spread of fires. Don't leave boxes or pieces of combustible equipment standing around, but rather remove them to a safe storage room. Uncluttered floor spaces also make it easier to evacuate the building in case of an emergency.
• Check your equipment. Fire alarms and smoke detectors are vital tools in the early detection of smoke or flames. By having the right equipment for your specific needs, you can reduce the risks of losing it all in a blaze. Speak to a specialist service provider, who can advise you on fire extinguishers, detection and gas suppression systems and even sprinkler systems. This includes the regular maintenance of whatever equipment you have installed.
• Assess the risks. It is impossible to plan for something if you don't first properly determine what the risks are that you are dealing with. There are professional service providers who can visit your office or factory and give you specialist advice on what specific risks you face and how to address them. Remember that risks and circumstances change, which means an assessment should be completed on a regular basis.
• Train the team. Any effective fire prevention plan also requires the active involvement of your team members. In bigger organisations, companies have chosen to appoint 'fire wardens' who take responsibility for their area or department. They can safely escort their colleagues out of the building during an evacuation. Smaller organisations can also spend time by demonstrating to their personnel what to do and how to respond if a fire does occur and teaching them what to do to help prevent a fire.
• Don't neglect anything electrical. Any office or workplace that makes use of electricity must be sure that all cables and wires are safe. Overloaded plug points can overheat and lead to electrical sparks, which often can lead to a fire that destroys the entire building.
"If you have any questions about the fire readiness of your buildings and premises, the best thing you can do today is to speak to a fire specialist. Ask as many questions as you need to, to help ensure the safety of your colleagues, the protection of your assets and customer safety," says Worthington.
Further reading:
Fidelity SecureFire steps into critical fire response space
News Fire & Safety
With the majority of fire stations around the country being crippled by a lack of resources to offer effective responses, Fidelity Fire Solutions has launched its own 'first responder' model, Fidelity SecureFire.
Read more...
---
Long-distance connectivity with Simplex ES Net Life Safety
Johnson Controls Global Products Fire & Safety Products
ES Net Network Bridge allows fire alarm system data to be transmitted across distant buildings via a customer's existing network infrastructure, improving system-wide monitoring and control in facilities and campuses where life safety networks are often widely dispersed.
Read more...
---
Elvey Group and Technoswitch part ways
Elvey Security Technologies Fire & Safety News
The Elvey Group (a division of the Hudaco Group of Companies) is relinquishing its distributorship of the Technoswitch brand, following Hudaco's acquisition of Brigit Fire.
Read more...
---
From one month to 10 minutes
Dahua Technology South Africa Fire & Safety
Dahua has integrated technology with the inspection mode of the photovoltaic power station in order to create a robust system that can monitor the fire situation in the power plant and its surrounding areas 24/7.
Read more...
---
Protecting poultry processing plant
Technoswitch Fire Detection & Suppression Fire & Safety
Grain Field Chickens, based in Reitz in the Orange Free State Province, features all the typical fire detection challenges one would expect to encounter in a food processing facility.
Read more...
---
Fire prevention for energy systems
Technoswitch Fire Detection & Suppression Fire & Safety
With the significant push towards renewable energy, such as wind and solar, the demand for battery energy storage systems has grown exponentially, as has the need for fire safety solutions for these environments.
Read more...
---
Fire risks in solar panel installations
Technoswitch Fire Detection & Suppression Fire & Safety
Installed global solar capacity doubled in three years from 2018, and the expectation is that in the next three years, it will more than double. In South Africa, the year-on-year growth from 2021 to 2022 was 24,90%.
Read more...
---
Smart firefighting
Fire & Safety IT infrastructure
By integrating smart radios, innovative wireless technologies, fusion field networks, and IoT sensors, firefighters can respond faster and coordinate better during emergencies, protecting lives, property, and their own safety.
Read more...
---
Compliant with the National Building Regulations?
Fire & Safety
Over the past few years, there has been a surge in building fires, increasing the risk for loss of life and damage to structures and property.
Read more...
---
Make sure your alternative power solutions are not a fire hazard
Fire & Safety
While alternative heating and energy devices fulfil a crucial role in the current energy crisis, Fidelity Fire Solutions reminds users that such devices can pose a risk if not installed, stored and used properly.
Read more...
---