printer friendly version
The evolution of visitor management
Residential Security Handbook 2022: SMART Estate Living
Residential Estate (Industry)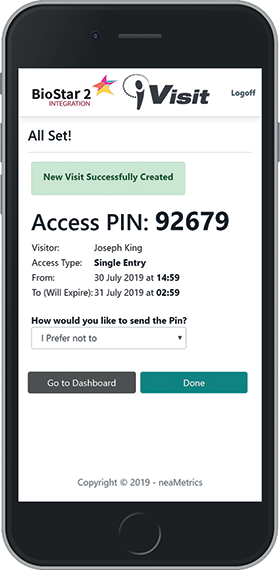 While access control is critical to estates due to the never-ending crime in SA, visitor management is just as critical, if not more so. Far from the old visitor's book, there are several technologies and solutions available to capture visitor information today, but what are estates doing to streamline their visitor access protocols while maintaining or improving the security posture?
Hi-Tech Security Solutions asked companies offering three visitor management solutions for their input on what is happening, what is available and what estates need to pay attention to when it comes to visitor management. Our questions were put to:
• Ariel Flax from ATG Digital.
• Brett Wray from Entry Pro.
• Mpho Radiokana from neaMetrics.
Hi-Tech Security Solutions: Have you found estates have upped their game when it comes to visitor management over the past couple of years?
Flax: Yes, estates have upped their game. Beyond crime prevention, Covid-19 and the commencement of PoPIA (in July 2021) has accelerated their digital transformation. Many estates primarily rely on touchless options such as scanning of credentials, touchless QR code access and IOT cameras with biometrics such as facial recognition in hot pursuit. We foresee facial recognition becoming the status quo in estate access control.
Unfortunately, the traditional paper log system is still very much a reality. However, we have seen an increasing awareness of the consequences of these outdated methods among estate security managers.
Wray: We've found that most of the larger up-market estates have kept up and embraced the latest technology available in recent years and continue to do so. Solutions and technologies used vary, depending on the estate's requirements, but most include biometrics. Unfortunately, there are still a few smaller, lower-market estates or complexes that make use of a visitors' book, but it does seem to be fading out with the onset of Covid.
Radiokana: Many residential estates have certainly made efforts to improve the technologies used at their facilities when it comes to the management of their visitors. This has not only been in response to crime, but is also geared towards streamlining entry into the estate, making the visitor access process quicker, more efficient and accurate.
These changes offer various improved aspects, including how and when visitors are allowed in, the number of visitors each residential unit is allowed at a time, visitor movement tracking within the estate and the type of data collected from the visitor.
Today's visitor management systems offer a host of features and capabilities which simplify the management of visitors. The old visitors' book is certainly not dead and is still a common sighting in some areas. However, unlike this once reliable visitors' book, most electronic visitor management systems are easily integrated into third-party applications which provide a single point of view for estate managers, security personnel etc., allowing for the analysis of visitor data and statistics when required.
A simple case for this example is the ability to collect vehicle details, including a picture, driver information and basic data about the passengers in the vehicle at entry, including the reason for the visit. In the event of an incident occurring, data captured at entry can provide a much-needed lead that may assist in making definite conclusions about an event.
It goes without saying that the old visitors' book presents a vast range of avoidable security and administrative challenges stemming from unreadable handwriting, paper records that could end up missing and in general, people's personal information being open in plain sight. While the reality of the old visitor book remains in place, the encounters with this clipboard are certainly at a much lower rate, which signals progress from estate and facility managers on the adoption of more efficient visitor management systems and a keen effort to safeguard their facilities, residents and visitors through efficient visitor management processes.
Hi-Tech Security Solutions: Touchless biometrics has had a bumper year or two because of Covid, have estates adopted these technologies in their visitor management solutions?
Flax: Estates have rapidly adopted touchless technologies and biometrics are booming. Environmental conditions are no problem for facial recognition as the technology has come a long way. The system 'learns' and can positively identify someone on a partial scan, eliminating low light or rain problems. Whenever we implement a system, we take all environmental factors into account and customise the solution to adapt to the estate's unique needs.
Wray: Touchless solutions have definitely been in high demand since the onset of Covid. Some estates are using the latest touchless wave technology and facial biometrics, however, light still remains an issue with the facial biometric systems.
Radiokana: Covid-19 has directly contributed to an increase in the demand for contactless authentication technology, especially in environments where different people are coming and going. Residential estates will typically choose a contactless solution for access control and visitor management will piggy-back on the hardware being used for this.
Apart from RFID cards, we have seen the adoption of facial recognition technology for typical tenant/resident access with visitor authentication taking place on the same platform as well as some interest in mobile credential solutions.
Suprema FaceStation F2 is the first of Suprema's face recognition terminals with IP65 certification for outdoor use. It operates well in most outdoor lighting conditions, day or night, except for in direct sunlight.
Hi-Tech Security Solutions: Looking at facial recognition in particular, we hear a lot about how good it has become, but how well does it work in reality in outdoor scenarios (like the gates of an estate)? Some say facial recognition cameras can even identify faces through a closed car window.
Flax: That would be us! Technology is evolving continually. Between enhanced camera quality and machine learning, facial recognition has overcome its obstacles from the early days.
Our customisation approach sets ATG Digital apart. As previously mentioned, each installation is adapted to its environment. We have hardware for indoor and outdoor use and we have built features that allow administrators to control how sensitive the reader is. This caters for low light, windows and even glare when the sun is shining on the device or visitor.
The good news is that it will keep getting better, so we think facial recognition will become the norm.
Wray: In our experience, facial readers are still relatively new on the South African market and are still experiencing difficulties. Some cheaper versions of facial readers don't work 100% and light is still a problem, especially outdoors.
Radiokana: In terms of facial recognition, the increased demand has resulted in face technology OEMs receiving a lot more feedback from the ground than ever before, thereby contributing to increased improvements in the technology's performance in terms of reliability and accuracy.
From the Suprema product stable, an example of this is the FaceStation F2, which provides uninterrupted face recognition in all lighting conditions. Through infrared LED beams and white LED light, the FaceStation F2 can authenticate a user's face in indoor ambient lighting as well as in outdoor natural lighting during the day and in the dark (except for in direct sunlight). In addition to the exceptional performance in varied lighting conditions, the FaceStation F2 grants access to users wearing a mask while also performing thermal screening as an optional access control measure.
A significant advancement to further enhance security with the Suprema FaceStation F2 has been the combination of dual face templates. This is where we see the terminal capturing a visual template as well as an infrared-based template. The combination of dual templates with the Suprema algorithm provides authentication accuracy and anti-spoofing performance.
Hi-Tech Security Solutions: In your visitor management solution, is data stored onsite or in the cloud? What do you do to ensure that the information is collected and stored in a PoPIA-compliant manner? How does the estate get around people who don't want to provide personal information, citing PoPIA?
Flax: All our data is end-to-end encrypted and stored directly in the cloud, following all PoPIA compliance protocols. All private properties have specific criteria that must be met for access to be granted. We set the requirements according to each property's specifications.
Where residents don't want their images stored for facial recognition purposes, we can generate a QR code for them to scan instead. We can also adjust protocols to accommodate visitors who do not want their personal information scanned, should the estate policy allow.
Wray: Our servers are hosted off-site and are cloud-based. Any personal data given to Entry Pro is kept in compliance with regulations and each estate has their own regulations in place to ensure they are compliant.
Radiokana: Our visitor management system is currently packaged as a solution to be hosted on-premises. This does not keep the customer from hosting the solution in the cloud, although there are further enhancements being implemented to offer more usability and management features. All information captured into the system is processed in a compliant method adhering to PoPIA and ensures that all additional integrated systems adhere to the same, including GDPR through data encryption efforts.
Fortunately, with our visitor management clients, we have not come across an incident where there is reluctance from a visitor to provide their personal information, with exception of emergency service personnel who are often exempt from this condition. Facilities always have the right to refuse entry into their facilities based on certain conditions as they are responsible to set up their rules that govern how the facilities operate – in particular, conditions that would qualify or deny one from entering their premises. Where this the case, our visitor management solution can be customised according to each customer's unique requirements.
Hi-Tech Security Solutions: Overall, what visitor management services and additional functionality do you provide to the estate market?
Flax: ATG has numerous products that benefit the estate market. These include LPR cameras, UHF readers, facial recognition and mobile 2D scanners. We pride ourselves on customisation. Quite a few of our standard services (like on the container) began as 'pipe dream' customer requests. Listening has been a major contributor to our success.
Beneficial features include the ability to call from our devices, invite guests from our app or within WhatsApp, convenient ways to handle unannounced visitors and deliveries. We also integrate with estate communication and management platforms.
We integrate with many other visitor and resident management systems, security and operations systems and communication solutions. Some of our integrations include ZKTeco, Metagrated, Impro, Hikvision and EstateMate, to name a few.
Wray: Our system provides automated reports for both the user and residents. Residents can receive push notifications over the app when their family members or non-residents use the estates gates. For example, should a resident need to disable their alarm when a non-resident (cleaning service, pool team, domestic worker, gardener, au-pair and so forth) enters the estate, they would receive a push notification when their non-resident arrives and leaves.
The non-resident can also be assigned times and days which they may enter the estate. This can often be used to settle disputes between the resident and non-resident. For example, the resident comes home to find the pool isn't as clean as it should be. They can use the app to check how long the pool team was on the estate for.
The LPR licence plate management system helps estates easily find the driver of a vehicle that has been involved in an incident, such as parking violations, speed penalties or reckless driving within the estate.
Our system is always evolving from the estate being able to send residents newsletters, emails and push notifications, to the residents being able to log issues with the estates using our app, such as broken lights, blocked pipes or potholes.
Since our system is developed in-house we can cater for almost any problem, should an estate have an issue that can't be resolved with current off-the-shelf solutions, we can design a custom solution to suit the estate's needs.
Radiokana: As a software solutions development specialist, neaMetrics brings together expertise from different technology providers to deliver fully integrated and custom solutions based on customer requirements, especially in the biometric and identity management space.
Visitor management is one example of the type of custom integration we can offer estates and this can include, for example, visitor data collection, tenant notification of the visitor's movements in the estate via access code tracking, cameras for surveillance and vehicle data collection via manual entry or reading of barcodes. Taking the functionality of visitor management beyond this, we could even have the visitor's credentials verified to further confirm that they are who they say they are, via the Department of Home Affairs. We are very open to ideas and working with our clients to provide optimal solutions that are useful and user-friendly.
neaMetrics also distributes Suprema access control products which offer residential estates the best quality in fingerprint and face biometric solutions that are robust and well suited to our environment. Here again, we offer integration and support to others wishing to integrate Suprema products into solutions.
---
Vaccine Verifier by ATG Digital
ATG Digital has announced a new tool for employers and public establishments to verify visitors' vaccine status at access control points. Upon entry, visitors are prompted to scan their vaccine passport QR code directly with the ATG scanner to verify their vaccination status.
Unvaccinated persons, or those without a valid vaccine passport, are then required to complete additional screening steps such as Covid-screening questions and health declarations.
The feature is free and readily available to all new and existing ATG digital customers, who need only update their software for full access. Customisation is available via the ATG Digital support desk.
Credit(s)
Further reading:
From the editor's desk: A sad but exciting goodbye
Technews Publishing News & Events
Welcome to the final monthly issue of SMART Security Solutions. This is the last issue of the year and the last monthly issue we will print. The SMART Security Solutions team wishes all our readers and advertisers a relaxing festive season and a peaceful and prosperous 2024.
Read more...
---
All aspects of data protection
Technews Publishing Editor's Choice Information Security Infrastructure AI & Data Analytics
SMART Security Solutions spoke to Kate Mollett, Senior Director, Commvault Africa, about the company and its evolution from a backup specialist to a full data protection specialist, as well as the latest announcements from the company.
Read more...
---
Securing easy access
Suprema neaMetrics Access Control & Identity Management
Securing access to hospitals and healthcare institutions presents a unique set of challenges, because these facilities operate 24/7, have highly 'open' access in public areas and require a strict level of security.
Read more...
---
Identity verification and management trends
Technews Publishing Information Security
Insights into what we can expect from identity fraudsters and the industry next year, ranging from criminal exploitation of AI and digital IDs to multi-layer fraud protection and the need for more control over personal information sharing.
Read more...
---
Service orientation and attention to detail
Technews Publishing Editor's Choice Risk Management & Resilience
Lianne Mc Hendry evolved from working for an accounting firm to an accomplished all-rounder familiar with the manufacturing, distribution, and system integration aspects of the security industry value chain.
Read more...
---
Consolidated cybersecurity management
Technews Publishing Editor's Choice Information Security Infrastructure
SMART Security Solutions spoke to Gareth Redelinghuys, Country Managing Director, African Cluster at Trend Micro, to find out what makes Trend stand out from the crowd and also its latest market offerings.
Read more...
---
From the editor's desk: Convergence is real
Technews Publishing News & Events
      SMART Security Solutions has been talking about convergence for a long time; in other words, the intersection and even integration between the physical and information security worlds. Before writing ...
Read more...
---
Securing road transport across Africa
Technews Publishing Editor's Choice Asset Management Transport (Industry) Logistics (Industry) Risk Management & Resilience
SMART Security Solutions spoke to Filipe de Almeida, the Portugal & Spain Regional TAPA EMEA Lead, and Massimo Carelle, the TAPA EMEA Africa Region Lead, about securing transport and logistics in hostile environments.
Read more...
---
Reliable access management for famous film location
Paxton Access Control & Identity Management Residential Estate (Industry)
The Royal Connaught Park features a private swimming pool, health and fitness suite, outdoor tennis court and onsite parking, with over 100 residents coming and going every day.
Read more...
---
Ring announces second generation indoor camera
Smart Home Automation Surveillance Residential Estate (Industry)
Introducing a removable manual privacy cover, Ring's latest indoor camera provides customers with increased privacy, control and peace of mind when it comes to home security.
Read more...
---