printer friendly version
WFH increases 'digital anxiety'
Issue 1 2022 News & Events, Training & Education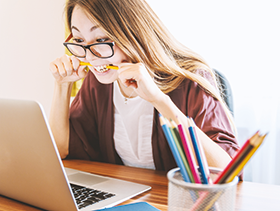 Working from home has spiked since the onset of the Covid-19 pandemic in March of 2020. This effort to reduce health risks may have limited the spread of the virus, but according to a new analysis by cybersecurity provider F-Secure, it may also have helped increase digital anxiety for those working remotely.
In a recent survey, 67% of Internet users who work from home reported they increasingly worry about its online security and privacy even if nothing is wrong, compared to 58% of other users.
Senior lecturer in Cyberpsychology at Nottingham Trent University, Dr Lee Hadlington, whose research interests include employees' adherence to workplace cybersecurity practices, said it makes sense that people's sudden shift to telecommuting increased their anxieties about online threats.
"It is not surprising that individuals have started to worry more about cybersecurity, particularly when working from home. Many individuals were thrust into the 'new normal' of home working with very little preparation, training or equipment. Let's not forget, for most individuals in a workplace environment, cybersecurity is generally a second thought and is usually something that is seen as the responsibility of someone else in the company. This, coupled with the fact that many home workers have less than perfect home working environments (e.g., desks in busy parts of the house, limited/poor Internet connection, limited working knowledge of Internet-based technology), which means that these cyber security fears could be symptomatic of a combination of factors," he said.
While worries about online security and privacy were prevalent among all survey respondents, remote workers reported elevated concerns about a myriad of issues, including:
• 65% of those who work from home said the Internet is becoming a more dangerous place, compared to 54% of other respondents.
• 63% of remote workers said concerns about data privacy have changed how they use the Internet, compared to 48% of other respondents.
• 71% of remote workers said they worry that new Internet connected devices –such as wearables and connected home appliances – could lead to a violation of their privacy, compared to 64% of non-remote workers.
• 70% of remote workers felt increasingly uncomfortable connecting to public Wi-Fi due to security risks compared to 63% of other respondents.
"Working from home could also have meant that individuals may have had more time to focus on other aspects of their working life and spent more time engaging in self-reflection and aspects of self-improvement; this could have included a re-assessment of cyber risks in their daily lives. The pandemic also meant people were isolated, with many turning to the one thing they did have access to – the Internet. Of course, spending more time engaged in one activity could lead to an increase in perceptions of risk, particularly when people are being subjected to negative news stories about cybersecurity-related issues," Hadlington explained.
According to F-Secure Security Consultant, Tom Gaffney, managing security while working remotely means taking technical security measures that protect data and devices, but also steps to keep people's personal and professional lives separate.
"Steps everyone can take to secure themselves and their privacy when they work from home include updating their devices and software, ensuring their personal devices have security software installed and some other basic infosec measures," said Gaffney. "But keeping your personal and professional online activities separate from one another may be as important as any of these tips. Restricting what sort of things you do on each device and during which times can be an essential way to ease digital anxiety."
Read the report at www.securitysa.com/*fsec1
Further reading:
Pentagon appointed as Milestone distributor
Elvey Security Technologies News & Events Surveillance
Milestone Systems appointed Pentagon Distribution (an Elvey Group company within the Hudaco Group of Companies) as a distributor. XProtect's open architecture means no lock-in and the ability to customise the connected video solution that will accomplish the job.
Read more...
---
Re-introduction of the booking system
PSiRA (Private Security Ind. Regulatory Authority) News & Events
[Sponsored] PSiRA is reintroducing the booking system for branch visits. Effective Monday, 4 December 2023, clients will be required to book a slot to visit any PSiRA branch.
Read more...
---
From the editor's desk: A sad but exciting goodbye
Technews Publishing News & Events
Welcome to the final monthly issue of SMART Security Solutions. This is the last issue of the year and the last monthly issue we will print. The SMART Security Solutions team wishes all our readers and advertisers a relaxing festive season and a peaceful and prosperous 2024.
Read more...
---
Regal celebrates successful golf day
Regal Distributors SA News & Events
Regal Distributors held its first official Regal Golf Day on 18 October at the Glendower Golf Course in Johannesburg. SMART Security Solutions was there on a hot summer's day to meet many players and sponsors around the course.
Read more...
---
Gallagher Security releases Command Centre v9
Gallagher News & Events Access Control & Identity Management Integrated Solutions
Richer features, greater integrations, with the release of Gallagher Security's Command Centre v9 security site management software designed to integrate seamlessly with various systems and hardware.
Read more...
---
Regal launches direct-to-branch WhatsApp communication
Regal Distributors SA News & Events
With a quick scan of a QR code and a few taps on your phone, installers, integrators, technicians or even end-users can chat directly with the team at their preferred Regal branch via WhatsApp
Read more...
---
FM Expo highlights industry trends and challenges
Securex South Africa News & Events Facilities & Building Management
Keeping tabs on what is happening within the building/facilities management arena can be frustrating, however, a quick way to find out what current trends, challenges, and solutions are available can be found at the Facilities Management Expo.
Read more...
---
South Africa shows a 1200% increase in deepfake fraud
News & Events Risk Management & Resilience
Sumsub released its third annual Identity Fraud Report of the year, analysing identity fraud across industries and regions based on millions of verification checks across 28 industries and over 2 million fraud cases.
Read more...
---
Projections for 2024's Advanced Threats Landscape
News & Events Information Security
Kaspersky Global Research and Analysis Team (GReAT) experts offer insights and projections for 2024 in the Kaspersky Security Bulletin, with a focus on the evolution of Advanced Persistent Threats (APT).
Read more...
---
Helping South African university students and staff to stay safe
News & Events
Buzzer is a free mobile app that allows users to quickly and easily report incidents of crime, violence, or harassment to campus security and other relevant authorities.
Read more...
---