printer friendly version
Dealing with the new world of cyber risk
SMART Cybersecurity Handbook 2022
Access Control & Identity Management
With more people connecting to digital platforms given the events of the past two years, breaches on social networking sites like LinkedIn, Facebook and Instagram have become commonplace. Social engineering and password hacks are increasingly sophisticated with any individual or company, regardless of size, country, or industry sector, now a target.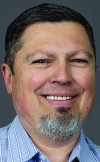 Richard Frost.
Fortunately, consumers are starting to become more cybersecurity savvy. Recent memes highlighting the risk of sharing information like your first dog, car, celebrity crush and so on, which hackers can use to build up a profile of their intended victim have certainly helped in this regard. But even so, people are still falling prey to social engineering attacks based on what they share on LinkedIn, Facebook and Instagram.
Social media dangers
It has become too easy for people to live public lives using social media. They share photographs of their kids on their first day of school; they share location-based info on where they are currently vacationing and they make their profiles public to anyone who can search for their names on a social site.
This either means that most people have innocent mindsets or simply do not care about what they share online. But this is no longer good enough. For instance, consumers must start creating circles of trusted friends on Facebook with whom they share information. They must also start thinking more about what they post online. A great way to test this is for a person to think about their content from a hacker's mindset. Most of us will be in for a rude awakening.
For their part, organisations must start profiling their senior executives for social engineering and see what information they have made publicly available online.
Rethink passwords
And while most people know that it is important to use different passwords for different sites, very few do so. Furthermore, how many people can honestly say they log out from their social accounts or log off from their computer when they are done using them?
Good password hygiene includes creating difficult passwords with 16 characters or more. People should also not use common words in a row and can swap out vowels for numbers. Add in a few special characters and encrypt the password for good measure.
This is where password managers are great tools in this regard. These can automatically create sufficiently advanced passwords for each site. The user simply needs to remember the master password to access the solution.
But even that is not sufficient. If the files on a hard drive are not encrypted, a hacker can simply rip the drive out and plug it into another machine to bypass all passwords, pins and biometric access controls.
Verify yourself
Heading into 2022, we will start seeing biometrics becoming more accepted as the means to safeguard devices and data. Combine that with a Zero Trust approach where people will not trust anyone until they can prove they are who they say they are and the environment will automatically become more secure.
Artificial intelligence and machine learning will also be used to build up patterns of user behaviour to protect systems. For example, if you are logging in to your online banking profile in Johannesburg and 20 minutes later a login request from Russia takes place, access will automatically be blocked.
Multi-factor authentication and one-time passwords, while frustrating to some as they create additional steps in the process, will also become more prevalent. Ultimately, the password landscape of the future will be one where a combination of tools and strategies will be used to protect people and companies.
Of course, for this to work, users must also learn how to best manage the content they post online for all to see. Rethink your cyber stance, use different passwords for different sites, think zero trust – and don't become a victim of yours or someone else's mistakes.
Credit(s)
Further reading:
Integrated transportation security
Guardian Eye AI & Data Analytics Integrated Solutions Logistics (Industry)
HG Travel installs an AI-powered camera system integrated across 115 vehicles throughout a fleet comprising 160 vehicles of different sizes, along with predictive and self-monitoring tools to track tyre condition, fuel consumption and theft, and overall vehicle maintenance.
Read more...
---
Gallagher Security releases Command Centre v9
Gallagher News & Events Access Control & Identity Management Integrated Solutions
Richer features, greater integrations, with the release of Gallagher Security's Command Centre v9 security site management software designed to integrate seamlessly with various systems and hardware.
Read more...
---
Paxton's Net2 secures medicinal cannabis facility
Paxton Access Control & Identity Management Healthcare (Industry) Videos
Paxton's Net2 access control has been installed at Highlands Grow, a fully licensed industrial-scale cultivator, producing cannabis for medicinal and recreational use.
Read more...
---
Lock down your access control with Alcatraz AI
C3 Shared Services Healthcare (Industry) Access Control & Identity Management AI & Data Analytics
Alcatraz AI, represented in South Africa by C3 Shared Services, changes access control by harnessing the power of artificial intelligence and analytics at the edge, where facial recognition becomes the essential credential autonomously.
Read more...
---
First telemedicine platform for South Africa
Guardian Eye Healthcare (Industry) AI & Data Analytics
South African employees often struggle to receive timely, affordable, and accessible healthcare. The challenge for many healthcare initiatives within organisations is the melting pot of cultures.
Read more...
---
Effective access control
Flow Systems Access Control & Identity Management Products & Solutions
Flow Systems has introduced its new Extra Heavy Duty Industrial Rising Vehicle Barrier, which provides a high level of protection. It is a traditional-looking control barrier with the benefits of high-level physical protection.
Read more...
---
Newport Aquarium replaces traditional locks and keys
Paxton Access Control & Identity Management Entertainment and Hospitality (Industry)
Newport Aquarium wanted to replace its old security system with an easy-to-use and high-security access control solution to keep the animals, visitors, and staff safe. The solution was Net2, a PC-based access control system that offers centralised administration.
Read more...
---
Securing easy access
Suprema neaMetrics Access Control & Identity Management
Securing access to hospitals and healthcare institutions presents a unique set of challenges, because these facilities operate 24/7, have highly 'open' access in public areas and require a strict level of security.
Read more...
---
Reliable mass notification
Access Control & Identity Management
The use of voice alarm and voice evacuation systems within the healthcare industry ensures a safer and more reassuring environment in the event of an emergency.
Read more...
---
Upgrading security at lifestyle estate
Turnstar Systems Access Control & Identity Management
Lifestyle estates are often located in out-of-town settings, and living away from the hustle and bustle of the city can be conducive to a relaxing lifestyle. However, it requires a high level of security to keep residents secure.
Read more...
---