printer friendly version
Fire safety in warehousing
Issue 6 2021 Logistics (Industry), Fire & Safety
Warehouses are generally large spaces with high ceilings, making them difficult to effectively protect from fire risks, especially when one wants to identify a fire in its initial stages and stop it before damages are incurred. In addition to this challenge, many warehouses can store items that would be damaged with traditional water suppression systems, so what one uses after the fire or some smouldering substance is discovered, is also important.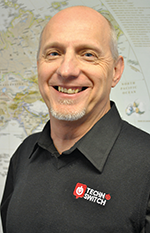 Brett Birch.
To find out more about fire detection and suppression solutions for warehouses, Hi-Tech Security Solutions asked Brett Birch, general manager for local manufacturer Technoswitch Fire Detection & Suppression, for some insights.
Hi-Tech Security Solutions: What solutions would you suggest a warehouse operation should consider when it comes to fire prevention?
Birch: Warehousing or distribution centres are one of the fastest growing market segments at the moment. This segment was already experiencing significant growth pre-Covid, but the growth is now exponential, driven by the boom in e-commerce. The density of combustible materials in modern warehouses further increases the fire risk.
Although the number of warehouse fires is currently relatively low, the high growth in the number of warehouses coupled with the density of combustible materials in modern warehouses is bound to increase the number of fires in the future.
The need for effective fire detection and suppression solutions for warehouses will therefore become more critical. However, detecting fires in warehouses is challenging due to high ceilings, which result in smoke stratification and dilution. In addition, the density of shelving and packaging further complicates the detection of fire and the suppression thereof. In specialist warehouses such as automated high-bay warehouses, cold storage warehouses and chemical storage warehouses, one has additional factors to consider.
Part of the selection process for effective fire detection and suppression solutions should therefore consider the following:
• Operating temperature – can the equipment operate effectively in temperatures below zero?
• Material being stored – i.e., chemicals and other hazardous materials.
• Business continuity – the impact on the business following a fire.
• Installation cost – product cost is not everything.
• Maintenance cost – a hidden cost often overlooked and critical in warehouses where it becomes exceptionally difficult to maintain the systems due to the high ceilings and dense racking.
• Reliability – the cost implication of false alarms.
As per SANS 10139, only aspirating smoke detection (ASD) and optical beam detection are recommended for use at the ceiling heights typically found in warehouses. Of these, ASD will provide the better detection performance, but at a higher cost; as a result, optical beams are used for more cost-sensitive applications. An alternative detection technology that can be considered is linear heat detection (LHD), which can be mounted within the racks.
Cold storage warehouses with operating temperatures below zero limit the fire detection options even further, and here either ASD or LHD is typically considered.
Hi-Tech Security Solutions: Water may not be the ideal firefighting solution for warehouses due to the damage it could cause; what alternatives do you suggest?
Birch: Fire suppression in warehouses is difficult due to the high ceilings and open areas, which in general prevents the use of gaseous suppression systems. In addition, SANS 10400-T and SANS 10287 make the use of fire sprinklers mandatory in most warehouse applications; the use of alternatives is therefore not always possible. However, where warehouses are compartmentalised one can consider using sprinklers in the large open areas and gas suppression systems, such as Inergen, in the enclosed areas.
For warehouses storing flammable or combustible liquids, foam-based suppression systems may be more appropriate.
Hi-Tech Security Solutions: Video surveillance cameras can be used to detect smoke and fire in their early stages. Have you found video to be a reliable fire protection technology – specifically in the warehousing context?
Birch: There have been significant technological improvements that have allowed video to be considered for detecting smoke and fire. These systems are commonly referred to as Video Smoke Detection (VSD) systems. However, there are currently no product performance standards for these types of systems. As a result, it is not possible to assess the performance of these systems for both sensitivity to fires and avoidance of false alarms.
Other factors to be kept in mind when considering using VSD are:
• Camera line-of-sight is vital, and in warehouse applications, the unpredictable nature of the shelving layout and packaging will be problematic.
• The ambient lighting level may either be too low or too high to obtain a satisfactory response from the camera when required.
Hi-Tech Security Solutions: What fire safety solutions does your company supply that would be applicable in the warehousing context?
Birch: Technoswitch supplies the following products which have been used successfully in numerous warehouse applications internationally and locally:
• Xtralis Vesda aspirating smoke detection systems.
• Securiton SecuriSmoke aspirating smoke detection systems.
• OSID optical beam detection.
• The Fire Beam optical beam detection.
• ILIA optical beam detection.
• Protectowire linear heat detection (including fibre-optic LHD).
Credit(s)
Further reading:
SA fleets face internal and external pressures
IoT & Automation Transport (Industry) Logistics (Industry)
Thousands of trucks clog South African border points and ports, causing shipping companies to levy congestion surcharges; fleet managers must enforce safety rules, develop comprehensive training programmes focusing on early warning systems and AI-powered technology
Read more...
---
Integrated transportation security
Guardian Eye AI & Data Analytics Integrated Solutions Logistics (Industry)
HG Travel installs an AI-powered camera system integrated across 115 vehicles throughout a fleet comprising 160 vehicles of different sizes, along with predictive and self-monitoring tools to track tyre condition, fuel consumption and theft, and overall vehicle maintenance.
Read more...
---
From the editor's desk: A sad but exciting goodbye
Technews Publishing News & Events
Welcome to the final monthly issue of SMART Security Solutions. This is the last issue of the year and the last monthly issue we will print. The SMART Security Solutions team wishes all our readers and advertisers a relaxing festive season and a peaceful and prosperous 2024.
Read more...
---
All aspects of data protection
Technews Publishing Editor's Choice Information Security Infrastructure AI & Data Analytics
SMART Security Solutions spoke to Kate Mollett, Senior Director, Commvault Africa, about the company and its evolution from a backup specialist to a full data protection specialist, as well as the latest announcements from the company.
Read more...
---
Identity verification and management trends
Technews Publishing Information Security
Insights into what we can expect from identity fraudsters and the industry next year, ranging from criminal exploitation of AI and digital IDs to multi-layer fraud protection and the need for more control over personal information sharing.
Read more...
---
Simplify AARTO compliance for fleets
Guardian Eye IoT & Automation Asset Management Transport (Industry) Logistics (Industry)
While there are challenges around the management and implementation of the AARTO Amendment Act, there are also benefits that need to be understood today to ensure compliance and value tomorrow.
Read more...
---
From damage management to false alarm prevention
Dallmeier Electronic Southern Africa Transport (Industry) Surveillance Logistics (Industry)
Video surveillance is undergoing an exciting evolution; today's IP-based solutions can be fully integrated into digital systems. With the increasing integration of artificial intelligence (AI); logistics, in particular, can make processes more transparent and exploit previously untapped potential.
Read more...
---
Protecting narrow areas in warehouse and logistics sites
OPTEX Facilities & Building Management Transport (Industry) Logistics (Industry)
Logistics facilities, warehouses and distribution centres are critical to the supply chain and any company's business operation and assets. Any disruption can have enormous consequences, both functional and financial.
Read more...
---
Logistics operators stand up to safety challenges
Logistics (Industry) Asset Management Transport (Industry)
The second annual Webfleet Road Safety Report for 2023 outlines common safety factors, challenges and solutions that South African transport operators face; deteriorating roads, poor vehicle maintenance, congestion and driver fatigue are common challenges.
Read more...
---
Service orientation and attention to detail
Technews Publishing Editor's Choice Risk Management & Resilience
Lianne Mc Hendry evolved from working for an accounting firm to an accomplished all-rounder familiar with the manufacturing, distribution, and system integration aspects of the security industry value chain.
Read more...
---