printer friendly version
Specific elements of security
Issue 6 2021 Agriculture (Industry), Security Services & Risk Management
There are numerous manufacturers, importers and installers of the numerous elements of security available on the market. To ensure that our spend is as cost-effective as possible to obtain the best, most suitable and most effective element of security to protect ourselves, our family and our property, we need to assess what is needed, where it is needed and what is needed.
Beware of 'sales commission' driven solutions offered by self-styled 'security experts'. Money spent on sourcing the correct element for your security is well worth it at the end of the day.
I am reminded of the local branch manager who was requested to check his security and report back to head office. One question was "is there a security fence?" The manager ticked the box 'yes'. What did he have? He had what I call a conscience satisfier, not a security fence at all but a cosmetic fence that would not deter or delay the most casual of intruders. It is necessary to drill down to the very basis and structure of each element.
• Where is it designed?
• Where is it manufactured?
• Is the installer experienced and reliable?
• Are there spare parts and maintenance services available?
• What is the guarantee – read the small print?
• Is the system compatible with your existing system?
• Can the system be upgraded to keep pace with technical developments?
• Consider rental with a built-in maintenance and redundancy programme against the outright purchase with transfer of ownership rights.
Layers of security work from the outside to the inside with gradual and systematic strengthening and hardening of the security elements in place. Consider each of the elements listed below, assessing how the particular element fits in to your overall plan and solution. Is it relevant, does it achieve the aim, can I afford it, does it work, does it keep me and my family and property safe?
It is disturbing how many attacks are successful because the attackers break into the interior of the homestead without constraint, either through an open door, gate or window.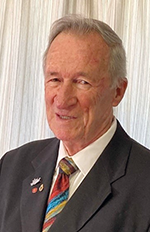 Laurence Palmer.
Physical security's first layer
• External fence: Robust, difficult to cut, anchored into the ground, corrosion resistant and see-through. It must also be devoid of high grass, bushes and climb-over branches. There should only be the minimum number of gates required.
• Gates: Keep numbers to a minimum. The gate must be as robust, if not more so than the fence. The locking mechanism must be high-quality locks that open easily. If the fence is supported by an electronic system, ensure that it is equally effective over the gate and construct a vacuum gate, where the outer gate can be opened and closed remotely (if possible).
• Internal fence: Demarcate and fence the internal areas of the farmyard. This will make movement within the area more difficult and will give you more time to prepare your response. Gates and structure are equally important.
• Internal security: The homestead should be the last safe space within which to protect yourself, your family and property. Consider the type of burglar bars and how they are anchored into the walls. Spanish style bars are on the outside of the windows and offer a mounting base for small gauge welded mesh as a barrier for stones and petrol bombs. Install interior barrier gates in the passage to secure the bedrooms; create a safe room within the home where the family can retreat to; secure the communication infrastructure to prevent it being cut or disabled.
Electronic security, the second layer
• Lighting: Assess the need for and install perimeter lighting, area floodlights, directional lighting and set up auto-activation by time switch. The sudden, unexpected lighting up of the farmyard is a disturbing event when an attacker is moving under cover of darkness. Have external floodlights linked to the alarm system. Lights flood the access area and other critical areas when activated. External floodlights and CCTV cameras to be well situated and protected from damage and vandalism.
• Electronic support systems: Consider early-warning perimeter breach detectors through taut wire systems (high maintenance) or intruder detection infrared or wireless detectors (low maintenance) linked to various alarm systems. Voice response, either recorded or one-on-one, is also useful.
• A panic button (radio system) can be fixed at various locations within the home, can be remote and worn on a person or can be triggered by various types of detector beams.
• Modern CCTV is very advanced and many different systems are available. The most common available for the farmyard application would be a motion detection camera with auto-record facility, linked to a monitor (for observation) and recorder system (for evidence), secured in a safe place. Long distance detection is now possible and will be able to cover even the largest of farmyards.
• Communication: A reliable two-way radio system is vital. The system must be designed to cover the identified district and may need relay antenna to achieve this. A reliable generator or battery back-up is also essential. All persons, including the attackers, use cellphone communication. Ensure that there are additional units in the safe room and bedrooms in case a unit is disabled or removed. The local farm watch or community safety organisation should have a detailed communication plan for the region.
Other supporting elements, the third layer
The local farm watch or community safety organisation should have detailed support plans, response plans, communication plans and develop communications and co-operation with the police and other authorities. Mobile armed response teams cost money and need to be utilised as best as possible. By plotting each farm on a regional map, the obvious escape routes of the attackers can be determined. Plot the cut-off points and link these to the nearest response vehicle or responding farm security service. When the alarm is activated, those responders respond to the applicable cut-off point – leave response to the scene to the police. (If you can, convince the police to also buy in to the cut-off system of response. Average response time for farm security to the scene of an incident is 30 to 45 minutes.
It also helps remote houses to keep two large and two small dogs. Keep the small dogs inside. If the dogs bark, do not willy-nilly go outside. Assess and determine the threat first and respond accordingly. Also consider non-lethal defence like a taser, pepper spray etc. (It is too easy to end up at the wrong end of the law, while defending yourself with lethal force.)
At all times be aware of your surroundings and notice anything that is out of place. Investigate fully. Do not laugh anything off. Very often during a de-briefing related to an incident, you can be sure that someone will report that they noticed or experienced this or that but thought nothing of it.
This article is the opinion of the author and is based on the latest information available and his previous and current efforts to prevent farm attacks. For more information, contact Laurence Palmer, +27 73 954 4450, unicornnlpconsulting@gmail.com
Further reading:
Different fences for different farmers
Gallagher Perimeter Security, Alarms & Intruder Detection Agriculture (Industry)
Far beyond the simple delineation of boundaries, fencing serves as a dynamic solution to address various needs, from ensuring the security of farms and protecting livestock to defining property lines and enhancing aesthetic appeal.
Read more...
---
Integrating farming and security solutions for productivity
Security BIS Agriculture (Industry) Integrated Solutions
Security challenges are a harsh reality in South Africa, particularly for those in remote areas. Sadly, recurring rural crimes like farm attacks and livestock theft are part of the farming community's lives.
Read more...
---
Enhanced cellular connectivity is critical for farm safety
Infrastructure Agriculture (Industry)
In South Africa, the safety of our rural communities, particularly on farms, is a pressing concern. Nearly 32% of South Africa's 60 million people live in these areas, where security challenges are constantly in the spotlight.
Read more...
---
Tech developments lead hologram growth in 2024
News & Events Security Services & Risk Management
Micro-lenses, micro-mirrors and plasmonics are among the rapidly-emerging optical devices that have evolved on the back of holographic and diffractive technologies, and are seen as part of the natural evolution of optical science by R&D teams.
Read more...
---
Are you leaving money on the table?
Editor's Choice Security Services & Risk Management
How many customers have you helped since starting your business? Where does most of your new business come from? If the answer is not from your database's existing customers, you might have a problem.
Read more...
---
Kidnapping for ransom
News & Events Security Services & Risk Management Risk Management & Resilience
There has been an 8,6% increase in reported kidnapping cases in South Africa compared to last year, with 3 854 cases reported between April and June this year, leaving ordinary South Africans increasingly vulnerable.
Read more...
---
The difference between a SOP and a SOP
Residential Estate (Industry) Integrated Solutions Security Services & Risk Management Risk Management & Resilience
SOPs are a touchy issue that need careful attention and automation to ensure they deliver the desired security results. Beyond design and automation, implementation is the ultimate road to success.
Read more...
---
Your face is the key
Suprema Editor's Choice Access Control & Identity Management Security Services & Risk Management Risk Management & Resilience
FaceStation 2, Suprema's newest facial authentication terminal, is an access control, time and attendance terminal, featuring a better user experience with Android 5.0 Lollipop and Suprema's latest algorithm, hardware, and software.
Read more...
---
Security without the skin
Alwinco Editor's Choice Security Services & Risk Management Residential Estate (Industry) Risk Management & Resilience
We all know about the layers of security required to form a comprehensive solution, but the layers go deeper than most consider. Andre Mundell dissects security in this article to start the journey into what is under the covers.
Read more...
---
Is AI the game-changer for streamlining anti-money laundering compliance?
Financial (Industry) Security Services & Risk Management
In the aftermath of South Africa's recent grey listing, companies are now confronted with the imperative to address eight identified strategic deficiencies, while simultaneously reducing their financial crime risk through anti-money laundering compliance processes.
Read more...
---