printer friendly version
Top cybersecurity considerations for SMEs in 2021
Issue 3 2021 Cyber Security, News
Cisco has published its 2021 SMB Security Outcomes Study, a derivative of Cisco's flagship cybersecurity report, 2021 Security Outcomes Study, highlighting what SMB leaders are doing to thrive in today's ever-evolving threat landscape, as well as offering actionable insights on where they should focus their digitisation, security planning and cyber defence efforts in the year ahead.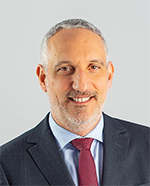 Fardy Younes.
The double-blind study is based on a survey of over 850 regional IT and security professionals from small (50 to 249 employees) and mid-size (250 to 499 employees) organisations in 25 countries from Europe, Middle East, Africa and Russia (EMEAR). The report examines how security leaders in SMB organisations can achieve success in their cybersecurity programmes by looking at which specific practices help to enable their businesses, combat advanced threats and targeted attacks and operate efficiently.
Commenting on the study, Fardy Younes, cybersecurity director, Middle East and Africa, Cisco, said: "Historically, vendors, practitioners and the cybersecurity industry as a whole have assumed that bigger means better. However, agility is what makes small and mid-size businesses uniquely positioned to build successful approaches to security. Our findings reveal that SMBs place higher importance on having the right security strategy in place and that they take the time to understand how this factor can best align with the digital transformation and growth agenda of their business. Planning for resilience and modernisation of technology remain critical factors for today's SMBs looking to advance their security fabric."
The survey revealed that security teams in small and mid-size businesses are doing a better job in enabling the mission of their organisations. With fewer resources, 44% of SMEs say their security teams are keeping pace with the changing needs and growth of the business, compared with 42% of large enterprises.
The study identified three areas small organisations should focus on to achieve success in their cybersecurity programmes: enabling business, managing risk and operating efficiently.
Enabling business
The study highlights three factors to achieve security outcomes:
• Sufficient security staff.
• A secure development approach.
• IT and security collaboration.
Each of these components have been shown to increase confidence and buy-in from peers and security success. For example, the probability for security success in obtaining peer buy-in increases up to 22% when small businesses have sufficient security staff and up to 17.6% when IT and security functions work collaboratively together.
Managing risk
Compliance as well as the growing threats of cyberattacks have been a driver for security adoption in SMEs. However, as more standards emerge, regulations increase and threats develop, the minimal requirements bar keeps getting notched up. To tackle this ever-shifting landscape, the study demonstrates that with appropriate investments organisations and collaborative teams can meet regulations and reduce risk.
Besides the sufficient security budget and having teams working together, the study finds that SMEs that proactively and regularly upgrade to best available IT and security technologies improve the chances of mitigating critical cyberthreats and avoiding major incidents.
Operating efficiently
Enterprises large and small are budget conscious and must seek ways to streamline both IT and ensure security optimisation. According to the Cisco's study, small and mid-size organisations are finding success when teams understand security. Understanding how security strategy and planning can support business imperatives streamlines incident response and minimises unplanned work. Moreover, the study again emphasises the value of teams working together as this factor contributes wildly to cost-effectiveness.
The study also highlights the role of establishing well-integrated technology and incident response solutions for operating efficiently in mid-size companies. Ensuring these two factors helps, effectively minimising unplanned work and increasing cost effectiveness.
Further reading:
NIST's impact on cybersecurity
Cyber Security
Through its NIST Cybersecurity Framework, the non-regulatory agency empowers organisations to take a proactive approach towards managing and mitigating cyber risks, enabling them to stay resilient against the ever-evolving threat landscape.
Read more...
---
Best practice tips for strengthening data privacy system
Security Services & Risk Management Cyber Security
International cybercriminals are increasingly targeting South African organizations, making data privacy more difficult to maintain. A standardization expert offers insight to help combat this threat.
Read more...
---
AI-powered cyber protection for consumers
IT infrastructure Cyber Security
Acronis Cyber Protect Home Office is designed for the evolving landscape of cyber threats by integrating Acronis' cyber protection and secure backup solutions, combining AI-powered defence mechanisms, robust data backup, remote management tools, and mobile device protection.
Read more...
---
Five ways to reduce your cyber insurance premiums
Security Services & Risk Management News
With the global costs of cybercrime expected to soar to $13 trillion within the next five years, cyber insurance is booming as organisations try to mitigate the risk of financial losses.
Read more...
---
A surge of cybersecurity for the energy sector
Government and Parastatal (Industry) Cyber Security
With a rapid transition towards renewable energy, the energy sector has an increased reliance on technology. This makes it particularly vulnerable with regards to cybersecurity, as it depends on interconnected systems and digital technologies.
Read more...
---
Secure backup strategies imperative for business continuity
IT infrastructure Cyber Security
Cybercrime is on the rise, and businesses need to adjust how they manage their data to fend off attackers, or risk irreparable damage, writes Lisa Strydom, Senior Manager Channel and Alliance for Africa at Veeam Software.
Read more...
---
CHI selects NEC XON as trusted cybersecurity partner
News Cyber Security Industrial (Industry)
CHI Limited, Nigeria's leading market player in fruit juices and dairy products, has engaged in a strategic cybersecurity partnership with NEC XON, a pan-African ICT systems integrator.
Read more...
---
Mitigating escalating DDoS cyberattacks
Cyber Security
As cyberattacks, particularly those of the Distributed Denial of Services (DDoS) variety, continue to rise at an unprecedented rate across Africa, it is no longer a question of 'if' your organisation will be targeted, but rather 'when'.
Read more...
---
Six effective antidotes to modern cyber adversaries
Cyber Security
As the head of cybersecurity at NEC XON, Armand Kruger has witnessed the transformation from hooded hackers to a sophisticated dark economy that poses unprecedented threats and is run like a business.
Read more...
---
Key strategies for businesses in the face of cyber threats
Cyber Security Security Services & Risk Management
Businesses face severe financial and reputational consequences due to data breaches and daily website hacks, and not all organisations are adequately prepared to combat these escalating threats.
Read more...
---