printer friendly version
Surveillance business models are changing
CCTV Handbook 2021 Editor's Choice, CCTV, Surveillance & Remote Monitoring, Cyber Security, Integrated Solutions, IT infrastructure
Left to right: Brendon Hall, Francois Malan, Jason Zhong, Quintin Van Den Berg, Quintin Roberts.
One of the regular components of the CCTV Handbook is the round table Hi-Tech Security Solutions hosts between a few industry leaders to discuss and highlight pertinent issues in the industry. Despite the best efforts of COVID-19, we managed to hold a round table this year, complete with social distancing, at the Indaba Hotel in Fourways, Johannesburg. This year the event was sponsored by Dahua Technology.
Given what is happening in the industry now, much of which you can see in this handbook, the round table was bound to be an interesting discussion. We hosted five participants around the table, with one guest joining via video from Europe. We started the round table with an open question, asking participants to introduce themselves and highlight the main trends in the industry as they see it in their day-to-day operations.
Starting with the remote guest, Rishi Lodhia is the managing director for EMEA at Eagle Eye Networks. Lodhia has been in the industry for over 20 years and started the first cloud-based surveillance company long before cloud became the buzzword it is today. The business was sold to Panasonic in 2013 before Lodhia bought it back a few years later when he noticed that the consumer market had embraced cloud services, but the business market was lagging. Having bought the company back in 2017, he concluded a merger with Eagle Eye Networks (EEN), its biggest competitor in the USA.
Today, he says, cloud surveillance services have gained traction and corporate CIOs are more involved in decisions relating to these services, as much of the solution is IT-based. However, he also sees surveillance moving beyond a security function, operating as a sensor to feed data into analysis platforms that have a much broader scope, especially when integrated with data from other operational platforms and sensors.
For example, if one wants to make full use of building management technologies, surveillance from multiple sites can be integrated for improved operations, security and safety and management – and the cloud is the obvious place to store and analyse all this data. Integration also means smarter technology and automation in areas such as building management, smart cities and more.
Cybersecurity is also a critical aspect of surveillance since the camera is an end point in the broader IoT infrastructure. The one area all participants agree on is that cybersecurity is one of the most important disciplines to master in our connected world, even if your speciality is 'only' physical security.
Let data centres be data centres
Brendon Hall, director, IoT Revolution Technologies (IRT), also has a long history in the surveillance market in South Africa, starting when IP surveillance technologies were in their infancy. He agrees with Lodhia, saying that IRT's mission is to get its customers 'out of the data centre business' and help them to embrace the cloud and all it offers. At the same time, Hall is focused on changing the way the industry's costing model works, from being focused on a capital expenditure (capex) model to an operational expenditure (opex) model. In other words, paying a monthly fee for services rather than making huge capital investments in technology every three to five years.
With over 700 new data centres planned throughout Africa over the next 10 years, Hall says the processing power will be there for any surveillance tasks throughout the continent.
Francois Malan, technical manager at the Digital Security & IoT Division, First Distribution (FD), says the company has its roots in IT distribution, an industry it has been operating in for years. However, Malan notes that despite this legacy of 'moving tin', much of it to data centres in Africa, the fastest growing part of the business today is cloud. The company works with Azure and AWS to offer services to clients and this opex model is proving popular in the current economic climate.
Malan sees the IoT model of moving things to the edge, in this case things meaning processing and analytics, with the resultant data being fed back to the data centre or cloud, is the future. He says we have already seen a dramatic improvement in edge analytics. What this also means is that surveillance cameras will become IoT sensors that provide data for far more than just security. This data can be integrated into various fields to optimise and improve operations while still providing their security function.
Jason Zhong, product and solution director, Africa region, Dahua Technology, agrees with the previous participants, noting that although Dahua may be known as a surveillance company, the organisation is focused on providing solutions rather than CCTV technologies alone. Using artificial intelligence, for example, allows the company to expand the use of its hardware systems to deliver more value to clients. Similarly, Dahua also focuses on cybersecurity through its whole ecosystem to protect customers from the many threats in this area today. It is also focused on opening its ecosystem to third parties to allow for further integration into a broader range of solutions than before.
The informed customer
Quintin Van Den Berg, sales video systems and country business director at Bosch Building Technologies, is another 20-plus year industry veteran with a very broad view of the industry, having played roles in the distribution, manufacturing and system integration markets. He also sees many discussions around opex and capex models, but believes this is because we have entered a time when the customers are more informed, know what they want and what is available.
Moreover, Van Den Berg adds that we are at a stage when the buzzwords that have been floating around for a long time are actually at the point where they are a reality and can be relied on to deliver the solutions customers want. Therefore, customers who know what they want can make use of these new solutions and services to build on their existing technology to achieve so much more than was possible before.
The final participant, Quintin Roberts, regional sales manager, Genetec Africa, has also been in the industry for almost two decades, having moved through the systems integrator business, as well as distribution and manufacturing. He sees strong demand from customers to take the traditional VMS model and expand it into a platform approach where data from other systems and IoT sensors can be captured, integrated and analysed. In addition, the desire to migrate all these platforms and applications into the cloud is also becoming more important as the opex/capex business model debate continues.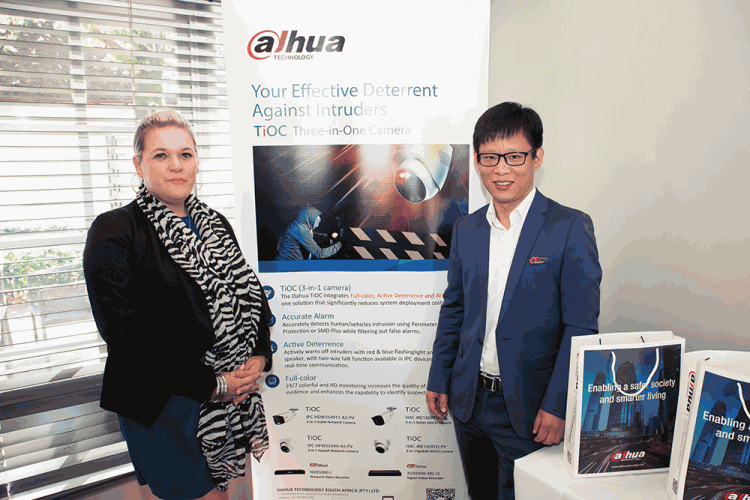 Janis Le Roux and Jason Zhong from Dahua Technology
Is the cloud ready for surveillance?
Hall says that when he talks to people about cloud services, he finds that some 'get it' and some just don't understand what the concept entails. In his view, people need to understand the flexibility of cloud solutions and services as opposed to traditional hardware installations.
In the traditional model, once an organisation has decided on the surveillance infrastructure they require, they then have to consider what IT infrastructure will be needed to keep the surveillance operation working as required. If expansion is planned, expansion of the infrastructure must also be planned. You can't separate your IT from your security in the on-premises model.
The cloud solves many of these problems, but Hall does not advise a pure cloud solution, as there are still many places that do not have the required communication infrastructure to handle the bandwidth demands. He suggests a hybrid solution with a secure storage solution on-site, which sends the footage to the cloud where the data can be stored, collated and analysed. In the case of a communications failure, the data is not lost.
Malan sees hybrid cloud solutions as the optimal solution. While a pure cloud solution may sound good, he agrees that one of the biggest downfalls we face is connectivity. It is therefore necessary to have some form of on-site storage. However, hybrid also means including the capabilities of the edge and we are already seeing more video being processed on the edge (within the cameras) before being sent to a data centre, local or in the cloud. This can assist in event-driven surveillance, offering real-time information for security and business intelligence (BI) requirements.
The benefit of storing everything in the cloud is having a centrally managed pool of data from all locations you have under surveillance. This data availability will improve the security, BI and the planning capabilities of the organisation. The example of a retail chain would see each store with their own data store, but the main cloud-based data store will collate and analyse all stores' data. The head office staff can then discover insights for each store, such as demographics and the most popular time of day for shoppers, but also global intelligence that can be applied across its entire business.
Distributed computing is a reality
Lodhia agrees with Malan, noting that not using the computing power in cameras is just wasting silicon. Therefore, in his view, the future will definitely make use of distributed computing models to get the best performance and results customers desire. However, as a cloud-based service provider, EEN believes there are benefits that the cloud offers that can't be beat in terms of manageability and interoperability. For example, with a cloud service, firmware and other software updates can be managed and rolled out to multiple sites almost instantly without manual intervention, ensuring all systems are running the latest version with the latest security fixes etc.
Roberts notes that while cloud is mostly ready for 'prime time', with no hardware between the device and the cloud, for customers it's not a case of 'cloud or nothing'. Hybrid is more often the solution chosen, depending on the business case. The decision is actually easier than ever as most organisations today make use of the cloud for their enterprise operations, whether they have gone all in or, again, opted for a hybrid approach, so they know what to expect (which is also why Lodhia said CIOs are getting into the surveillance decision-making process).
Roberts notes that the discussions with end-user companies are therefore not as complex as before as cloud is no longer a 'bleeding-edge technology'. It is more a case of looking at what the best solution for the customer is and how to implement their security/surveillance system in the optimal manner.
Another issue both Lodhia and Malan mention is the skills gap and the lack of technical skills in the country. Cloud is once again beneficial in this regard, as it takes much of the traditional skills and time to deployment out of the equation. Centrally managing all your equipment will reduce the need for skills and maintenance agreements all over the country, or world, as updates and monitoring of all systems can be done from a single point.
Not an immediate switchover
Van Den Berg adds that all these benefits are definitely attractive to the end-user market, but many companies have substantial investments in existing infrastructure and they are not willing to simply throw it out – unless it is end-of-life and they can start from scratch with a new system. The architecture of cloud technologies allow services to be added over time, as the need arises, which again leads us to the hybrid approach, which he sees as a reality for the next five or so years.
Once existing equipment reaches end-of-life, however, he expects to see a big move to edge processing that communicates directly to cloud, except in specific situations where a hybrid model makes sense to the customer. Of course, having a backup storage system on site in case of communications outages will be desirable, although the edge devices themselves (the cameras) are able to take over this function and send data to the cloud once communications are restored (many vendors already offer this service).
Hall expands on this, noting that those companies with on-site infrastructure still want to get the benefits of, for example, AI in the cloud. He says the way to do this is to push video from the site to the cloud where the latest AI and analytics services supplement whatever is on-site. This will also allow the user to avoid having to spend money on the latest cameras with AI analytics (or new software upgrades), making optimal long-term use of their existing technology while obtaining the latest in analytics and BI.
Roberts explains this allows a gradual move to the opex and services model. Moreover, while the real costs of the move to cloud still need to be calculated and may actually be the equivalent costs to on-site infrastructure, there are additional benefits in not having to maintain systems with your own staff. Importantly, the costs of the services could include licencing, which is a large and regular expense for companies. It all depends on the service and the provider.
Zhong echoes this sentiment, noting that Dahua recommends that customers use their on-site hardware and software as planned, but strategise a transition to a hybrid model to reduce costs and gain the efficiencies of cloud services. As an example, a company could transition software to the cloud over time while making use of their existing edge devices until they are in a position to opt for a full cloud solution, if that is what they require.

The costing model
While cloud providers will often promote their solutions as cheaper than on-site installations, how will the cloud services model (opex model) work and will there be a significant difference in costs over the long term? The traditional total cost of ownership (TCO) model over a number of years includes the initial purchase of the hardware, but there are annual licencing costs for software, maintenance costs, communications costs and in South Africa there is also the cost of power backup systems that also need maintaining. When moving to the cloud many of the hassles are removed from the customer, but someone still has to pay for everything.
Roberts says it depends on the cloud service provider one chooses. What is certain is that the opex model will see you subscribing to a service and the licencing and maintenance (including upgrades and bug fixes) will be included. While it may not be as cheap as marketers would want you to believe, the benefits of having someone else deal with the IT problems has great value.
Then there is the cost of cloud storage as the user still needs physical drives to store data. One option is to tier your storage so data you will need to access immediately will be stored in more expensive, faster devices, while older data that you don't need immediate access to can be stored on a second tier, which will be less costly albeit a bit slower too.
Hall notes, however, that the service concept deals with these concerns. For example, a site with existing technology that does not include the latest analytics and AI can simply buy a service, such as LPR, for a number of cameras at a monthly cost. The licencing and other costs are the business of the service provider and the customer just pays a monthly fee – which can be expanded or contracted or even cancelled as required. This reduces the barrier to entry for users, as they are able to access the latest technology at a reduced cost.
Of course, if one stores all one's data with a provider, cancelling becomes more complex as there will probably be huge amounts of data to transfer as well. It all depends on what cloud options a company chooses, says Van Den Berg. You can simply make use of services such as AI analytics, but then there is also the option of provisioning servers and storage.
He stresses that these models will also change over time as cloud services evolve. Just as 10 years ago we wouldn't have thought of the services available today, the next 10 years will see many new and improved services appearing that will expand the cloud model significantly. For example, we could see manufacturers selling their hardware with edge processing capabilities as a service, with the data flowing to a cloud provider for storage or accessibility in a control room, which is also provided as a service (it's worth noting that these services already exist in one form or another from specific companies).
Malan makes a good point that the move to cloud is not about cost or getting services cheaper, but primarily about managing costs more efficiently through the opex model with less in-house complexity. Services can be flexible and building the costs into the monthly budget will take a lot of strain off the customer.
However, the above does not mean that there are not cost benefits to cloud surveillance, simply that the costing models need to be examined carefully. Lodhia says EEN has done significant research into the cost issue and has found that moving to a cloud-based solution results in cost savings for the customer of between 20% and 50%, depending on what they require and the setup and configuration. Companies often forget to include the IT department costs in their on-site deployments in terms of managing the infrastructure and updates, as well as the global threat of cybersecurity.
Additionally, compliance is another cost we often forget about, for example ensuring your security operations centre is ISO-compliant, or even PoPIA-compliant. With the right cloud service provider, compliance is included, as the whole infrastructure has been certified.
What about the SI?
In the current economy, many installers and system integrators are struggling to keep their companies going, and COVID is not helping in this regard. How will their businesses change? The old capex model was the SIs' bread and butter, consisting of a large capital outlay from clients for the equipment and installation and then perhaps a maintenance contract over the life of the system.
Hall says the SI market will have to adopt an annuity model, designing solutions that make use of various cloud services to provide solutions to their clients in exchange for monthly fees. Someone will still have to design solutions and install cameras and other hardware for customers, but the days of the 'big deal' are fast coming to an end.
This is a positive change, according to Malan, as the SI will know there is a set income coming in every month, doing away with the peaks and troughs of income most SIs are familiar with.
The cyber question
As the Internet of Things (IoT) continues to grow, we are finding that security end points, such as cameras, are being integrated with other devices. On the one hand they are being linked with access control, alarms, intrusion systems and more within the security industry, but they are also being integrated into operations. For example, building management solutions combine operational technology with physical security. This means they are part of the risk group that the IoT has become in terms of allowing unauthorised access to restricted networks, servers and data due to the end points not being cyber secure.
Many of the cloud platforms are designed for GDPR compliance, says Malan and this includes securing your data, which is another task they remove from the end user's IT team. These are also included in many on-site appliances. Given that many cloud providers come from an IT background, they have dealt with cyber risks for years and are therefore more skilled in cybersecurity than physical security companies may be – although this is changing.
Both Hall and Van Den Berg note that it is not simply about securing the cloud data, but the whole security process. It doesn't matter how strong the lock on your door is if you don't take care of your key and allow employees to hand it over to anyone, or if you don't train everyone about the risks and how to handle them in their daily tasks. This is why EEN makes use of two-factor authentication to add a layer of access security to its services.
And, of course, the cloud provider can only look after systems and data within its data centre. The end point and network security is the job of the user organisation and its SI. Yet, despite all the news that continually arrives about breaches and hacks, people still forget the basics, like changing passwords and not using your dog's name, updating operating system and application software and making sure your hardware's firmware is also up to date. Then there is also the requirement to encrypt data in transit and at rest.
Zhong notes that Dahua has a complete cybersecurity process in its development and manufacturing process (which we have published on page 64).
Is AI a cloud technology?
When it comes to AI and how it will be used in future, the participants all agree that we will initially see a hybrid model, again, in which some AI is run on-site and some in the cloud. In future, however, making use of the processing power available in the cloud will prove too tempting for organisations as they can upload video in real-time or after events for investigations and temporarily increase their processing requirement to analyse the data and return intelligence.
The alternative, again part of the hybrid solution, is to distribute the AI processing among edge devices (as in the OSSA and S&ST; models), the cloud and perhaps running certain critical analytics on-site. While the participants were divided as to how the edge/cloud division of AI analytics would play out in future, they were in agreement that on-site processing would be limited to specific use cases with the edge and the cloud being used to their full capacities. Of course, some of them promote sending all processing to the cloud, but whether that happens remains to be seen and depends on business models, costs and bandwidth availability.
Hi-Tech Security Solutions would like to thank all the participants for their contributions to the discussion. There was far more said than we can include in the review and we are grateful for the time they took out of their schedules to attend. And of course, our thanks go to Dahua Technology for sponsoring the event.
Credit(s)
Further reading:
Cyber resilience is more than cybersecurity
Technews Publishing Cyber Security Integrated Solutions IT infrastructure
Hi-Tech Security Solutions held a round-table discussion focusing on cyber resilience and found that while the resilience discipline includes cybersecurity, it also goes much further.
Read more...
---
Avoiding human error at ports
LD Africa Transport (Industry) CCTV, Surveillance & Remote Monitoring Products Logistics (Industry)
LD Africa introduced a local port to the AxxonSoft Port Security System ,a solution that helps overcome the element of human error and eliminate paperwork.
Read more...
---
Compact, lightweight bullet cameras with support for analytics
Axis Communications SA Products CCTV, Surveillance & Remote Monitoring
Axis Communications announced two new outdoor-ready bullet-style cameras featuring deep-learning processing units for analytics based on deep learning on the edge.
Read more...
---
Numerous challenges for transport and logistics
Transport (Industry) CCTV, Surveillance & Remote Monitoring Security Services & Risk Management Logistics (Industry)
Operators are making significant investments in automation and digitalisation in order to address security concerns, improve loss prevention as well as efficiency, and reduce unit order costs.
Read more...
---
A key to urban transport challenges
Axis Communications SA Transport (Industry) CCTV, Surveillance & Remote Monitoring Integrated Solutions Logistics (Industry)
There are many enabling technologies that can impact transportation in South Africa, but a good place to start is by considering the applications for smart physical technology with the ability to collect and respond to data.
Read more...
---
From the editor's desk: Security and resilience
Technews Publishing News
It's often said that South Africans are a resilient bunch, and history has proven this correct. When it comes to security, both cyber and physical, resilience is key to an effective defensive plan. ...
Read more...
---
Hikvision aims for solutions
Technews Publishing Hikvision South Africa Editor's Choice CCTV, Surveillance & Remote Monitoring News Integrated Solutions Conferences & Events
Hikvision recently held a roadshow titled Industry X, where the company highlighted its latest products and solutions, supported by partners and distributors.
Read more...
---
ADI Expo returns to South Africa
Technews Publishing ADI Global Distribution News
September saw the return of the ADI Expo to South Africa. The Johannesburg event was held at the Focus Rooms and the Durban event, two days later, at the Southern Sun Elangeni & Maharani.
Read more...
---
Technoswitch Awards dinner for 2022
Technews Publishing News Fire & Safety
Technoswitch hosted its fifth awards dinner at Montecasino in September, where customers and suppliers celebrated a year of success.
Read more...
---
Reliable, low-maintenance video appliances
Technews Publishing Editor's Choice CCTV, Surveillance & Remote Monitoring News IT infrastructure Products
Symetrix, part of the Agera Group, has added the AES range of video recording servers, storage appliances and workstations to its portfolio.
Read more...
---