printer friendly version
A fruity workforce management solution
Issue 3 2021
Access Control & Identity Management
The Sundays River Citrus Company (SRCC) is a grower, packer and exporter of citrus fruit in the Sundays River Valley in the Eastern Cape. SRCC required a solution to manage a large seasonal workforce it employs across three packinghouses between Kirkwood and Addo.
The seasonal workforce is in the region of 2500 employees and it is important for both the company and the workforce that the hours worked are accurately recorded and converted to wages. Moreover, a scalable solution was required, which could incorporate future access control functionality while also being able to assist in automating manual tasks and increasing the productivity of the company overall.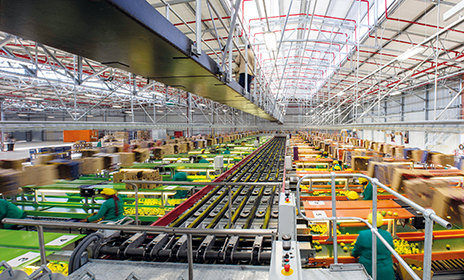 Ingqweba Packhouse (Kirkwood).
The legacy system SRCC had installed had limitations in terms of the technology and system functionality:
• The hardware ran on an RS-485 daisy chain network. The individual readers and controllers could therefore not be managed remotely.
• The software was at end-of-life.
• Hardware components were also end-of-life, so replacement or repairs were becoming difficult.
The company worked with its technology partner to design and implement the new system. "We wanted a software solution that was better suited to a WAN environment and would give us redundancy if we lost connectivity or had a hardware failure on any of the sites," explains Steve Langley and Elske Johnson, SRCC's Project team
"Although multiple companies were asked to present their solutions, including design, specification and implementation, SRCC chose to work with NEXTEC Security and Building Technologies and its turnkey workforce management solution, SQube Systems," says Robert Falkner, NEXTEC's regional manager in the Eastern Cape. "NEXTEC SBT was the incumbent supplier and our knowledge of SRCC's environment and the fact that we have local support and software development enabled us to win the contract and deliver on SRCC's custom requirements."
Some of the company's initial requirements include:
• Keeping up to date with the latest technologies from a hardware and software perspective.
• Making use of biometrics and have the option for cards if needed.
• More automation of payroll and HR functions and integration with the payroll system, eliminating current manual processes.
• SRCC wanted scalability without complicated and expensive software licencing.
• It also wanted a single database architecture for timekeeping, access control and health and safety.
• The database had to be a SQL database to allow for additional BI (business intelligence) and data mining.
• A partner that understood its environment and could provide ongoing software and systems development as the environment evolves.
Challenges along the way
The installation was under pressure from the start as it had to be installed and implemented at the end of one season and be ready before the following season started. Johnson also notes that the company had to follow a careful change management approach to ensure the many different stakeholders involved and their requirements and expectations of the new system were considered.
In addition, the hardware installation had a few technical and logistical challenges, adds Falkner."The distances between the sites made coordinating the network, power and biometric installations an interesting exercise and three different service providers had to work together to execute the project within the required time frame. We also had to ensure the reports the system produced were in a format the different recipients wanted."
Summerville Packhouse.
Despite the challenges, NEXTEC SBT managed to roll out the solution on time and budget and it adhered to the defined project scope and integrated seamlessly with SRCC's payroll systems.
Langley notes this is no small victory as it was a challenging project due to time restrictions on several fronts, such as the company's seasonal requirements and because the implementation took place over the December shutdown. "Despite the challenges, through positive internal teamwork and vendor support we were able to achieve the project goals."
The new system
The new system delivered as required, as well as offering additional benefits, such as a reduction in 'buddy clocking' using biometrics. "The SQube Systems software also provided us with more automation, greater control and increased efficiencies through better transparency of actual clocking data (timesheets)," Langley notes. "As the new system is IP-based, we are now able to manage devices across the three sites without having to physically go to each reader."
Falkner adds that the IP-based hardware will also reduce the time to identify and solve faults, deliver cost benefits, as well as deliver additional security and health and safety functionality. Importantly, it will allow the company to measure and manage productivity more easily than in the past.
The new solution was positively received by all and eliminated many manual processes, resulting in more accurate payouts. There are also long-term benefits, such as using multimodal readers that allowed SRCC to move to a wristband clocking solution due to COVID-19 restrictions. The specification of these readers at the outset of the project eliminated extra cost to the company in managing the COVID-19 pandemic. The new system will also expand easily as SRCC's requirements change and increase over time.
Further reading:
Paxton opens first experience centre in South Africa
Paxton News Access Control & Identity Management
The new Paxton Experience Centre in Johannesburg is now open and welcoming security installers and end users who want to see Paxton's products in action.
Read more...
---
Securing a luxurious residential estate
Turnstar Systems Residential Estate (Industry) Access Control & Identity Management
Turnstar Systems recently partnered with Balwin Munyaka Residential Estate to secure the entrance to its Crystal Lagoon, ensuring only authorised residents and guests can access the site.
Read more...
---
Visitor management via QR code
ATG Digital Access Control & Identity Management Products
ATG Digital has launched its QR Code Reader to enhance access control's security and efficiency. The new QR Code Reader enables seamless, contactless access control, creating an efficient user journey.
Read more...
---
District secures activity centre
Paxton Access Control & Identity Management Products
Paxton's Net2 access control solution is a user-friendly and flexible networked access control system, which made installing and managing access control security at an activity centre straightforward.
Read more...
---
GardaWorld partners with Gallagher
Gallagher Access Control & Identity Management
Access control via facial recognition was at the top of GardaWorld's wish list, and Gallagher's integration with IDEMIA's VisionPass played a crucial role in delivering a seamless experience.
Read more...
---
ZK-IWB Series
ZKTeco Products Access Control & Identity Management
Experience the ultimate virtual meeting solution with ZKTeco's ZK-IWB system. Featuring a built-in 13-megapixel UHD camera and 6-microphone array, the solution ensures clear audio and video experiences with an 8 metre pickup distance.
Read more...
---
Security for critical industries
ZKTeco Government and Parastatal (Industry) Access Control & Identity Management
The traditional reliance on human observation and physical presence for security is being complemented and, in many cases, replaced by biometric technology to enhance risk management and ensure comprehensive protection.
Read more...
---
Access to nuclear plants
Suprema Access Control & Identity Management
Korea Hydro & Nuclear Power was in need of a fully redundant access control system that should provide enhanced performance while still being able to interoperate with existing equipment.
Read more...
---
Secure your site during outages
Paxton Access Control & Identity Management
The PaxLock Pro range is our collection of wireless, battery powered smart door handles. They are efficiently designed to consume minimal energy to operate, and the batteries generally last around two years.
Read more...
---
Securing data centres and control rooms
Access Control & Identity Management
The demand for data centres and control rooms to store and manage digital information is at an all-time high, however, the rise in cyber threats and physical security risks has raised concerns about how companies can effectively protect these vital infrastructures.
Read more...
---