printer friendly version
Thwarting data theft
Issue 3 2021
Access Control & Identity Management
In computer centres and other areas where many people have access, identification, organisation and control are non-negotiable. The E-Line brand from Dirak GmbH, available from Astra Fasteners, offers various solutions for these purposes.
Special care must be taken to secure customer data in computer centres in shared facilities with high levels of data and people traffic, for example, colocation centres. In this situation, it is advisable to organise access to the different racks by time and person, and to document each access event or attempt to obtain access. To prevent unauthorised access, colocation providers can provide their customers with access control on the server rack level with an integrated automatic documentation function. These solutions can also be used for computer centres that are only used by one company to organise access in groups of employees to ensure the security of internal data and systems.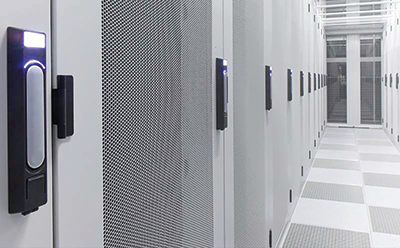 For controlled access and organised security, developers offer different infrastructure with centralised and distributed solutions. A distinction is generally made here between online and standalone systems. In an online system, the closing system is integrated into E-Line by Dirak software and is managed. All handles are connected with the system in real-time so that all events within the closing system related to time are sent directly to a central office. This overview in real-time, supported by suitable software, provides online information about closing states as well as access events of authorised persons.
Although seamless documentation cannot provide 100% physical security against data theft, it is possible to track who obtained access to a given server rack at what time. This makes it possible to prevent internal misuse of data.
Individual access authorisations
The access authorisations can be issued individually, for example, so that maintenance teams are given only reduced access to specific racks. Either a card or PIN can be used for this. This is useful, for example, if a maintenance team arrives, since it is more convenient to enable a PIN for a certain time period than to issue a card which must later be returned. It is also possible to disable access by time if processes such as updates, backups or other electronic data processing operations need to run unhindered. Different alarms can also be configured in the administration software suite. If the rack is broken open, a sabotage alarm is also triggered and a message is sent to the central software at the same time.
Physical security solutions
The relevant online solutions differ in the nature of the connection and infrastructure. The MLR3000 system, for example, is a bus system for a central architecture in which only one IP address is needed for up to 32 handles. In the MLR5000 system, on the other hand, each handle has its own IP address. Which product is selected for the relevant computer centre always depends on the customer's individual requirements. Astra Fasteners discusses this in advance with its customers and also provides support for them after the system is installed. Many solutions can also be easily connected to third-party systems, for example, via potential-free contacts, a Wiegand interface or an API interface.
Another consideration in choosing the right solution is that unlike online systems, standalone systems are not networked and are instead configured by master cards and user cards.
Credit(s)
Further reading:
Paxton opens first experience centre in South Africa
Paxton News Access Control & Identity Management
The new Paxton Experience Centre in Johannesburg is now open and welcoming security installers and end users who want to see Paxton's products in action.
Read more...
---
Securing a luxurious residential estate
Turnstar Systems Residential Estate (Industry) Access Control & Identity Management
Turnstar Systems recently partnered with Balwin Munyaka Residential Estate to secure the entrance to its Crystal Lagoon, ensuring only authorised residents and guests can access the site.
Read more...
---
Visitor management via QR code
ATG Digital Access Control & Identity Management Products
ATG Digital has launched its QR Code Reader to enhance access control's security and efficiency. The new QR Code Reader enables seamless, contactless access control, creating an efficient user journey.
Read more...
---
District secures activity centre
Paxton Access Control & Identity Management Products
Paxton's Net2 access control solution is a user-friendly and flexible networked access control system, which made installing and managing access control security at an activity centre straightforward.
Read more...
---
GardaWorld partners with Gallagher
Gallagher Access Control & Identity Management
Access control via facial recognition was at the top of GardaWorld's wish list, and Gallagher's integration with IDEMIA's VisionPass played a crucial role in delivering a seamless experience.
Read more...
---
ZK-IWB Series
ZKTeco Products Access Control & Identity Management
Experience the ultimate virtual meeting solution with ZKTeco's ZK-IWB system. Featuring a built-in 13-megapixel UHD camera and 6-microphone array, the solution ensures clear audio and video experiences with an 8 metre pickup distance.
Read more...
---
Security for critical industries
ZKTeco Government and Parastatal (Industry) Access Control & Identity Management
The traditional reliance on human observation and physical presence for security is being complemented and, in many cases, replaced by biometric technology to enhance risk management and ensure comprehensive protection.
Read more...
---
Access to nuclear plants
Suprema Access Control & Identity Management
Korea Hydro & Nuclear Power was in need of a fully redundant access control system that should provide enhanced performance while still being able to interoperate with existing equipment.
Read more...
---
Secure your site during outages
Paxton Access Control & Identity Management
The PaxLock Pro range is our collection of wireless, battery powered smart door handles. They are efficiently designed to consume minimal energy to operate, and the batteries generally last around two years.
Read more...
---
Securing data centres and control rooms
Access Control & Identity Management
The demand for data centres and control rooms to store and manage digital information is at an all-time high, however, the rise in cyber threats and physical security risks has raised concerns about how companies can effectively protect these vital infrastructures.
Read more...
---